12th NuVoodoo Ratings Prospects Study Reveals Good News (and Not-So-Good News) for Music Discovery

CINCINNATI, OH, August 29, 2018– NuVoodoo Media Services, a data-driven media marketing, programming and content intelligence provider, announces that its recently completed 12th and latest NuVoodoo Ratings Prospects Study revealed that FM radio is neck-and-neck with YouTube as the primary source for music discovery by U.S. consumers. While FM maintains the lead position, holding off YouTube by a couple of percentage points, FM's edge is based on Adults 35-54. Among the 14-24 year-olds sampled, FM radio falls to third place as the primary source for music discovery, behind YouTube and Spotify.
NuVoodoo Ratings Prospect Study XII was fielded in June to over 3,000 radio listeners between the ages of 14 and 54 across all PPM-rated markets.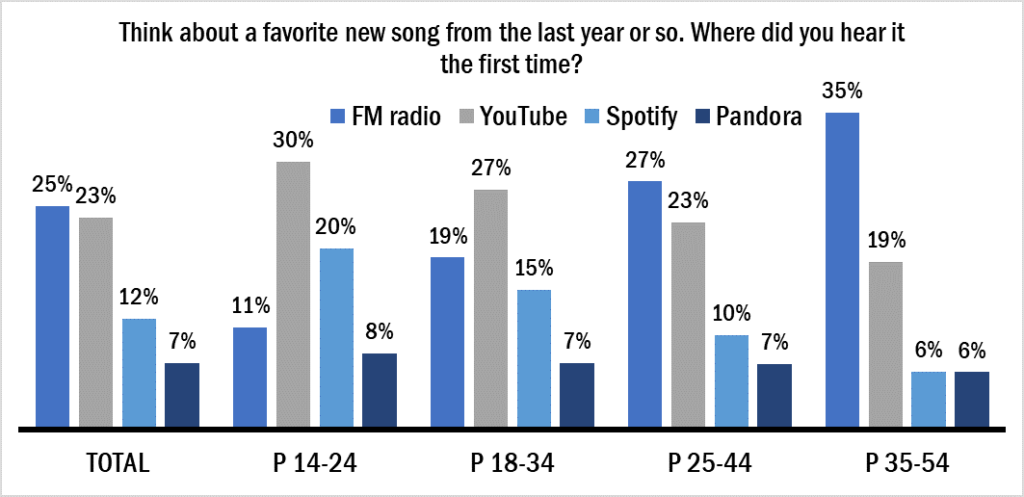 Carolyn Gilbert, President, NuVoodoo Media Services, said: "New technology has changed the new music playing field forever. But radio doesn't have to go quietly into the night. Radio is an amazing curation service (we spend mightily in dollars and person-hours in picking songs and building playlists) – and there's huge value in that service. Stations can build that part of their branding with greater transparency and well-organized efforts to get feedback from listeners."
Leigh Jacobs, Executive Vice President, Research Analysis, NuVoodoo Media Services, said: "While free, instant access to new music on YouTube has become addictive for younger people, the good news is that their eyes and ears are available on YouTube. That means there are powerful ways to employ YouTube to get your messaging to these young consumers – especially if you can package your message with content they'd be interested in viewing/hearing. It's the perfect place to showcase your in-studio live recordings and other original content."
Beginning this week, Leigh Jacobs joins NuVoodoo's PJ Kling, Vice President, Product & Business Development, in presenting a deeper dive into key findings of the new study on music discovery and contesting in the second episode of a series of free fall webinars. The webinars will be presented beginning Wednesday, September 5th through Monday, September 17th, and are open to all radio professionals who register at: https://nuvoodoo.com/webinars.
The webinar series is part of NuVoodoo's ongoing effort to inform the industry of emerging trends and to help uncover opportunities for stations to improve programming and marketing efforts to dominate competitors in the ratings. The primary focus is on those who have accepted or are more likely to accept a ratings diary or become part of the PPM panel, since this small segment of radio listeners holds the key to any station's financial success.
To register for one of five free webinars to be held on Wednesday, September 5th (12pm ET); Thursday, September 6th (2pm ET); Tuesday, September 11th (1pm ET); Thursday, September 13th (4pm ET); and Monday, September 17th (12pm ET), visit: https://nuvoodoo.com/webinars/.
FOR MORE INFORMATION: Contact Carolyn Gilbert, President, NuVoodoo Media Services, at: cg@nuvoodoo.com or at 888.9VooDoo (888.986.6366).
About NuVoodoo Media Services
NuVoodoo Media Services provides data-driven digital, social and direct marketing and programming and content intelligence to the radio, television, newspaper, music and retail industries through innovative new research and marketing products and services that give clients a winning edge. NuVoodoo also provides customized and proprietary web-based research designed to connect music lovers with the music they love most. NuVoodoo Founder and President, Carolyn Gilbert, has been the radio industry's foremost research strategist for more than 30 years. NuVoodoo brings fresh thinking and lower costs to media research, including a budget-friendly barter for services model. A "virtual" company, attracting the best people from all over, NuVoodoo has offices in Cincinnati, Austin, Chicago, New York, Philadelphia and Middletown, OH. More information may be found by visiting www.nuvoodoo.com.
MEDIA CONTACT: Lisa Dollinger, Dollinger Strategic Communication, 512.633.4084, lisa@dollcomm.com.