12th NuVoodoo Ratings Prospects Study Reveals That Only 38% of Radio Listeners Are Aware of Stations Running Group Contests

CINCINNATI, OH, September 24, 2018– NuVoodoo Media Services, a data-driven media marketing, programming and content intelligence provider, announces that its recently completed 12th and latest NuVoodoo Ratings Prospects Study revealed that a little more than one-third of respondents are aware of the practice of group contesting among radio stations – and among those who are aware of group contests, 13% think they are bad. Among the larger population, the portion who think group contesting is bad dilutes to 5% overall, which translates to one listener in 20 who thinks group contesting is bad. The NuVoodoo study found that, while over half of likely PPM respondents are aware of group contests, the portion who think group contests are bad represent only 7% of likely PPM respondents overall.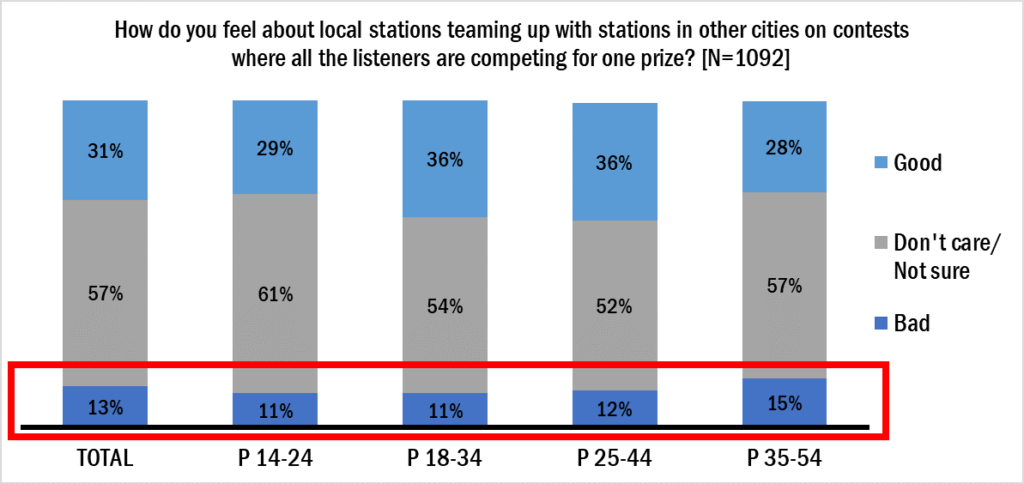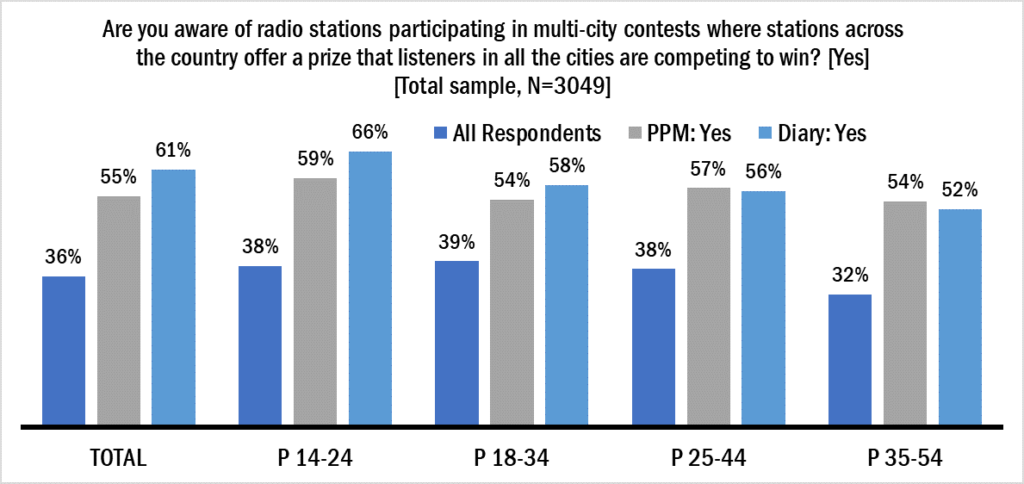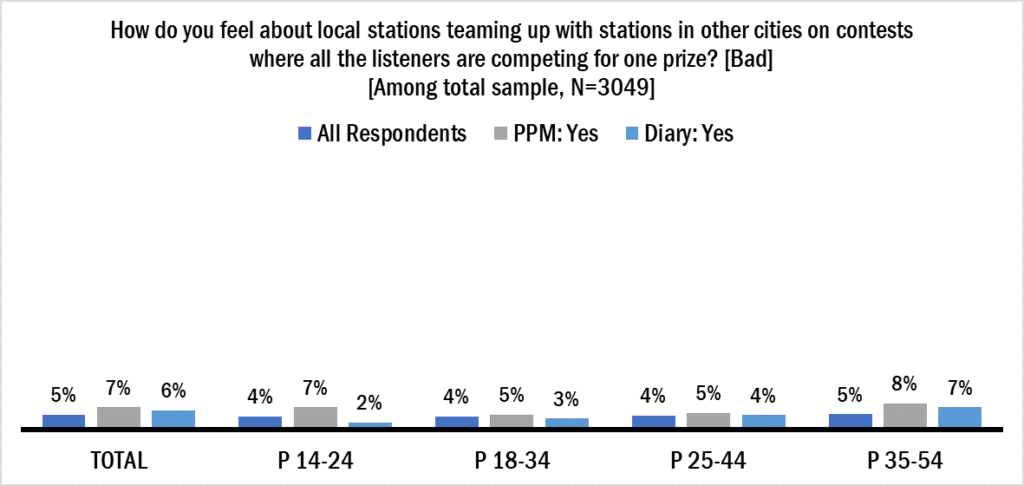 NuVoodoo Ratings Prospect Study XII was fielded in June to over 3,000 radio listeners between the ages of 14 and 54 across all PPM-rated markets.
Carolyn Gilbert, President, NuVoodoo Media Services, said: "In these days of 10-digit dialing for local calls in many markets, many stations employ toll-free numbers for local contests. We know the on-air announcements dispatching the legal requirements of group contest disclosure are hardly as noticeable as the promos and liners talking about the size of the prizes and the frequency of giveaways. The result is clear: Only a little more than a third of radio listeners are aware of the practice of group contesting. That presents opportunities for stations on both sides of the contesting equation."
Leigh Jacobs, Executive Vice President, Research Analysis, NuVoodoo Media Services, said: "Among those listeners who are aware of group contesting, the majority don't care one way or another. Some even think it's good, perhaps due to the larger prizes offered or more frequent chances to win. It's only 13% of those aware of group contesting who think it's bad. Stations running group contests need to lean heavily on big prize money and frequent chances to win. Stations running local contests up against group contests need to aggressively promote that only local people are going to win."
Mike O'Connor, Executive Vice President, Marketing, NuVoodoo Media Services, said: "There are steps you can take to reap the biggest benefits if you're running a group contest, including trumpeting loudly the size of the prizes and the frequency of chances to win – Those things are music to the ears of contest actives. Also, stations that offer group contests should run lots of winner promos with a variety of excited voices helping to convey the idea that many people are winning, and their turn could be next."
O'Connor continued: "If yours is a local contest – and especially if you're competing against a massively-funded group contest – there are steps you should be taking, including heavily promoting that it's a local contest with all local winners. Use a local number for call-in-to-win games and include the word "local" in your contest solicitations and promos. Give local winners star treatment on air and in social media (including video of winners receiving oversized checks) with details about their specific part of town, their place of employment, and other information of interest to local listeners. Don't forget that you're also fighting the opinion some listeners have that contests are fake – that no one really wins. Showcase everything possible to underscore your winners are local."
FOR MORE INFORMATION: Contact Carolyn Gilbert, President, NuVoodoo Media Services, at: cg@nuvoodoo.com or at 888.9VooDoo (888.986.6366).
About NuVoodoo Media Services
NuVoodoo Media Services provides data-driven digital, social and direct marketing and programming and content intelligence to the radio, television, newspaper, music and retail industries through innovative new research and marketing products and services that give clients a winning edge. NuVoodoo also provides customized and proprietary web-based research designed to connect music lovers with the music they love most. NuVoodoo Founder and President, Carolyn Gilbert, has been the radio industry's foremost research strategist for more than 30 years. NuVoodoo brings fresh thinking and lower costs to media research, including a budget-friendly barter for services model. A "virtual" company, attracting the best people from all over, NuVoodoo has offices in Cincinnati, Austin, Chicago, New York, Philadelphia and Middletown, OH. More information may be found by visiting www.nuvoodoo.com.
MEDIA CONTACT: Lisa Dollinger, Dollinger Strategic Communication, 512.633.4084, lisa@dollcomm.com.