12th NuVoodoo Ratings Prospects Study Reveals Opportunities for Radio Stations to Increase Listening by Maximizing Severe Weather Changes

CINCINNATI, OH, October 22, 2018– NuVoodoo Media Services, a data-driven media marketing, programming and content intelligence provider, announces that its recently completed 12th and latest NuVoodoo Ratings Prospects Study revealed that severe weather events significantly increase listener tune-in, second only to commercial-free music sweeps. That's good news for radio stations, coming on the heels of a Winter Weather Outlook released Thursday by NOAA's Climate Prediction Center that revealed that Winter 2018-19 could bring above-average temperatures to the northern and western United States, with likely wetter-than-average conditions in parts of the South and East. NOAA reported that there's a 70 to 75 percent chance of El Niño forming later this fall and lasting through winter 2018-19 (December through February).
These data from NuVoodoo's Ratings Prospects Study XII show the gravity of severe weather to change listening.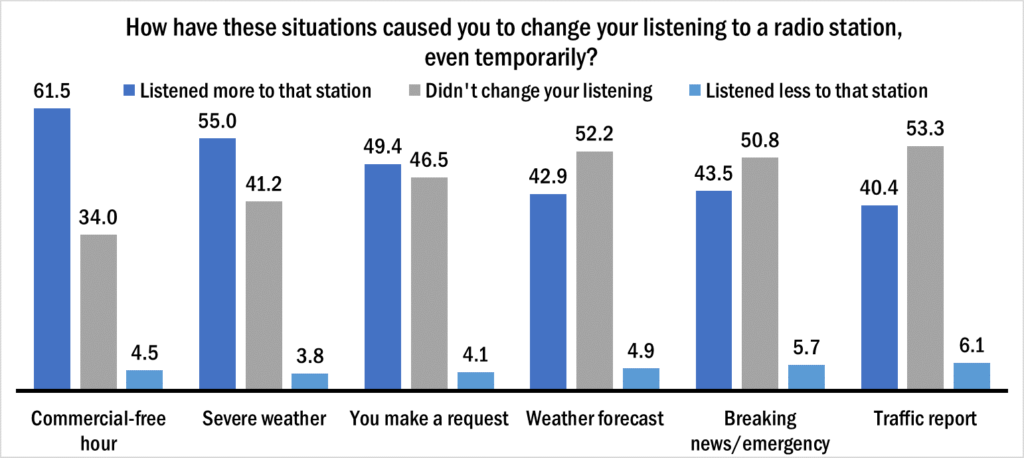 Leigh Jacobs, EVP, Research Analysis, NuVoodoo Media Services, noted: "When we net out the potential lift of any of these situations against the far smaller potential for tune out, severe weather is the number one change agent for both News and Talk P1's. When you view the data through the filter of those most likely to participate in the ratings, the possibilities get more enticing still."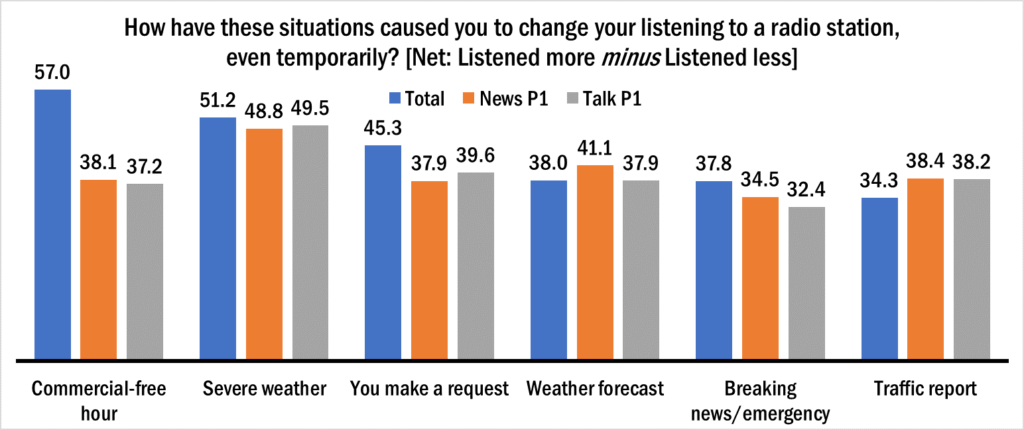 In response to these new findings, NuVoodoo EVP/Marketing, Mike O'Connor has developed a new capability for the NuVoodoo ad tech stack: First-Alert Weather Branding that helps Spoken Word stations maximize the opportunities to build listening and brand affinity created by severe weather occurrences.
Regarding the study results and potential campaigns for spoken word stations, O'Connor said: "Severe weather ranks high on our list of catalysts for Spoken Word radio listening, but spending money on severe weather-center branding makes little sense during a string of beautiful, sunny days. With NuVoodoo First-Alert Weather Branding, we can limit client campaign exposure to Nielsen hot Zips, and deploy budget only when those Zips have a threat of severe weather in the forecast."
Carolyn Gilbert, President, NuVoodoo Media Services, said: "The addition of predictive AI to the NuVoodoo ad tech stack allows our team to execute dynamic digital campaigns for marketing clients, providing station imaging only when it's relevant to listeners. This is a powerful addition to our arsenal that helps stations drive listening and maximize opportunities to build listener engagement and brand loyalty in a meaningful and measurable way."
NuVoodoo Ratings Prospect Study XII was fielded in June to over 3,000 radio listeners between the ages of 14 and 54 across all PPM-rated markets.
* For more details, view NuVoodoo's short webinar on the new First-Alert Weather Branding campaigns at: nuvoodoo.com/webinars.
FOR MORE INFORMATION: Contact Carolyn Gilbert, President, NuVoodoo Media Services, at: cg@nuvoodoo.com or at 888.9VooDoo (888.986.6366).
About NuVoodoo Media Services
NuVoodoo Media Services provides data-driven digital, social and direct marketing and programming and content intelligence to the radio, television, newspaper, music and retail industries through innovative new research and marketing products and services that give clients a winning edge. NuVoodoo also provides customized and proprietary web-based research designed to connect music lovers with the music they love most. NuVoodoo Founder and President, Carolyn Gilbert, has been the radio industry's foremost research strategist for more than 30 years. NuVoodoo brings fresh thinking and lower costs to media research, including a budget-friendly barter for services model. A "virtual" company, attracting the best people from all over, NuVoodoo has offices in Cincinnati, Austin, Chicago, New York, Philadelphia and Middletown, OH. More information may be found by visiting www.nuvoodoo.com.
MEDIA CONTACT: Lisa Dollinger, Dollinger Strategic Communication, 512.633.4084, lisa@dollcomm.com.