No Contest! NuVoodoo Ratings Prospects Study Reveals Rising Skepticism of Radio Contests Among Listeners

CINCINNATI, OH, September 5, 2019– NuVoodoo Media Services, a data-driven media marketing, programming and content intelligence provider, presents the second installment of the NuVoodoo Fall webinar series, The NuVoodoo Fall 2019 Contesting and Marketing Guide, based on its new Ratings Prospects Study 14. The second session of the webinar series will take a deep dive into all things related to contests, promotions, and marketing, and kicks off on Wednesday, September 11, 2019. Interested radio professionals can reserve their spot for one of three sessions at: www.nuvoodoo.com/webinars. The new study was fielded in June and represents the opinions of over 3,000 respondents ages 14-54 from across all PPM markets.
NuVoodoo's Ratings Prospects Study 14 uncovered a rising skepticism of radio contests among listeners. Compared to NuVoodoo's January 2019 study, the skeptics crept up four points, now at 29% of the sample – and ballooned up to 41% and 45% among those within the sample who profile as likely PPM or Diary participants.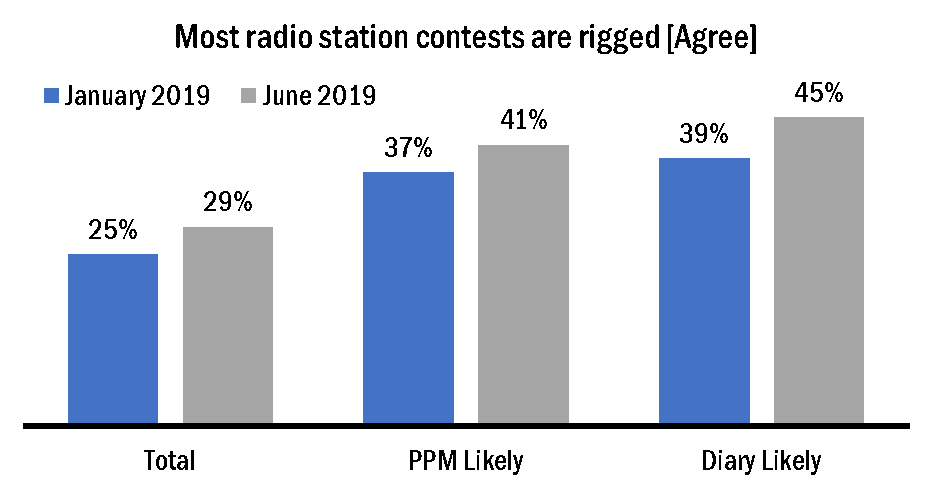 When NuVoodoo asked those who believe station contests are rigged why they feel that way, nearly half say stations are trying to trick people into listening more. The next three answers all point to a lack of transparency in contest procedures and practices.  
Leigh Jacobs, Executive Vice President, Research Insights, NuVoodoo Media Services, explained: "We've been tracking skepticism in radio station contests for a number of years now. We were saddened to see the numbers who believe "most radio stations contests are rigged" creep up a little bit in Ratings Prospects Study 14 this June." Jacobs noted: "You can pick the right prize, the right entry method, create killer promos and use cost-effective external media to support your game, but none of those things has an impact on listeners who don't think they have a shot at winning. If listeners don't believe the game is legitimate, it's doubtful their behavior will be influenced by your contest tactics."
Mike O'Connor, Executive Vice President, Marketing, NuVoodoo Media Services, added: "These are aggregated numbers from our samples of over 3,000 respondents per study across all PPM markets. We know that perceptions about contest legitimacy vary widely from our work conducting perceptual studies for client stations. While there are always a few skeptics out there, some stations are viewed with far more suspicion than others. You hate being one of those stations, but you love it when you're competing with them."
NuVoodoo further asked respondents what stations can do to prove their contests aren't rigged. Given the wide range of digital tools available today, there are lots of possibilities. The 45-minute NuVoodoo Fall 2019 Contesting and Marketing Guide webinar will show all the responses and take questions from attendees. Areas covered in the webinar include:
A review of contesting best practices from the NuVoodoo playbook.
What the key advantages of FM are among different format constituencies.
If Smart Speakers are really THAT important (including our initial experiences with Echo Auto).
The Social Media platforms that your station needs for organic reach and paid reach.
Who skips pre-roll video ads … and who doesn't.
What the best contest packaging opportunities are.
Carolyn Gilbert, President and Chief Executive Officer, NuVoodoo Media Services, noted: "Our Ratings Prospects Study 14 revealed that listener skepticism around contesting continues to grow, particularly among those most likely to participate as ratings respondents. There are ways to shore up listener relationships and build loyalty, while building excitement for station contests. We invite all radio professionals to learn more about the opportunities and insights uncovered by our new Ratings Prospects Study beginning Wednesday, September 11th, at Noon Eastern."
The NuVoodoo Ratings Prospects Study is conducted twice a year to learn more about those who are most likely to say "yes" to the opportunity to wear a meter or fill out a diary in order to provide NuVoodoo clients with competitive insights and advantages that they can exploit to capture higher ratings. This is the 14th Ratings Prospects Study that NuVoodoo has completed since 2011. The company shares the top-level findings of its studies with its radio broadcasting clients to develop winning next-generation marketing and programming strategies for stations of all formats in PPM markets.
Leigh Jacobs and PJ Kling, Vice President, Product & Business Development, NuVoodoo Media Services, will reveal the latest insights into all things related to contests and marketing, divvied up by ratings likelies, demos and format constituencies (including thirteen slices of music P1's and four types of talk P1's) in the NuVoodoo Fall 2019 Contesting and Marketing Guide.
The opportunity is bigger than ever (and so is the competition). NuVoodoo will share the best practices from its playbook to help programming professionals maximize their stations. Secure a slot at the NuVoodoo Fall 2019 Contesting and Marketing Guide by registering today at nuvoodoo.com/webinars.
FOR MORE INFORMATION, Contact Carolyn Gilbert, President, NuVoodoo Media Services, at: cg@nuvoodoo.com or at 888.9VooDoo (888.986.6366).
About NuVoodoo Media Services
NuVoodoo Media Services provides data-driven digital, social and direct marketing and programming and content intelligence to the radio, television, newspaper, music and retail industries through innovative new research and marketing products and services that give clients a winning edge. NuVoodoo also provides customized and proprietary web-based research designed to connect music lovers with the music they love most. NuVoodoo Founder and President, Carolyn Gilbert, has been the radio industry's foremost research strategist for more than 30 years. NuVoodoo brings fresh thinking and lower costs to media research, including a budget-friendly barter for services model. A "virtual" company, attracting the best people from all over, NuVoodoo has offices in Cincinnati, Austin, Chicago, New York, Philadelphia and Middletown, OH. More information may be found by visiting www.nuvoodoo.com.
MEDIA CONTACT: Lisa Dollinger, Dollinger Strategic Communication for NuVoodoo Media Services, 512.633.4084, lisa@dollcomm.com.