NuVoodoo Adds Digital Division and Launches "Conference Cloud" Virtual Event Service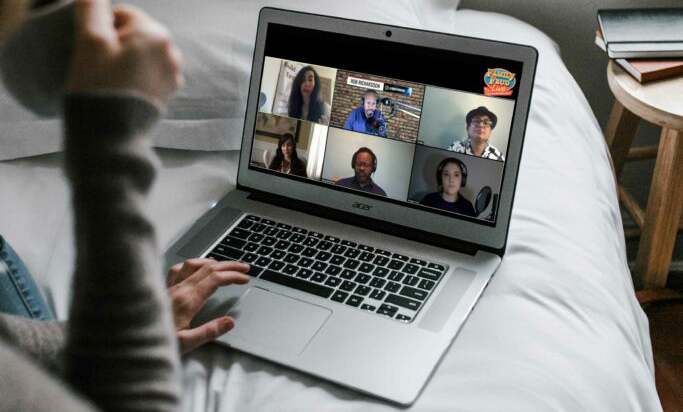 Agency Launches Magazine Website and Virtual Event; Inks Deals to Produce 2021 All Access Worldwide Radio Summit and New Digital Presence for "The Dan Patrick Show"
CINCINNATI, OH and LOS ANGELES, CA, October 5, 2020– NuVoodoo Media Services, a data-driven media marketing, programming and content intelligence provider, announces that it has added a Digital Division to its service offerings and unveiled the company's first Research/Marketing/Digital combo product, the Conference Cloud, a virtual event service.
"We've had the Conference Cloud in Beta since March when COVID-19 essentially shut down the entire convention sector," said newly minted NuVoodoo EVP of Digital Russ Gilbert, "Tying together NuVoodoo's research and marketing capabilities together with the technical platform from my old agency allowed us to move quickly and produce over a dozen events in Q2 and Q3 2020, most recently, Talentmasters' successful Morning Show Boot Camp event last week. Our roster also includes celebrity fundraisers for entities like the United Way that raised big money for charity, and corporate events like the Virtual NEXT convention in Chicago that featured over 1,200 attendees and over 30 exhibitors."
The Conference Cloud Platform contains all the features necessary to deploy a full-featured events site, including registration, virtual "exhibition booths," social and networking features, and fully produced broadcasts with high-end production value. In addition, NuVoodoo's Research Division provides insights into the content development process, and Digital Marketing rounds out the platform, putting it in a class by itself in terms of the complete service offering."
This 360-degree service offering is what got the attention of Don Anthony at Talentmasters and led to his choice of the Conference Cloud for Morning Show Boot Camp.
Anthony, Host of Morning Show Boot Camp and Publisher of Jockline Daily, commented: 'NuVoodoo's new 'Conference Cloud' provided the perfect platform for delivering this year's first-ever virtual Morning Show Boot Camp. They proved to be more like partners than a provider and helped to create a truly great and memorable event in every way possible."
NuVoodoo's Digital Division also recently unveiled its first project for Food Equipment Reports Magazine, www.fermag.com, and will soon turn its attention to the pending re-launch of The Dan Patrick Show's new digital presence this fall.
Carolyn Gilbert, President and Chief Executive Officer, NuVoodoo Media Services, commented: "Adding these digital services through a new Digital Division perfectly complements our research and marketing offerings.  We rely on a product circle that starts with research to determine marketing opportunities, and active and evolving technology provides solutions for our customers on an ongoing basis.  We all know that the world is changing quickly; it's up to us to be responsive and ride this roller coaster in the direction it's going."
FOR MORE INFORMATION, visit: https://myconferencecloud.com or contact Russ Gilbert, EVP Digital, NuVoodoo Media Services at russ@nuvoodoo.com or at 323-596-1701.
About NuVoodoo Media Services
NuVoodoo Media Services provides data-driven digital, social and direct marketing and programming and content intelligence to the radio, television, newspaper, music and retail industries through innovative new research and marketing products and services that give clients a winning edge. NuVoodoo also provides customized and proprietary web-based research designed to connect music lovers with the music they love most. NuVoodoo Founder and President, Carolyn Gilbert, has been the radio industry's foremost research strategist for more than 30 years. NuVoodoo brings fresh thinking and lower costs to media research, including a budget-friendly barter for services model. A "virtual" company, attracting the best people from all over, NuVoodoo has offices in Cincinnati, Austin, Chicago, New York, Philadelphia and Middletown, OH. For more information, visit: www.nuvoodoo.com.
MEDIA CONTACT: Lisa Dollinger, Dollinger Strategic Communication for NuVoodoo Media Services, 512.633.4084, lisa@dollcomm.com.