The Political Implications of PPM

Our past and current NuVoodoo Ratings Prospects studies seek to smoke out the differences between regular research respondents and those for whom the value proposition of a few dollars per meter per week in exchange for the deep commitment of everyone in the household carrying a meter and staying compliant with the requirements imposed on a metered household makes sense.
We've written about the significant differences these hurdles impose on the metered sample, from a skew in household income to a greater propensity for larger households to say they'd join the panel if offered.  While the PPM sample is balanced for gender, age, ethnicity and county population, the sample isn't controlled for income or household size.
Another uncontrolled skew among those who predict they'd opt into the panel if invited is across ideological lines.  Our data shows that those on the far right politically are significantly less likely to join the panel if invited.  For many stations, this is not an important distinction whatsoever.  But, it's easy to imagine the uphill battle faced by stations with Conservative-leaning talk formats.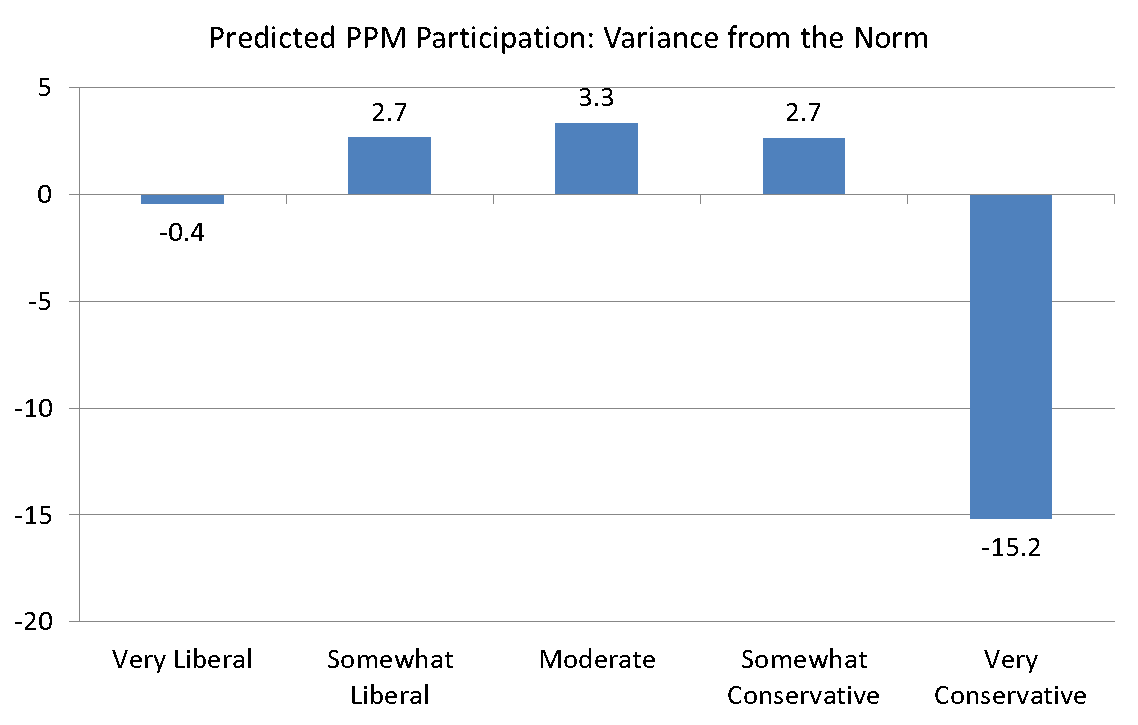 Add to it that the faithful for many Conservative talk hosts are finding ways to access the shows online, in order to listen to the shows when they have time to listen, and you have declining or unstable ratings for stations that were solid in the ratings in the past.  Those stations that are lucky enough to find Very Conservative homes with meters do well in the ratings until those households fall out of the panel (or face bad weeks when the household goes on vacation or has a life event that changes listening patterns).
We've advocated for some time that stations should be looking for TSL and stimulating cume among the right-of-centers – those who resonate with most of the values expressed by the Conservative talk lineups, but have opinions that put them outside the tribe served best by those hosts.  Local shows need to find the issues that bring a wider swath of the community together.  Issues outside the latest flap with the current administration need to be brought more foreground.  Topics revolving around morals, values and ethics – things that conflict with the general compass of right and wrong – need more airtime.  Promos and positioning for the syndicated hosts that form the backbone of many stations need to be couched in a manner to showcase the issues that appeal to the widest possible audience.
At the same time, stations that may not get as much time from their cluster's digital teams need to do a better job staying connected with their faithful audiences in the online and social spaces – so that there are good times ahead when one of the flock gets into the PPM panel and can be counted on to amplify the station's messages to their social circle.