Why We Love Meter Wearers

We love those who will wear a PPM for a lot of reasons.  We curse them from time to time (when they go on vacation during an important week; when those who love our station opt out of the panel; when their habits change and our ratings change with them).  But, PPM wearers are radio's currency nevertheless.  We love them.
The main goal of the four NuVoodoo Ratings Prospects Studies we've fielded since 2011 is to increase our knowledge of what makes potential PPM wearers tick.  We spend lots of time looking at the differences between the garden-variety research respondent who'll participate in any survey and the special group who predict they'd jump through the necessary hoops to participate in the PPM program.  The more we know about them, the more precisely we can build our programming, promotions and marketing.
We've shown in this space that those who predict they'd accept a meter tend to use more radio – which is great for radio.  They're also more attuned to all sorts of advertising.  Compared to those who predict they'd say "no" to PPM, those who predict they'd say "yes" are 106% more likely to notice ads in Social Media – and even 25% more likely to watch commercials on TV.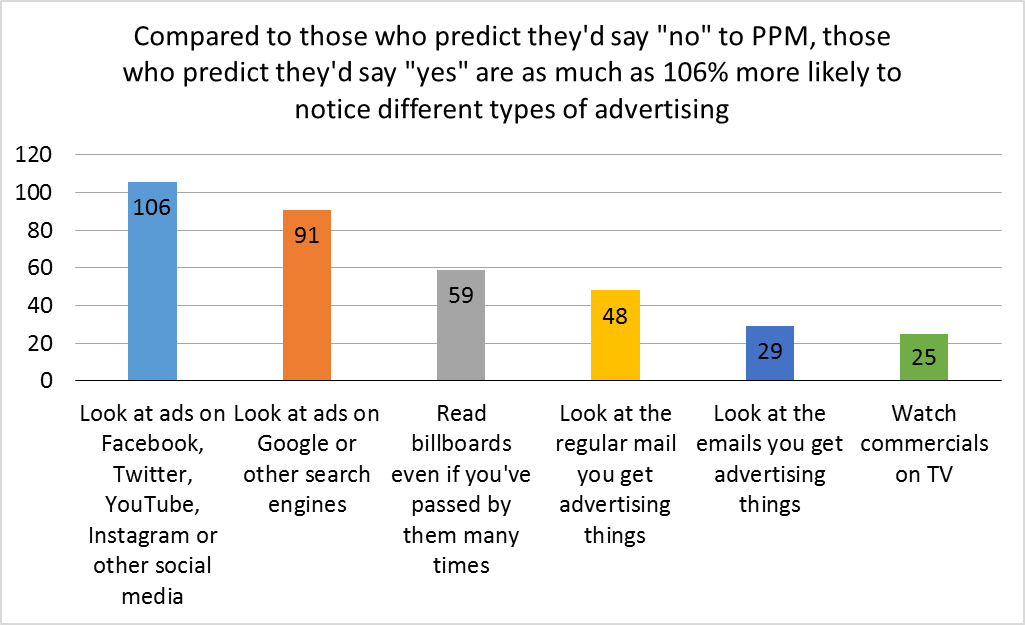 This means station advertising can be more effective when targeted at these human periscopes – amplifying the impact of a station's marketing message.
Compared to those likely to say "no" to PPM, those likely to say "yes" are 30% more likely to say they enjoy playing contests – an important potential promotional weapon.  And, they're 54% more likely to say they love recommending media choices to their friends.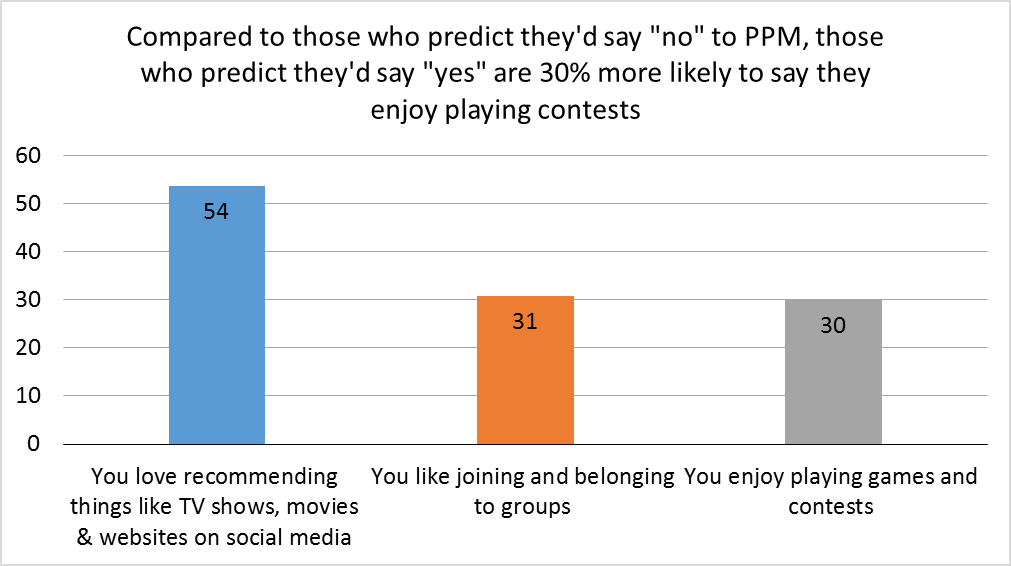 Using this information, content creators and marketers can tune their plans to appeal to the people who stand to do their station the most good: those who can really "move the meter" (forgive the pun).
Following the data helps determine where to place marketing messages to maximize the chance that those messages will connect with those who are carrying a meter.  Following the data helps shape promotion tactics, again, to appeal to the psychographic more likely to be carrying a meter.  While we're eager for everyone to listen, in this case, some people are more special than others.