Social Media: What's Growing? What's Not?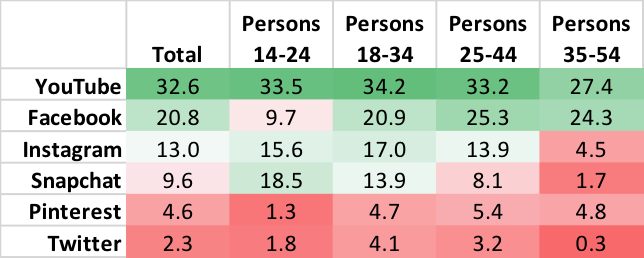 At the end of 2015 when we asked the constituencies for each of the Social Media platforms whether they're using the platform more, less or the same amount as they were six months ago, the net momentum number (more minus less) for Twitter was flat. The comparable data from the data we collected this summer shows Twitter still in the small single digits – essentially treading water with its constituency.
But, focusing on the Twitter numbers might cause you to overlook:
The continued ascent of YouTube (we're all watching more videos online).
More growth for Instagram.
Snapchat's strong increases among younger consumers.
And Facebook – which had dropped to zero among 14-24's – returning to positive numbers there.
Among 14-54's Twitter remains about the size of Instagram. Some continue to assume that Twitter is larger than it really is. It gets an outsized amount of attention, partly because its 140-character format doesn't allow users to add nuance or qualifications to posts. The resulting too-coarse Tweets get picked up by media outlets and amplified even further, making Twitter seem broader and deeper than it really is.
Twitter remains a fine tool for organic reach in some instances. But, when you add in Twitter's relatively steep costs and less-precise targeting, it's a rare choice for paid local marketing programs.
YouTube (and the Google ecosystem to which it's attached) continues to grow in usage and importance among the lives of consumers – even as it adapts its ad units to the market. We're looking at and sharing more and more video content, while we're growing more accepting of watching captioned, muted videos when we're out in public.
Instagram, part of the Facebook ecosystem, continues to gain ground and offers savvy local marketers another storytelling opportunity with a growing audience. Snapchat is planning to make inventory available to local marketers in the near future – and will offer great engagement to its considerable usage base (especially among younger consumers). We're waiting with bated breath to see its targeting capabilities and costs.
Facebook continues to impress us with its best-in-the-world targeting. We were concerned seeing the softening numbers on the young end at the close of 2015. But, through the addition of Facebook Live and other enhancements, Facebook resumes rising among younger consumers.
At NuVoodoo, we watch the data. Our marketing plans for clients incorporate an optimized media mix based on research. We employ a data-driven approach based on multiple decades of combined research and marketing experience for radio and TV that gets results for our clients.