FM Radio & Music Discovery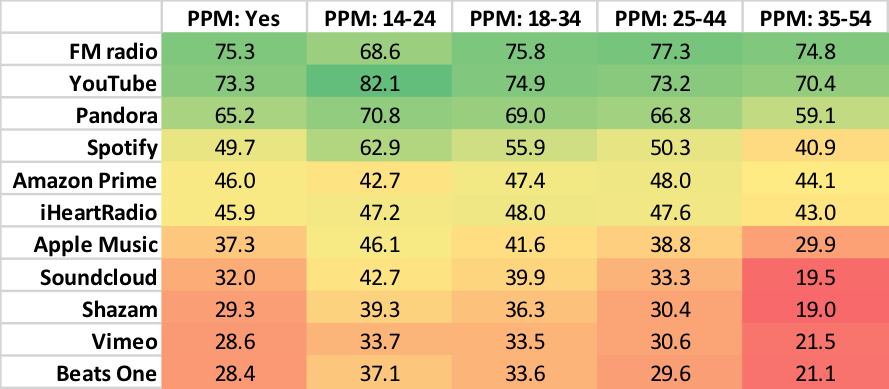 When we asked over 3500 respondents in the latest NuVoodoo Ratings Prospects Study which of eleven sources they use to help them discover new music and new artists, FM remains on top among partisans for five of eight broad radio formats where new music is an important part of the recipe – and FM is only a point or two behind YouTube for the others.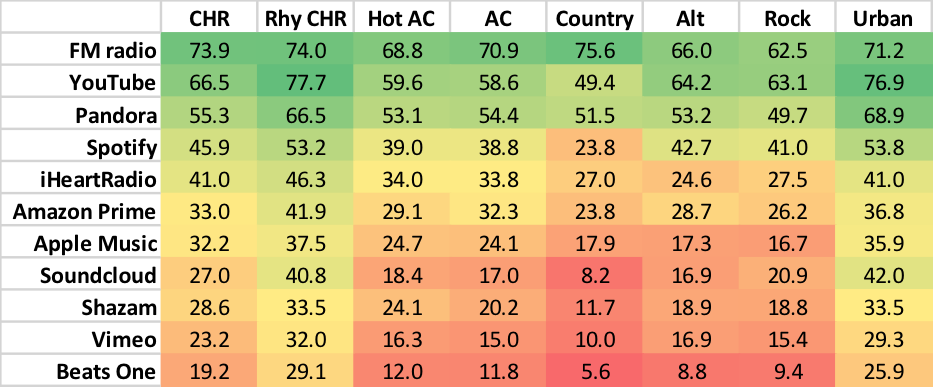 It's important to remember the other ten sources on our menu didn't exist in 1999 – and most have been around less than a decade. For those formats (and more specifically stations) where music discovery is an important benefit, it's critical that programmers remain mindful that consumers today have many new options. If you're not serving their needs, they'll find a workaround among the many options out there.
Demo breakouts among PPM-receptive respondents (and Diary-receptive respondents, for that matter) tell the tale. Not unexpectedly, it's at the young end where FM faces the greatest competition. But, it's not as though adults 35-54 are ignorant of places to learn about new music beyond FM.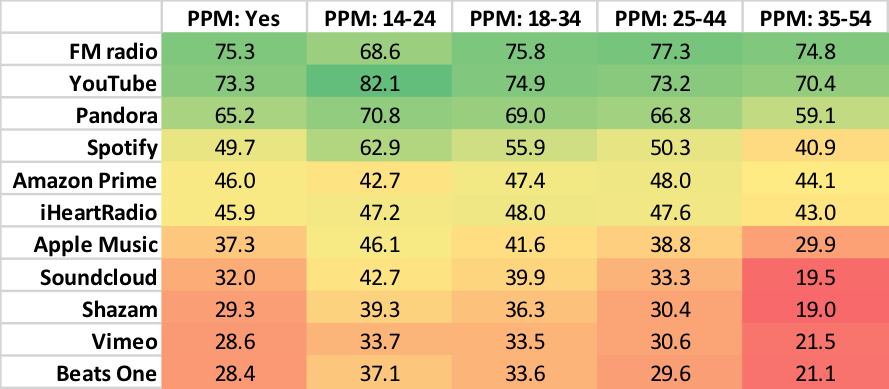 In 2016 and beyond, radio needs to become explicit about its new music benefit. We need to live up to the imaginations of listeners – many of whom envision teams of people auditioning and reviewing new releases at stations to choose the ones good enough for airplay. If new music is a major plank in your station's positioning, you'll need to adopt strong tactics and messaging to maintain your station's image against these many new competitors. The specific tactics and exact messages will vary by format, station, market and, of course, the creative vision and energy of the station teams.
It's apparent that radio will not hold on to its new-music-discovery advantage just because we were here first. We'll need to devote resources and airtime to maintain and/or improve our position. NuVoodoo research has also shown that, as it pertains to music, among the most powerful forces that radio has to influence listening are new releases not yet available to the public.
Moreover, while many stations spend hundreds of person-hours every month selecting and scheduling music, we rarely talk about those efforts on the air. Music selection and scheduling remain black boxes in a world where consumers increasingly demand transparency.
Next week: a finding about radio station contesting that stunned us at NuVoodoo. Also, we're looking forward to seeing old friends and making new ones at the Radio Show next week in Nashville. Look for us around the floor and tell us what we should be looking into to help ensure radio's future.