Who Still Answers Their Home Phone?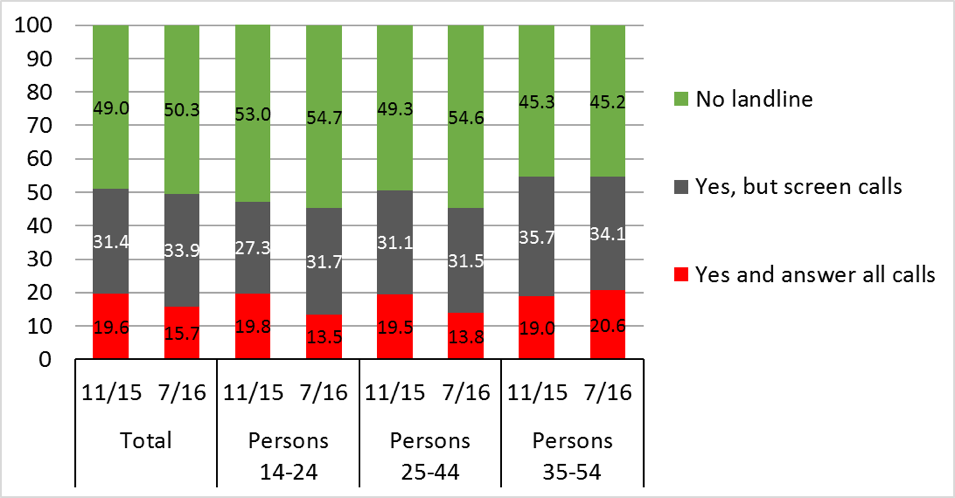 Presuming you can find people who still have a home phone, who are the people who still answer them? Back when Arbitron began its sample recruitment process on the phone, we felt compelled to follow suit and interrupt unsuspecting people at home when conducting callout, perceptuals and screening for auditorium tests. But, seriously, who still answers their home phone?
Nielsen has had to move to other methods of contact because residential landline telephones are no longer ubiquitous. As we're preparing to field the ninth NuVoodoo Ratings Prospects Study next month, we're eager to see what's happened to landline penetration since the summer. We watched landline penetration drop another point between November 2015 and July of this year. But, more importantly, we watched the percentage who say they answer their home phone drop 4 points.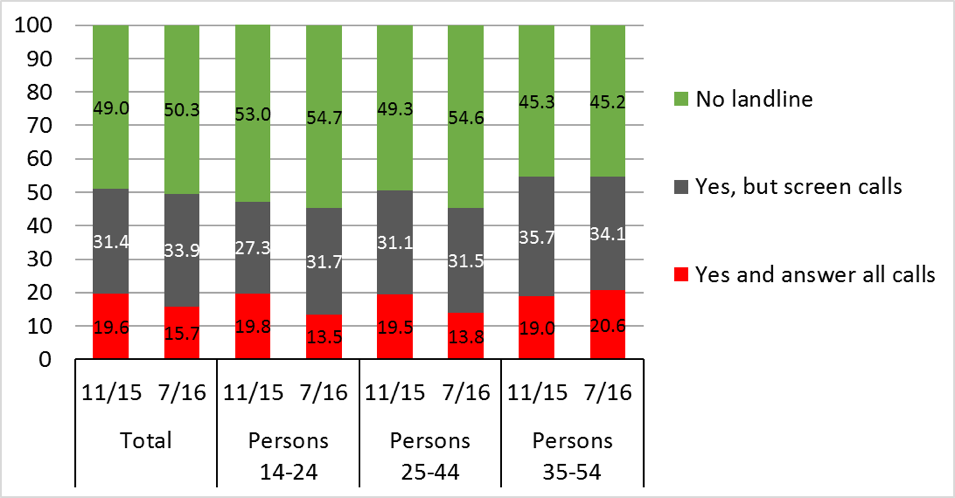 While a few more 35-54's say they're answering their home phones, those in younger demos are giving up in droves. Home phones have become a dumping ground for scams of all kinds. "We're calling about your credit card – there's no problem, but …"  "This is the IRS."  We have a long-winded explanation to go through before we tell you we're selling vacation time shares. It's no wonder that only those of us most-trained by our parents to quickly and respectfully answer the home phone even consider answering when it's an unfamiliar number calling.
Try to imagine who it is then that answers the unfamiliar number from a research call center somewhere and then rates three dozen songs during a callout interview. Or answers their home phone from an unfamiliar number and ends up spending a half hour answering "just a few more questions" for "another minute or so" to complete a perceptual study interview. It's harder still to imagine the person who, after answering a call from an unfamiliar number to their home phone, tells the stranger on the other end of the phone that they'll go to a hotel meeting room a few evenings later (to rate hundreds of songs). Yes, there are still people who will cooperate and complete these interviews, but they're fast becoming a very narrow sliver of the population who represent … well, we're not sure who they represent.
Meanwhile, given the immense research appetite of big business, appropriately-screened online sample is plentiful. The number of consumers willing to participate in online research has skyrocketed, to the point where most markets have more potential cooperative respondents online than on landline phones. And these online respondents are easily compensated for their time, meaning they're more engaged and have more in common with the paid respondents who participate in the ratings.
Online respondents know how long the interview is going to take and how much they'll receive for completing the interview before they begin. They're given a window of several days to complete the interview at a time of their choosing and, in longer interviews, can take a break whenever they want. They complete the interview when and where they want to, on the device that works best for them. In 2016, half our interviews are completed by respondents on a smartphone or tablet. Given the near-ubiquity of smartphones, it's obvious that the future is mobile.
Just as consumers are deciding what they want to hear and watch when they want to hear and watch it, they're deciding what research invitations they'll accept – and when they'll accept them. We grew up in a push/interruption marketing and research world. We're in a pull world now. As consumers, we love it. As broadcasters, marketers and researchers, we have to adapt or risk extinction.