How Many Spots on Your Station? And, Should Santa Come Early?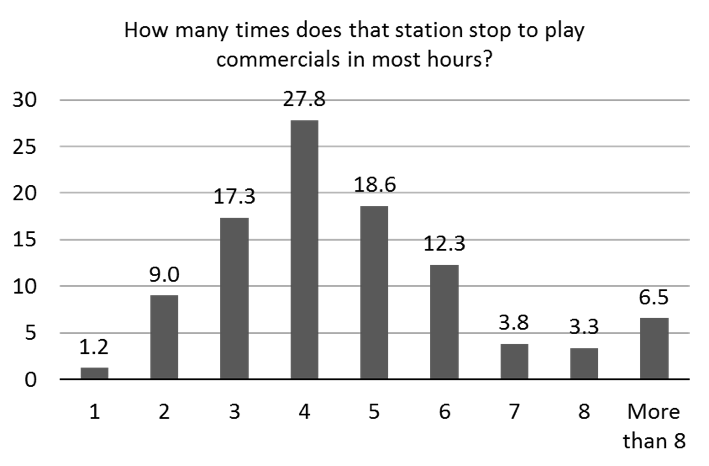 Diary methodology allowed programmers and managers to create all sorts of theories about how many commercials listeners could bear and what was the best way to package them. PPM forced us to become more scientific and, despite experiments with other schemes, the prevailing best practice for music stations is two breaks per hour. Yet when we've asked how many times the station they listen to most stops to play commercials per hour, the answers are different.
Over 70% imagine that their most-listened-to music station stops to play commercials at least four times per hour. While the data can vary significantly for specific stations, this data showing P1's of major market commercial music stations among persons 14-54 shows that only 28% come up with a number close to reality.
High-profile morning shows on some stations may skew respondents' perceptions. And, we know that announcements about station attributes or features that we call "promos" are called commercials by listeners; so a promo dropped between songs may constitute a break for some listeners. But, the bottom line is that most listeners think stations break for commercials more often than they really do. Thus, promoting that your station breaks for commercials only twice an hour would be a benefit in the estimation of most listeners.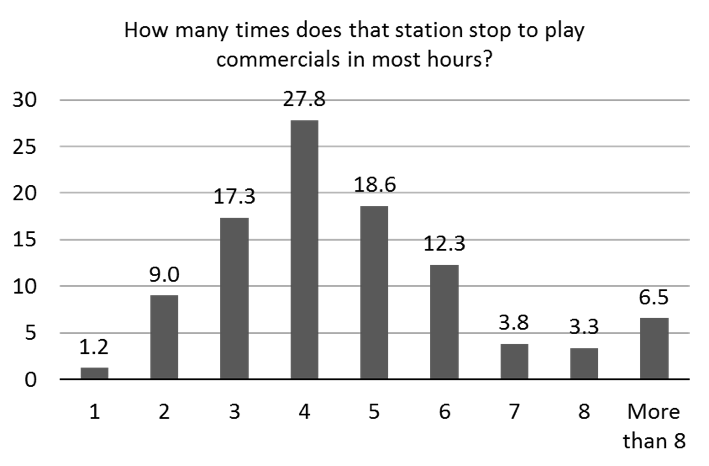 On the flip side, listeners don't have a realistic perception of how long commercial breaks are. That same sample of major market music station P1's comes up an average number between four and five commercials per break. Unless your station maintains breaks shorter than that, you'll probably want to keep the actual number to yourself.
With no-pay options for Pandora and others dropping in a commercial every few songs, promoting that you only stop twice per hour could help pull TSL back from the pureplays. And we're hard pressed to find a down side in that. But, unless your station is running fewer than 4 spots per break, you'll want to keep that number to yourself.

As you're reading this, some stations have already flipped to All Christmas programming. Thanksgiving Day starts Week 4 of the December PPM month. So, if you wait until Thanksgiving to flip, Santa will have only one week's influence on the December month. Early flips to All Christmas don't always benefit stations, but in a November where about a quarter of the nation is jubilant about the new President Elect, another quarter is upset and all are weary of this election cycle, having Burl Ives to kick around early this year may turn about to be a much-needed distraction.