A few weeks back, we wrote about the experience of hosting a focus group of Millennial-aged Country music fans at the Country Radio Seminar in Nashville. Asked if they have a radio at home, one respondent memorably answered, "There's one at my mom's house." A couple of the panelists admitted they do have a radio at home, but none talked about listening to the radio at home – even though they all talked about listening to services like Spotify and Apple Music at home.
For many listeners, radio is stuck in the car. Even if they have a clock radio, fewer and fewer are waking up to radio stations. It's getting more difficult to even buy a radio. A client told us about needing a boom box for a last-minute station appearance. He ran into a Walmart to buy a boom box, but it took help from several Walmart employees (and lots more time than he'd imagined) before locating a few boom boxes for sale.
In the latest NuVoodoo Ratings Prospects Study, we asked about recent purchases of a variety of devices. Among our sample of 5,686 respondents, ages 14-54 across all PPM markets, only about 1 in 5 bought a new AM/FM radio – not in a car – in the past year. The good news for radio is that, among the respondents we identified as those most likely to accept a meter from Nielsen, the number of past-year radio purchasers jumps to 36%.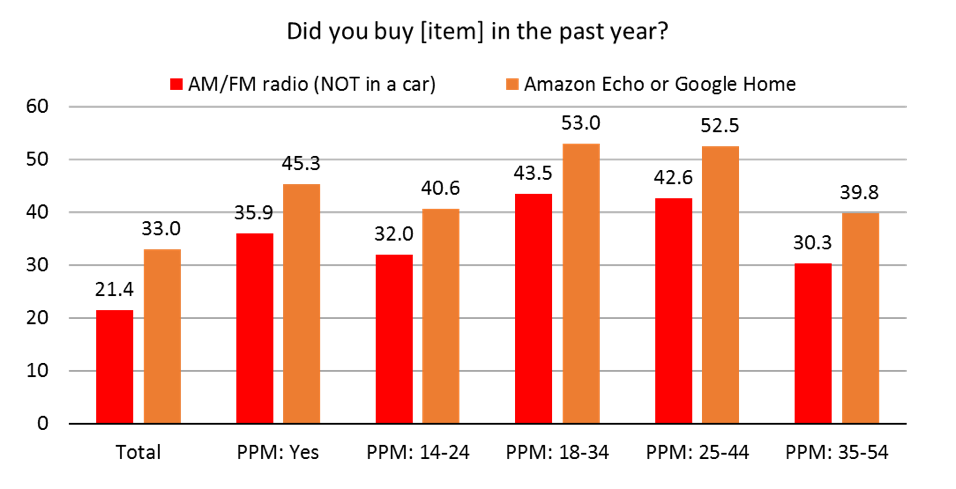 While our interviewing was conducted only in PPM markets, we asked questions to model which respondents would be most likely to accept a diary from Nielsen (figuring the psychographic that would accept a diary would be about the same, regardless of the size of the market in which they live). The pools of likely meter wearers and likely diary keepers are somewhat different from one another, but we again saw far more recent radio purchases among likely diary keepers.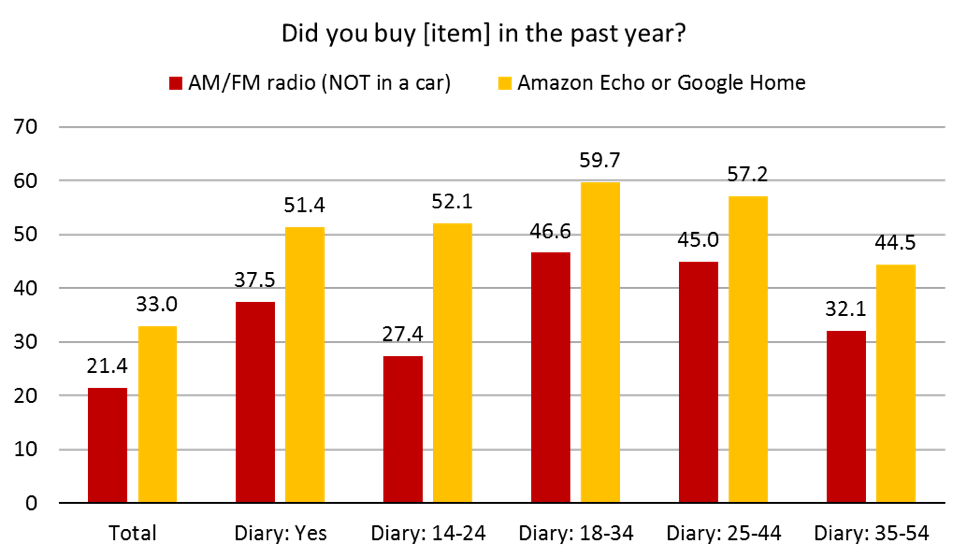 In every group, however, the percentage who purchased a new Amazon Echo or Google Home in the past year is sharply higher than the percentage who bought a new radio. 45% of likely meter wearers and 51% of the likely diary keepers bought a new Echo or Home in the past year. They're great devices. Voice recognition keeps getting better and better. Most owners enjoy the devices and are finding new things they can do regularly.
Are you telling listeners they can hear your station using their Amazon Echo or Google Home? Beyond reminding them that they can listen to the station, are you telling them exactly what should they say to "Alexa" or "Hey Google" to get your station playing? We know from diary reviews and focus groups that listeners identify stations in many different ways. The last thing you'd want is for them to experience frustration trying to hear the station – or end up listening to the wrong "Q-102."
While you're at it, you'll probably want to take some time to hear what listeners will experience. If your stream carries different inventory than your on-air signal, you'll want to make sure everything's as good as it can be. New devices. New location. New listening. Good news.