Alexa, Play (My Favorite Radio Station) for Me

Last week we wrote about using the Amazon Echo (or Google Home) to listen to radio in your home. While there are a few venerable clock radios still on nightstands and some homes may have a Bose Wave Radio lurking somewhere, there are fewer and fewer radios in homes today.
Among music station P1's across the major formats, there are lots of homes with a new Amazon Echo or Google Home. Both devices were hot gifts during the past holiday season. The low price of Amazon's Echo Dot shows their desire to infiltrate multiple rooms at home. There are already vendors out there to add "skills" for your station's offerings to Echo.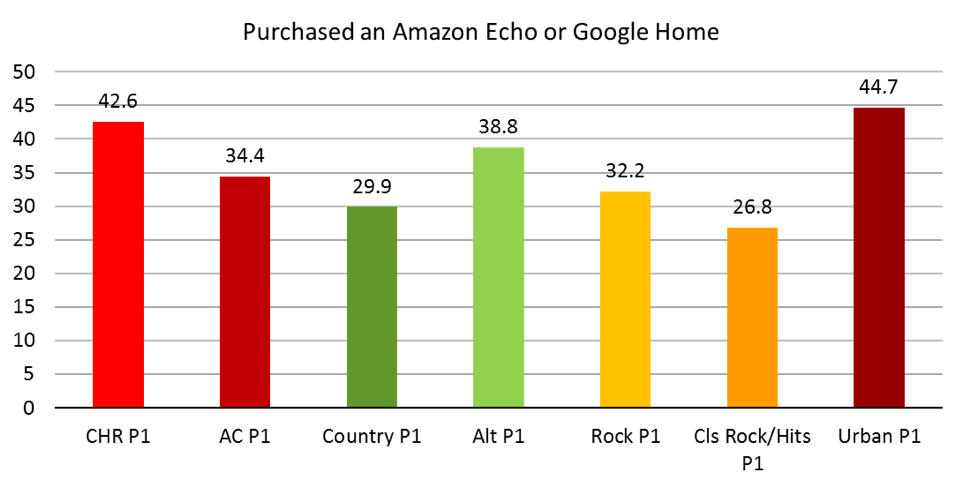 Even if you're not ready to jump on Alexa knowing "skills" to associate with your station, you definitely want Alexa to play your station when a listener asks. Since there's no dial to tune or preset to program or even an app to manipulate, it's critical that listeners know what to say to get your station to start playing reliably. Last week we advised running promos and liners telling listeners exactly what to say.
Station call letters are a reliable way to get stations to start playing, but many stations use their call letters only in the required legal ID. We tried getting streams playing for a wide variety of stations and had more than a few instances of the wrong "Magic" or "Star" or "Sunny" or "Big" playing. For Alexa, "one-oh-one point five" can be interpreted differently from "one-oh-one five." Experimentation is necessary to know what will work reliably for your station. Subsequent repetition will be necessary on the air to teach listeners this new skill with their device.
In a few cases, TuneIn (the app Echo often uses to stream a station) didn't recognize the new identity of a few recently flipped stations. We eventually got the stations playing by asking for them by legal call letters. Clearly, this is a new listener experience that needs to be optimized to work right away – to avoid friction or a steep learning curve.
The format P1's with the biggest percentages of these new devices (CHR, Urban, Alt) are the same format P1's who are likely to spend significant time with Spotify, Pandora and others. They're probably willing to try getting Alexa to play a favorite radio station for them. If that doesn't work out correctly, however, you can imagine that their next command will be for Alexa to play some familiar, non-terrestrial source (Spotify, Pandora, etc.).
And one more thing: looking at TuneIn to verify that we really were streaming the intended station with Alexa, we saw a few old or incorrect logos for stations. Chalk that up as one more item – checking the station's information on TuneIn – for a PD's to-do list.