Do Stations Usually Play What Listeners Want Right Away?


To get an answer to that question, we asked those in our latest NuVoodoo Ratings Prospects Study who listen to AM/FM radio at least 15 minutes per day to agree or disagree with this statement: "The radio stations you listen to are usually play what you want when you tune in." In our sample, starting with over 3,000 respondents, ages 14-54 from all PPM markets, across over a dozen formats, the P1's identified in our study gave radio pretty consistently high marks.
Respondents aligned with CHR, Mainstream AC and Classic Rock were most likely to give radio the highest marks among music formats. Partisans from spoken word stations gave radio very high marks to stations for delivering what they want right away. While we fret about specific woes that might be hiding beneath the lower-than-expected results among Classic Hits and Country P1's, we have to admit we thought these were strong results for our medium.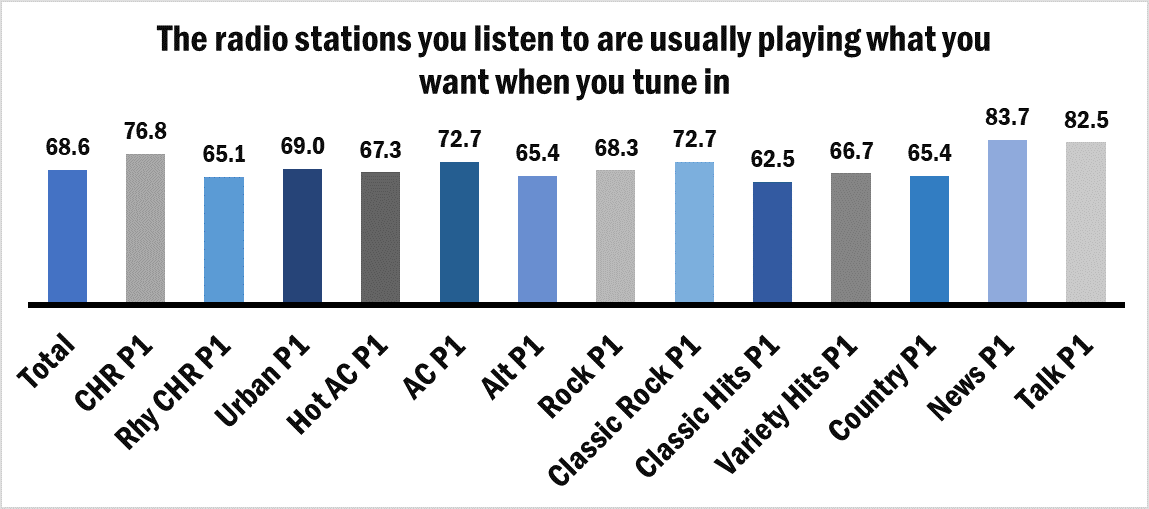 The big problem that does turn up, however, shows up only when we slice the sample down to narrow demos. Among even the 18-24's who are using enough radio to show up in this subsample, better than 2/3 give radio thumbs up for delivering what they want when they tune it. The problem appears among 14-17's. Generation Z it seems is starting even further away from radio than did their older Millennial siblings.

We've talked for years about engaging Millennials with terrestrial radio. As they've become drivers and active participants in a mixed-generation workforce, they've become terrestrial users to a reasonable degree. And, maybe Gen Z will fall into line over time. But, with changes in the infotainment systems in newer cars and their comfort with New Media, it stands to reason that terrestrial radio needs to embrace these future adults with something more targeted that what's on the air today.
How would you sell radio to a generation that's completely conversant using streaming music? It's a generation that's growing up starting TV shows and podcasts when they want them to start; a generation that's dealt less with tuning into things already in progress than previous generations. It's a generation that's grown up with Social Media as a fully formed platform. These young people can engage with peers from around their community, their metro and the world without a hitch. Selling radio to these young people is an engaging exercise. It's an exercise that radio should be solving now – because in a few years, it could be too late.
Next week: A preview of what we'll be talking about March 8 at Talk Show Boot Camp in Dallas. We'll be sharing the stage with our friends Steve Goldstein and Fred Jacobs and talking about how new technology is impacting spoken word radio listening – and what radio should be doing about it.