New Music Discovery: Good News/Bad News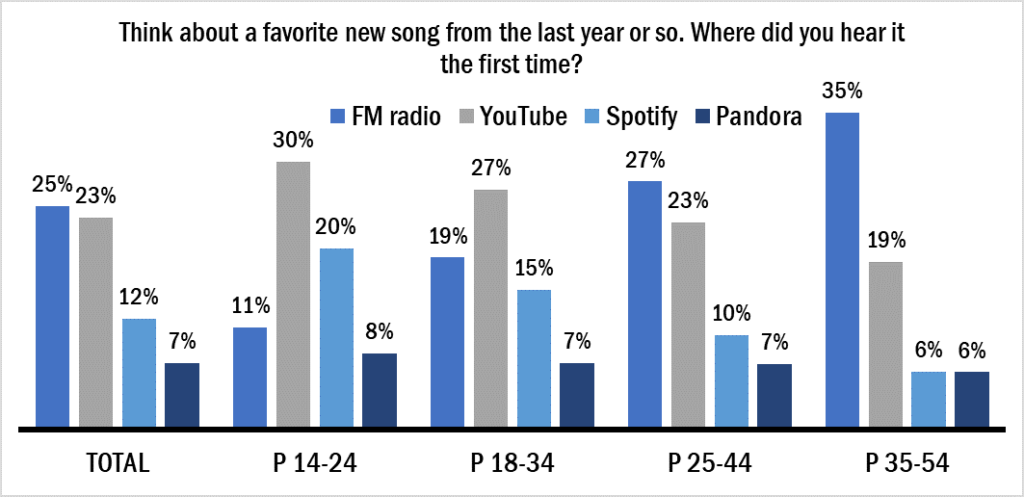 The second episode of the NuVoodoo fall webinar series is set to launch this week. The deep dive in this new installment is contesting. We're sharing fresh insights on national vs. local contests – and how to optimize positioning no matter which side of that fray you find yourself. We'll share new data on contest appointment times. We looked at participation preference for every hour 6 AM – 7 PM and we'll show the data broken out by every music format and demo.
We've also been teasing our latest findings on new music discovery from NuVoodoo Ratings Prospects Study Twelve. Our latest data shows FM radio neck and neck with YouTube for music discovery. While FM holds off YouTube by a couple of percentage points, FM's edge is based on its heritage at 35-54. Among the 14-24's in our sample, FM falls to third – behind YouTube and Spotify.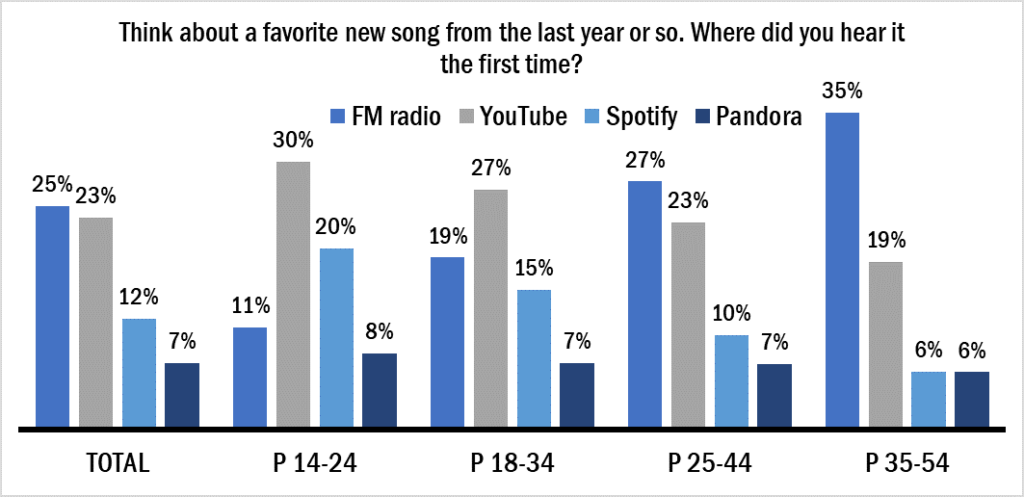 While free, instant access to new music on YouTube has become addictive for younger people, the good news is that their eyes and ears are available on YouTube. That means there are powerful ways to employ YouTube to get your messaging to these young consumers – especially if you can package your message with content they'd be interested in viewing/hearing. It's the perfect place to showcase your in-studio live recordings and other original content.

New technology has changed the new music playing field forever. But radio doesn't have to go quietly into the night. Radio is an amazing curation service (we spend mightily in dollars and person-hours in picking songs and building playlists) – and there's huge value in that service. Stations can build that part of their branding with greater transparency and well-organized efforts to get feedback from listeners.
The first session of episode two of our fall webinars launches Wednesday, September 5 at Noon Eastern (with four more sessions set during the following two weeks). In addition to a deeper dive into music discovery sources and contests, the new webinar will look at which listeners most appreciate promotions based on tactics other than contesting. And we'll crack open the NuVoodoo digital playbook and look at the latest tools and reveal some of the digital "secret sauce" from our marketing department. Register for episode two, Fall Contest Essentials at nuvoodoo.com/webinars.