Group Contesting vs. Local Contesting: Answers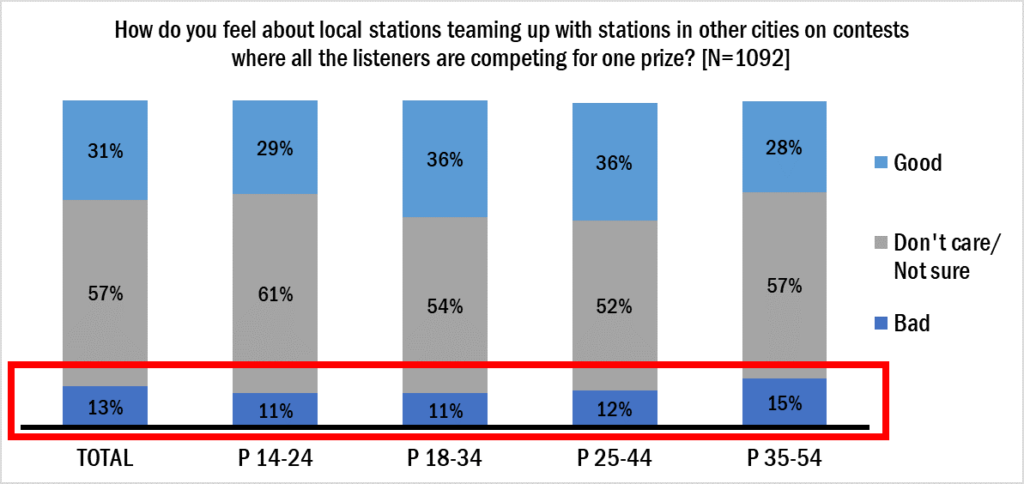 When we fielded NuVoodoo Ratings Prospects Study XI back in January, we asked respondents which sounded better to them: a contest where the 25th local caller won $250 or a contest where the 25th nationwide caller won $1000. Even with a four-times larger prize, the local prize lead 63% to 28%. Of course, that assumed people are aware of contests being played in multiple markets around the country.
In these days of 10-digit dialing for local calls in many markets, lots of stations employ toll-free numbers for local contests. We know the on-air announcements dispatching the legal requirements of group contest disclosure are hardly as noticeable as the promos and liners talking about the size of the prizes and the frequency of giveaways. So, we wondered how many people realize that group contesting is happening?
In NuVoodoo Ratings Prospects Study XII, fielded in June, we asked. We found that a little over a third are aware of stations running group contests. That percentage balloons to over half when we filter down to the more media-attuned psychographics likely to participate in the ratings, either PPM or Diary (labeled in these charts as "PPM: Yes" and "Diary: Yes").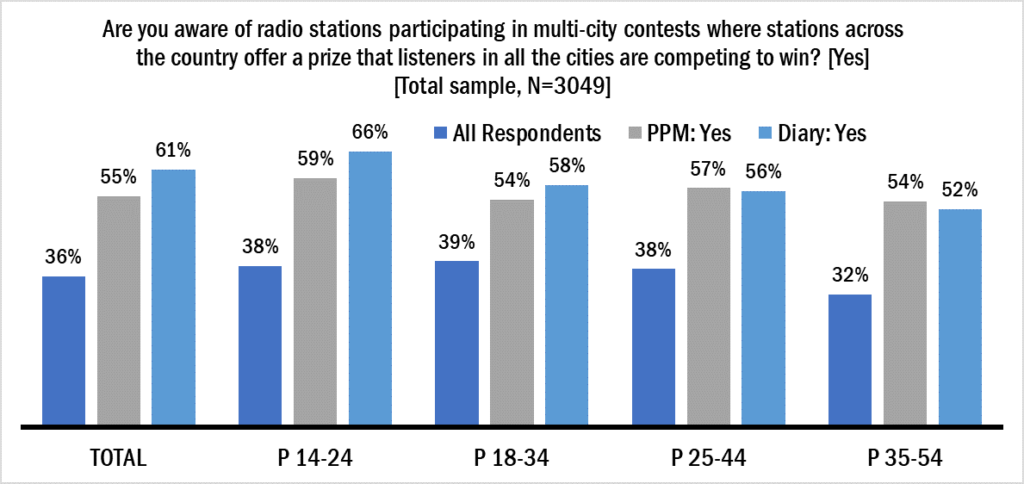 Then we followed up to gauge attitudes about the practice. Among those aware of group contesting, the majority don't care one way or another. Some even think it's good, perhaps due to the larger prizes offered or more frequent chances to win. It's only 13% of those aware of group contesting who think it's bad.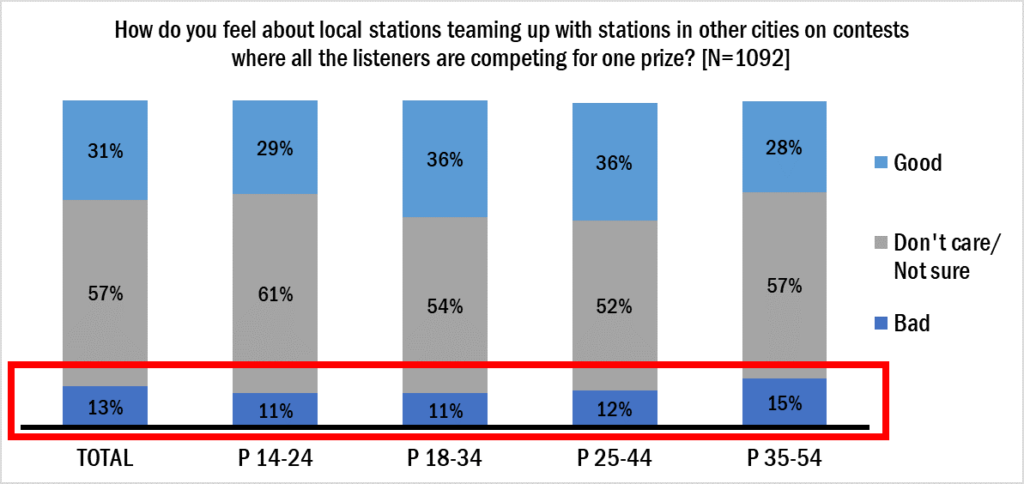 Remember, that's 13% among those who are aware of group contesting that think group contesting is bad. What's that look like among the larger population? When you include those who aren't aware of group contesting, the portion who think group contesting is bad dilutes to 5% overall. That means that one listener in twenty thinks group contesting is bad.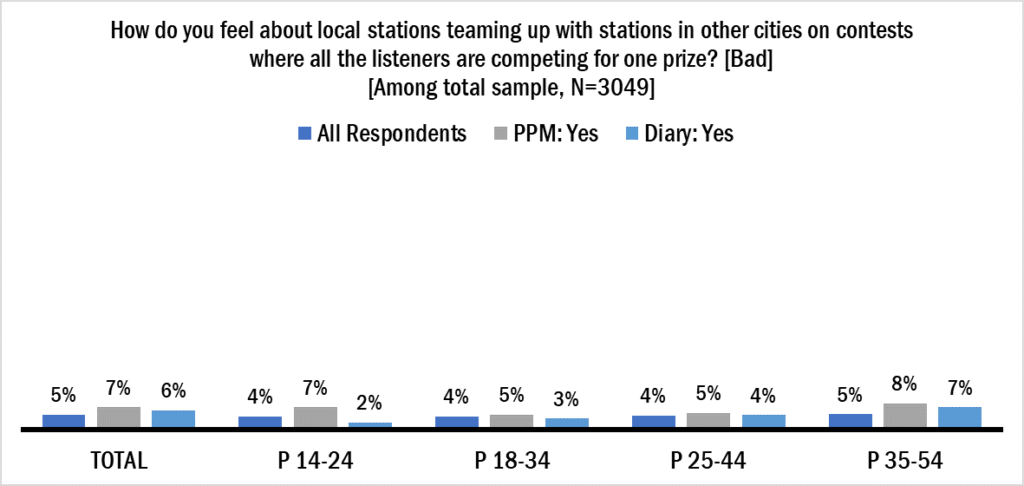 Even when we filter down to the ratings-likely participants, the anti-group-contesting contingent amounts to no more than 8%. And while that is a headwind, there are steps you can take to reap the biggest benefits if you're running a group contest:
Don't trumpet that it's a group contest (lower the decibels on that message as much as you can).
Trumpet loudly the size of the prizes and the frequency of chances to win; those things are music to the ears of contest actives.
Run lots of winner promos with lots of excited voices helping to convey the idea that lots of people are winning, so your turn could be next (and avoid pointing out that some of these voices are from cities hundreds of miles away – and eliminating accents that tell that tale).
Ensure that local winners get star treatment on the air and in social media (include their specific part of town, their place of employment, etc. to make the circle wider of people who'll care about your winner).
If yours is a local contest – and especially if you're competing against a massively-funded group contest – there are steps you should be taking:
Trumpet that it's a local contest, all the winners will be from here – that's BIG news for local contest actives.
Use a local number for call-in-to-win games and include the word "local" in your contest solicitations and promos.
Ensure that contest appointment times are optimized and are exactly what you need (you'll have more flexibility there than a competitor running a group contest).
Run lots of winner promos on air and in social media; don't forget that you're also fighting the opinion some listeners have that contests are fake – that no one really wins.
Underscore that your winners are local (include specific parts of town where your winners live, where they work, etc.).
Use video in social media with winners receiving oversized checks (and anything else to make your video visually entertaining) and showcasing everything possible to underscore you're your winners are local.
The NuVoodoo team is in Orlando this week for the RAB/NAB Radio Show and would love to talk with you about your questions and your challenges – and we'll be glad to review any of the data from our recent webinars. Reach out to us at marketing@nuvoodoo.com and we'll set a time to get together.