Fall Plans and the Delta Variant – 3 Key Data Points for Event Planners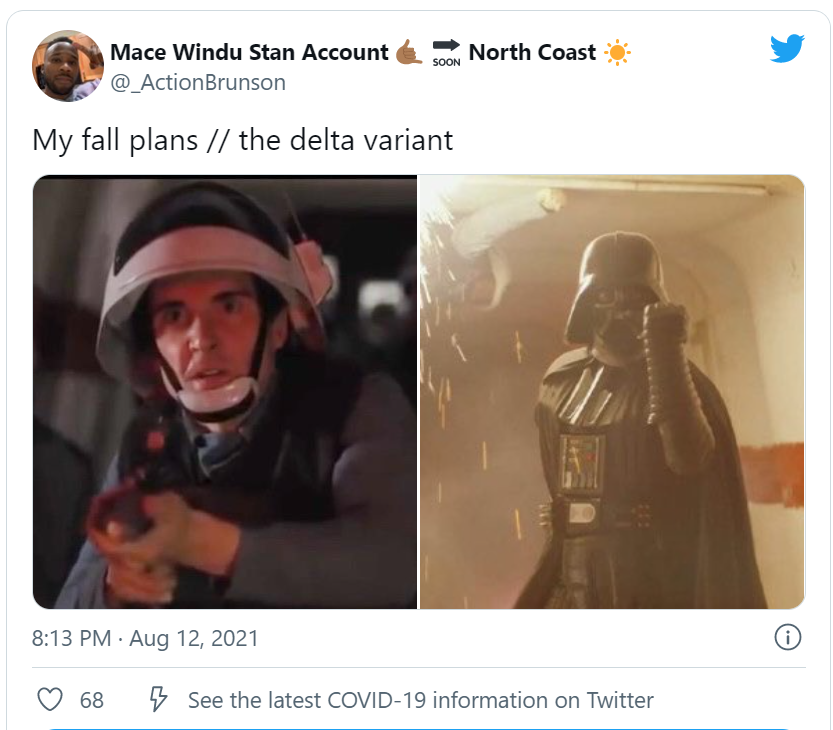 Almost everyone's seen the memes by now, but if not here are a few favorites:
It seems a foregone conclusion for most people that with the spread of the Delta Variant our short lived "return to normalcy" will not be without some pretty major bumps in the road.
We've already seen an uptick in inquiries regarding virtual and hybrid events for our Conference Cloud Virtual Events Platform, and there are now a whole host of new considerations when we consider staffing the latter.
Having people on-site anywhere now involves questions like "Are you requiring masks?" and "Are vaccinations required?" On top of that, the specter of a potential new shutdown looms over every in-person event.
These questions figure heavily into the calculus of anyone planning an event, so we posed some relevant questions to a panel of just under 2,000 Americans. The answers were fairly decisive.
Here are our takeaways:
1: Mask Mandates are a Must.
There's far less controversy on this issue than the news might have you believe.
One of the single largest groups responding to any of the questions affirms they will wear a mask while in public. While the opposition is very vocal (and in some cases even get physical about it) those who strongly agree they won't wear masks account for only 13% of our panel. Even combined with those less passionate, they're less than 1/3 of the total.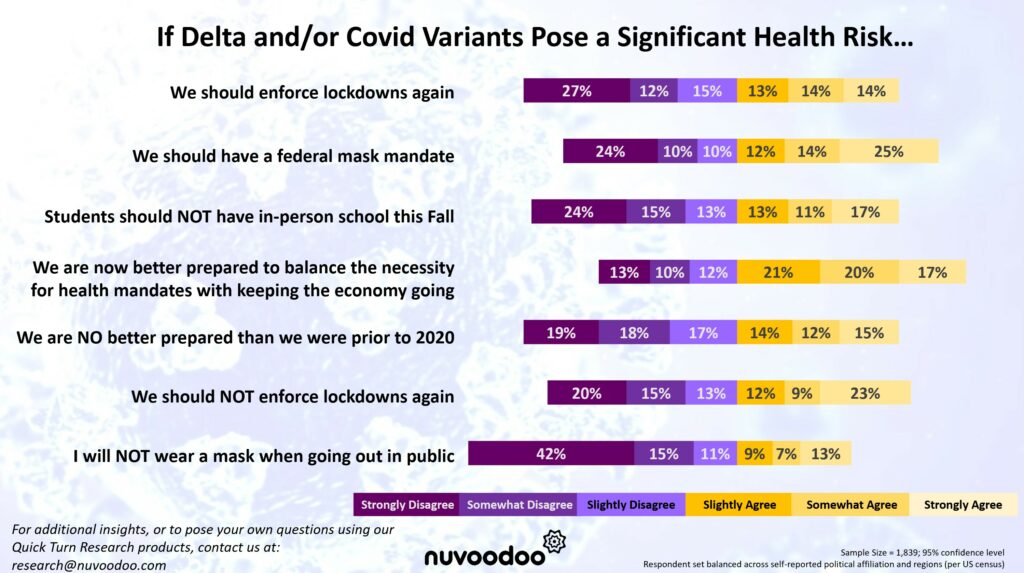 ---
2: Plan Smaller Scale Events with an Online Component / Fallback Plan
We've seen plenty of anecdotal evidence that people aren't quite ready to resume their previous routines. Whether we're talking about soft box office numbers for blockbuster films or a slowdown in travel, there are plenty of tangible impact points for Delta.
Our numbers show the same thing. We see massively lopsided preferences against large scale events like sports, concerts and other large gatherings. Travel remains a concern as well.
In the context of event planning it seems more than prudent to have an online component so that attendees can participate virtually. For events that end up being scaled down or even cancelled, having an online component ready to go can be the difference between a successful event and happy sponsors and an unmitigated disaster.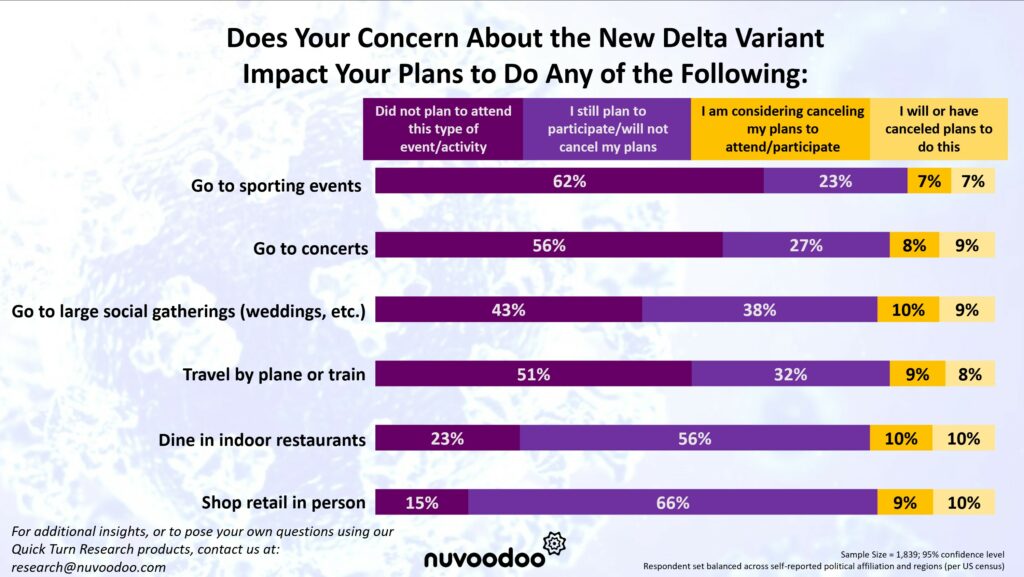 ---
Point 3: A Vaccine Requirement Sells Tickets
Again, it's easy to get caught in the trap of thinking public opinion is far more lopsided than it is due to the fact that the opposition to controlling the virus is many times louder than those in support.
In reality, there is overwhelming agreement on many of the key points. 60% of America has taken the vaccine at this point which is already an overwhelming majority, and in that cohort there isn't much disagreement. Take a look for yourself: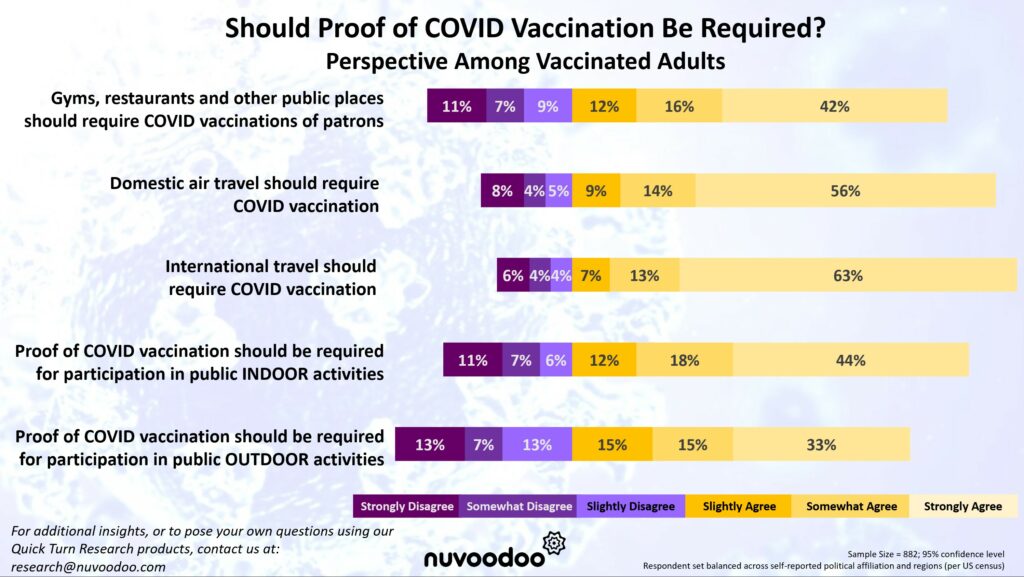 ---
Some key takeaways:
70% of Vaccinated Americans think public places like gyms and restaurants should require proof of vaccination.
79% of Vaccinated Americans think domestic travel should require proof of vaccination.
74% of Vaccinated Americans think that vaccination should be required for indoor activities.
63% of Vaccinated Americans think that vaccination should be required for outdoor activities.
We just saw that Lollapalooza in Chicago with 385,000 people had only 203 attendees test positive for COVID-19. That's a 0.00005% infection rate, not exactly what anyone could term a "super spreader" event.
Obviously there are regions in the country where the national average will not apply, but if you're planning large scale events aimed at Corporate America, these points are well supported by our data.
People want to get back out there, but most of them want to do it sensibly and safely.
If you want to see more data, check out our ongoing coverage of the Delta Variant on our New Normal Page.