Need to Plan a Last-Minute Contest?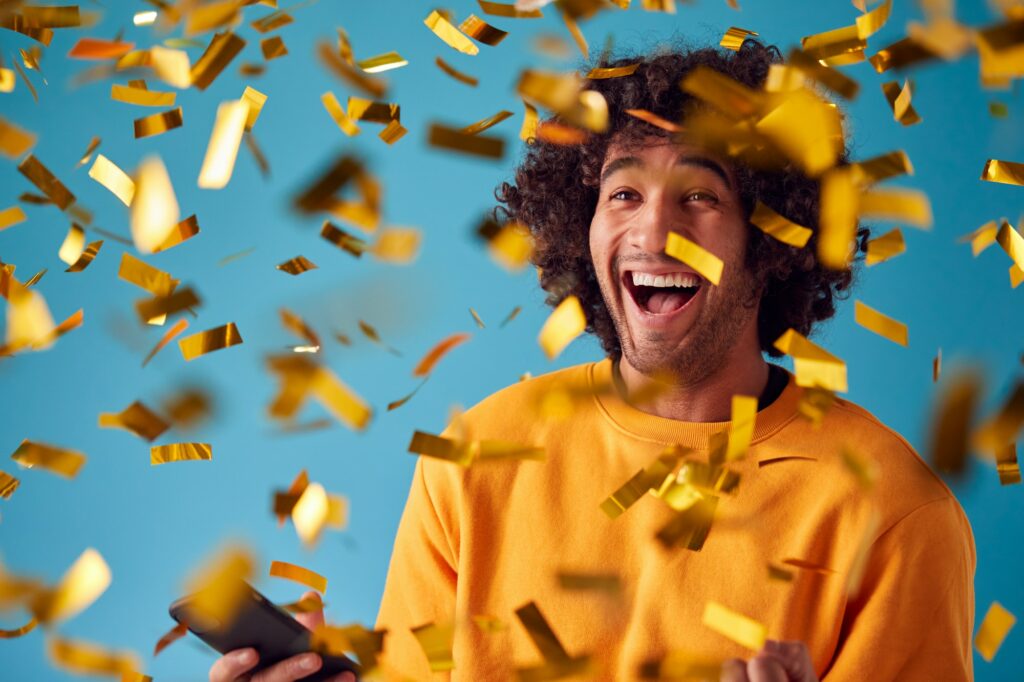 Hopefully your contest and promotions plans are locked and loaded for the ratings period that starts on September 16. But with budgets stretched tight after last year and many businesses reassessing fall plans in light of the Delta variant, maybe you've just gotten approval to move forward. So, we thought it was a good time to review our contesting playbook.
How big do the prizes have to be? In our June NuVoodoo Ratings Prospects Study of over 3,100 14-54's across all PPM markets, we drilled down to the 30% who profile as contest actives and see that about 2/3 are drawn in by a $500 prize – and that number climbs to 85% with a $1000 on the line.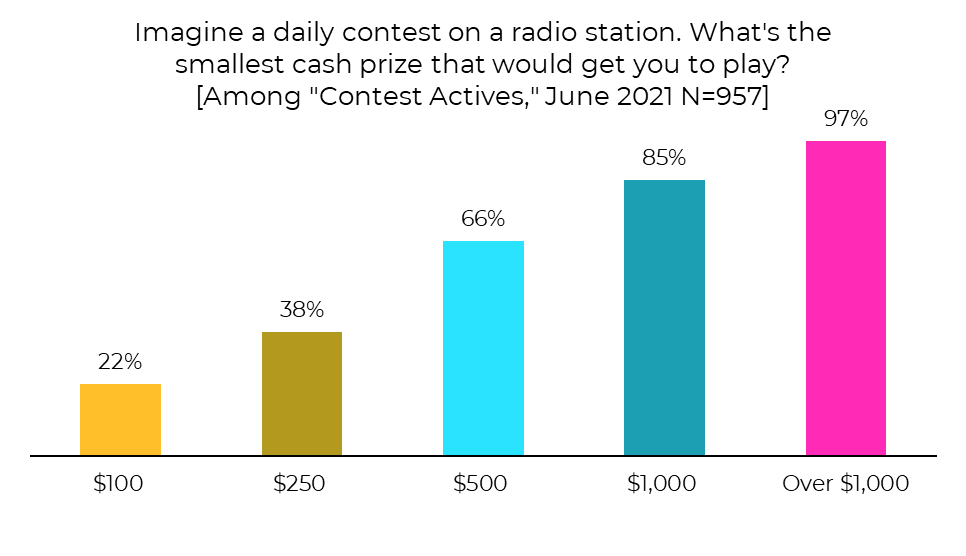 While not all listeners are looking at the purse, so to speak, over half the contest actives agree at least somewhat they comparison shop contests among stations they like. Winning their time means winning their wallets. In practical terms, prize thresholds are often dictated by your competition. That means your $500 prize sounds pretty great … unless the folks down the dial are offering a grand.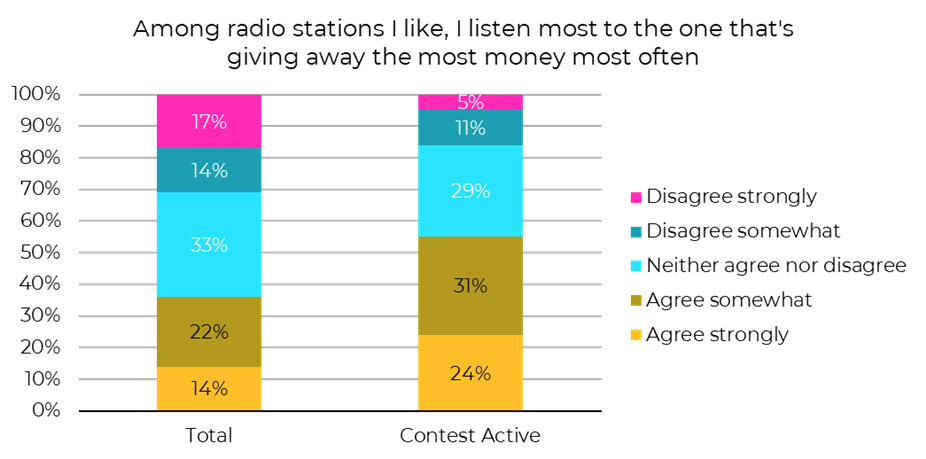 An avenue to consider when competing with a competitor's $1000 contest prizes is using an insured prize as the title of your contest. Having a $25,000 insured prize, supported by smaller consolation prizes, gives you the ability to promote your $25,000 contest while routinely giving away $100 or thereabouts. The NuVoodoo marketing team can help with insured prize packages. Email them at TellMeMore@nuvoodoo.com.
While it varies by market and demo and format constituency, most contest actives now prefer text-to-win contests over call-in-to-win contests. They're clearly more convenient for listeners, but do make it harder to generate contest promos – since no one's calling in breathless, hoping to score your contest cash.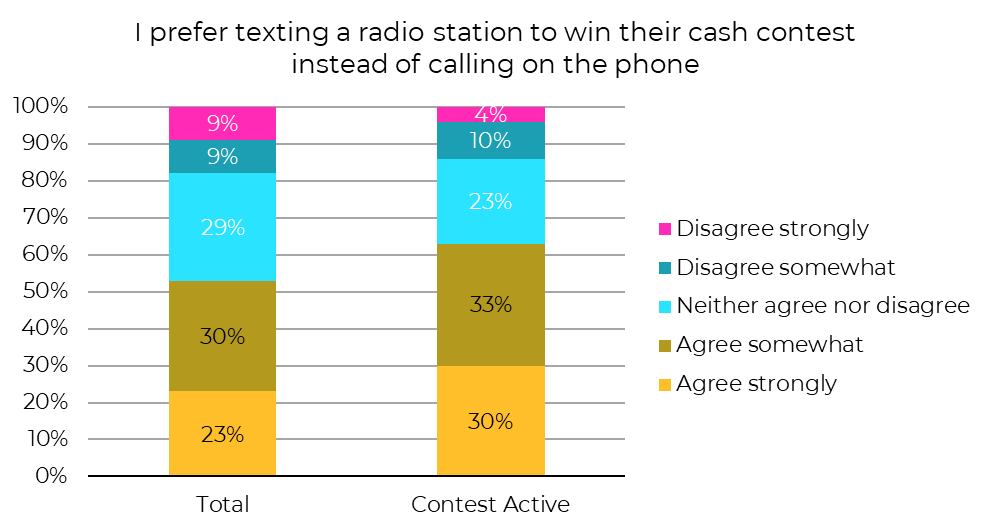 We believe that fewer contest winner promos have contributed to a growing cynicism about radio station contests. Over half the contest actives in our sample agree at least somewhat that most station contests are rigged. You push back on that suspicion when you run frequent winner promos. But, text-to-win contests mean you have to work that much harder to get winners on the phone, stage them to sound excited and edit the resulting audio to tell your story.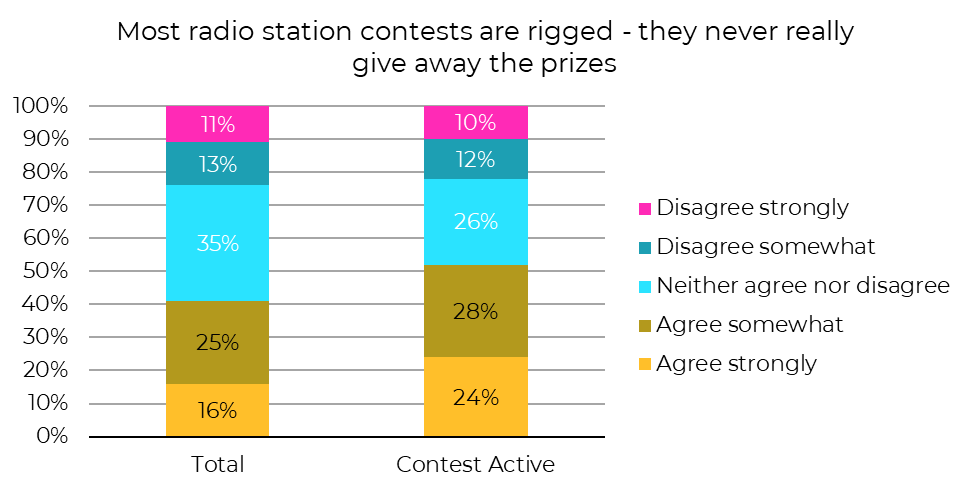 Maybe there's an available group contest you can opt into. We've done the homework on group contests and can report that they meet with bad feelings among very few contest actives. Many just aren't aware of the practice at all. Among those who are aware, most contest actives perceive them as beneficial – linking them to bigger prizes or more frequent chances to win. While a sometimes vocal few are opposed to the practice, it may be the best plan if available.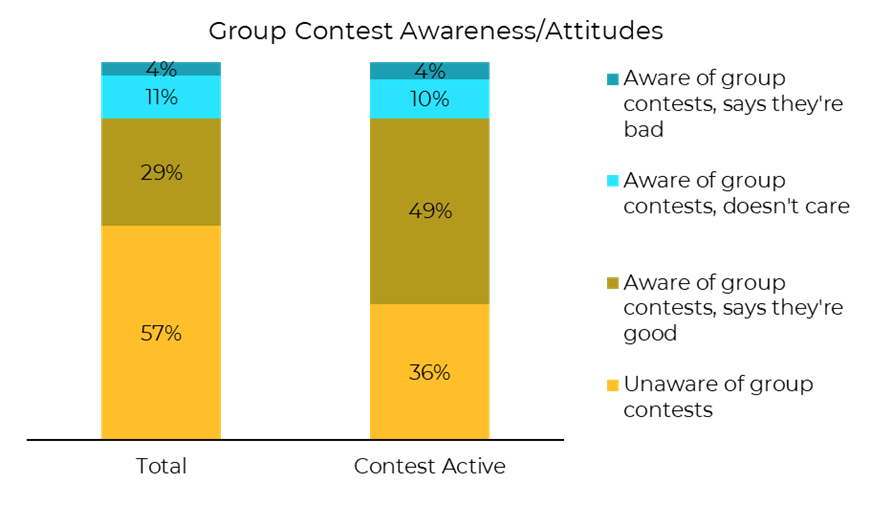 After you've designed your promotion, there's still time to get a digital campaign going to efficiently spread the word about you spreading the wealth. The NuVoodoo marketing team can have you up and running quickly – likely for less than you might think. Again, an email to TellMeMore@nuvoodoo.com gets you quick, confidential answers.