Countdown: Top Findings from 2021 Studies, Findings 3, 2, and 1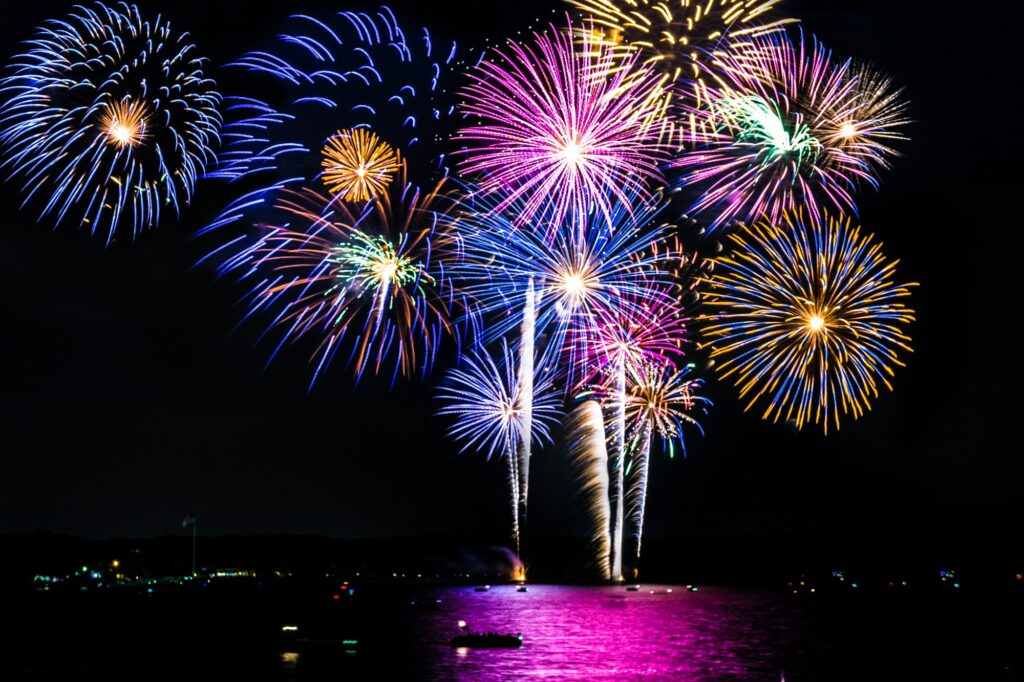 NuVoodoo Ratings Prospects Study 19 is out of the field and our team is poring over the data and building the presentation we'll be sharing in a free webinar on February 16. You can register for the webinar here.
To get ready for that presentation, we're reviewing top findings from the two NuVoodoo Ratings Prospects Studies conducted in 2021. Each study included over 3,000 14-54's across all PPM markets nationwide. Last week we shared findings six through four. The countdown wraps up this week with findings three, two, and one.
Number 3: Contests can be a powerful tool in your promotional arsenal. We've looked at group contesting before, and results continued to track last year: Most in our total sample aren't aware these national contests are going on at all. In the chart below, you can see that 57% of our sample say they're unaware of radio stations participating in multi-city contests where stations across the country offer a prize that listeners in all the cities are competing to win.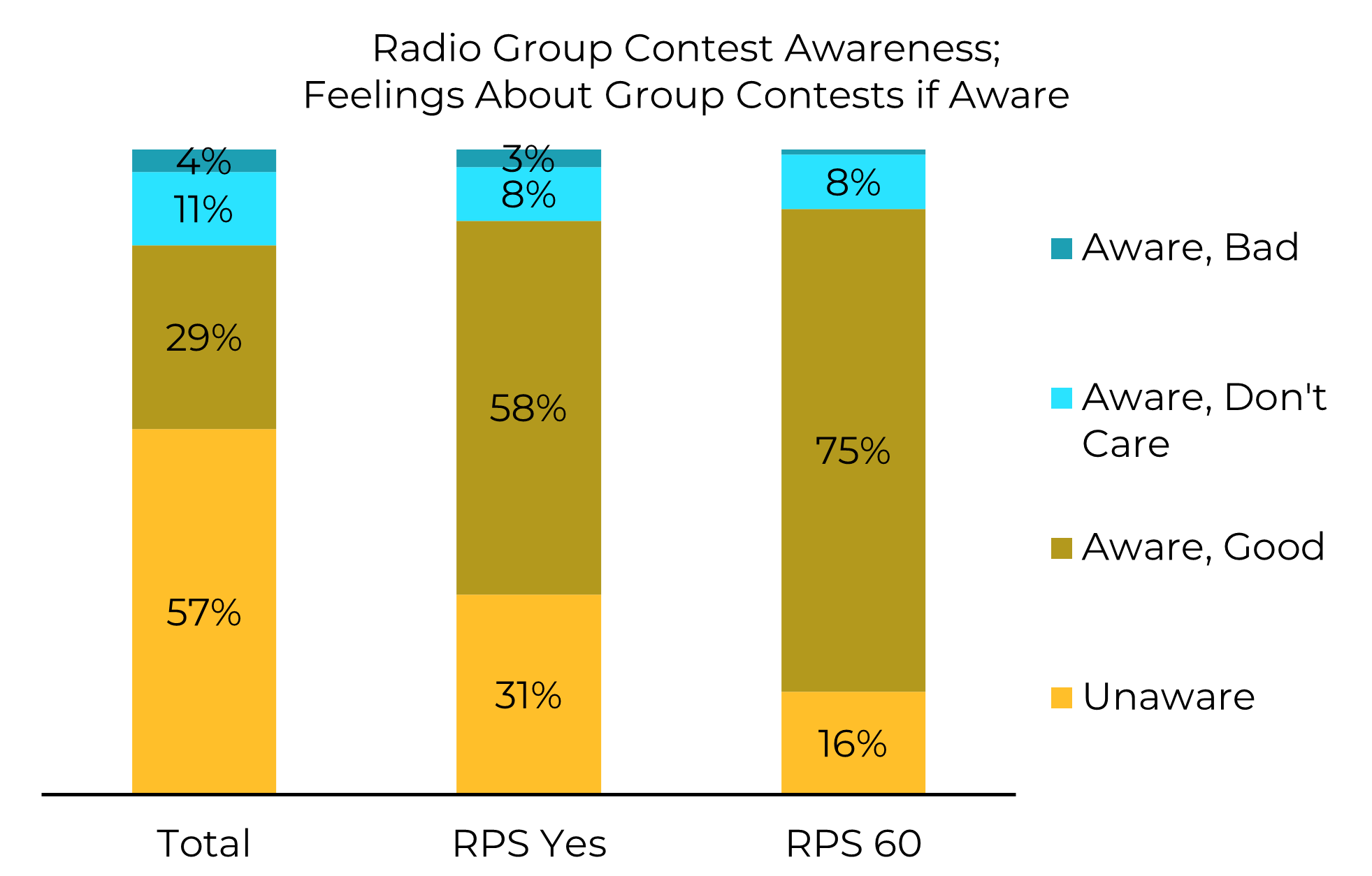 Among the "RPS Yes" ratings likelies (those who predict they and their households would participate in PPM or diary methodology), group contesting awareness is higher. Among these media-attuned respondents, nearly seven in ten say they're aware of the practice – and the lion's share of them think group contests are good. Among ratings likely respondents, only 3% think group contesting is bad – and that rises to only 4% among the overall sample.
The subgroup above labeled "RPS 60" is the subset of ratings likely respondents who say they listen to broadcast radio at least an hour a day. They account for only 7% of the sample, but they pack a wallop when it comes to AQH. Among that small-but-mighty group, one percent think group contests are bad.
But, when there's no contest cash in the kitty (and no group contest available), commercial-free music remains a potent lure, swaying the listening of as much as 73% of those likely to show up in Nielsen samples – the "RPS Yes" segment in the chart below.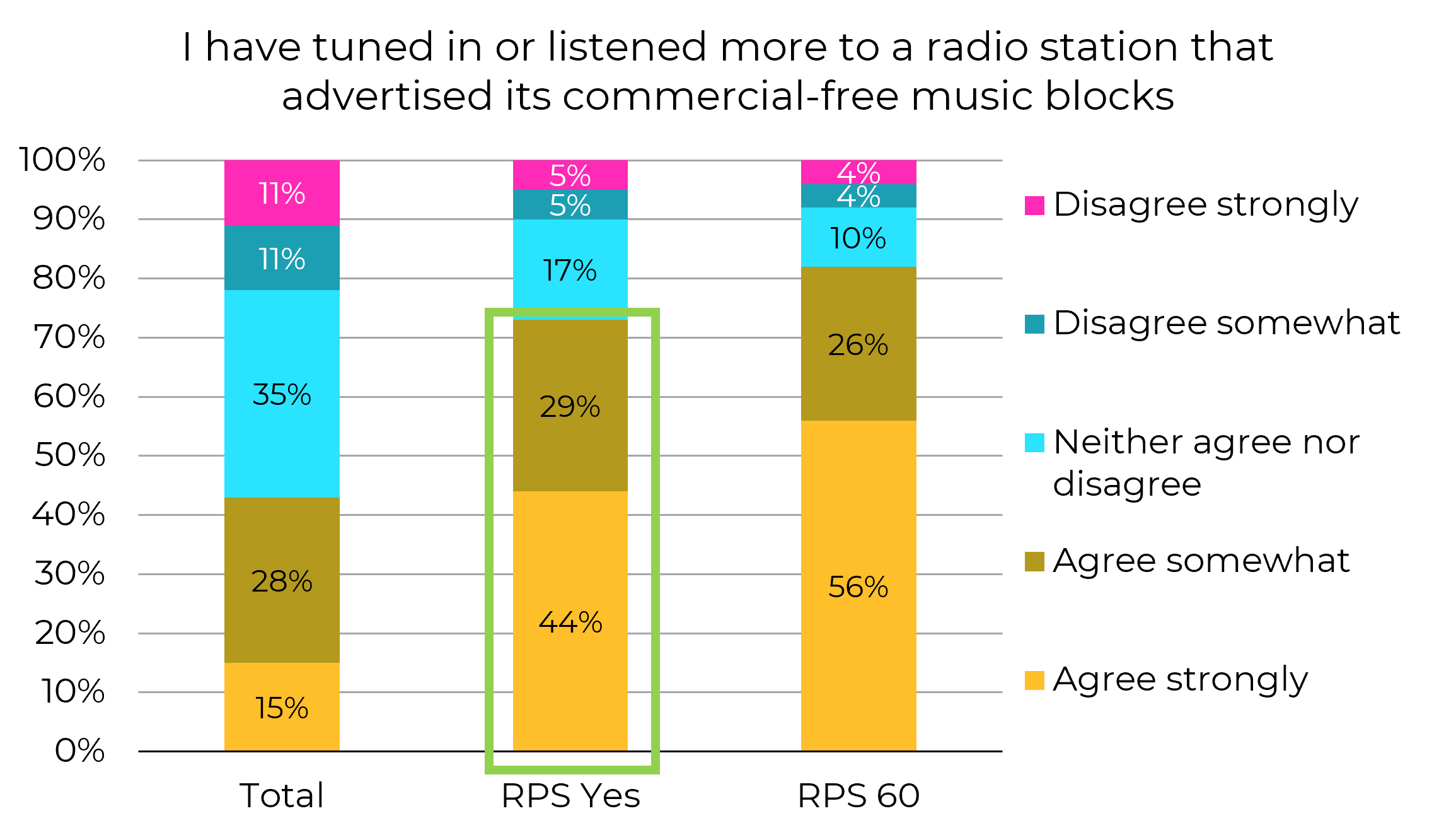 That 73% sway grows nearly 10 points among the TSL-heavy RPS 60 subset – those who listen to lots of radio and are more likely to move quarter hours in your station's favor.
We also looked at contest entry mechanisms and other tactics you can use to generate listening in a video here.
Number 2: Strong numbers of RPS Yes ratings likelies have had their listening behavior influenced by radio station promotional tactics. In the chart below, 23%-29% of the overall sample of 14-54's say they've tuned in or listened more to a radio station based on the tactics shown – but fully 36% of the sample say none of these tactics have had any sway.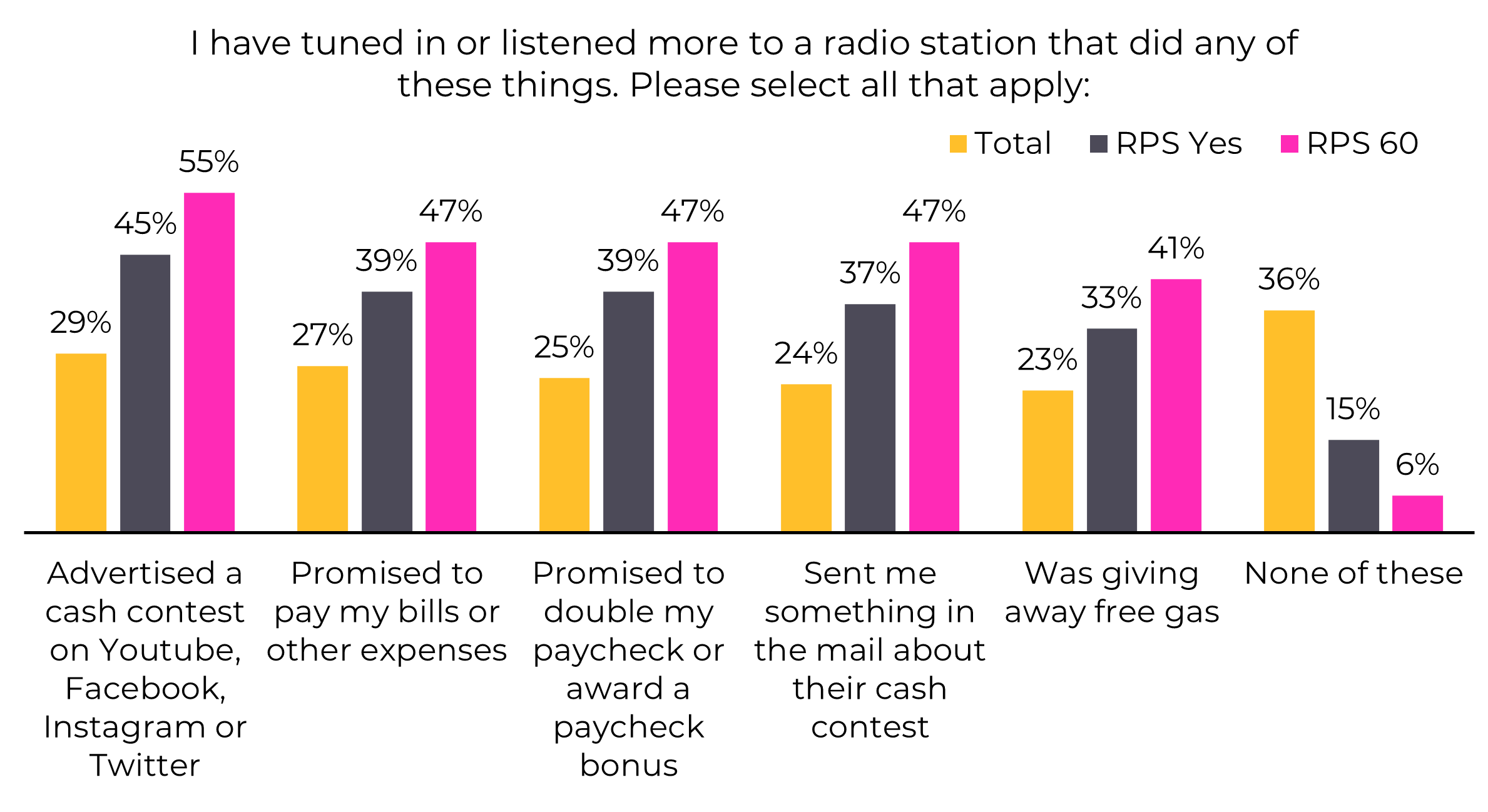 But the ratings likelies, the RPS Yes group, and the heavy-TSL subset of that group, the RPS 60's, tell another tale. For a third of RPS Yes ratings likelies and 41% of the RPS 60's, a free gas giveaway did the trick. The numbers grow for cash giveaways advertised through the mail, paycheck bonuses or the promise to pay bills and other expenses. And recall for having listening altered by a contest comes in highest when a station has also advertised its cash giveaway on social media. Further, note that only 15% of the RPS Yes group and only 6% of the RPS 60 subset say they're beyond the influence of promotional tactics.
We're big believers in the power of well-crafted contests to influence TSL, but we're also aware of skepticism that arises from poorly executed contests. We show more details in a video here.
Number 1: Throughout 2021, over a year into the pandemic and the changes it brought about, listeners are still emotionally connected to radio. Nearly 7 in 10 among our sample say they felt better after listening to the radio in the past month. That number jumps to 80% among the RPS Yes ratings likelies and nearly 90% among the heavy TSL RPS 60's.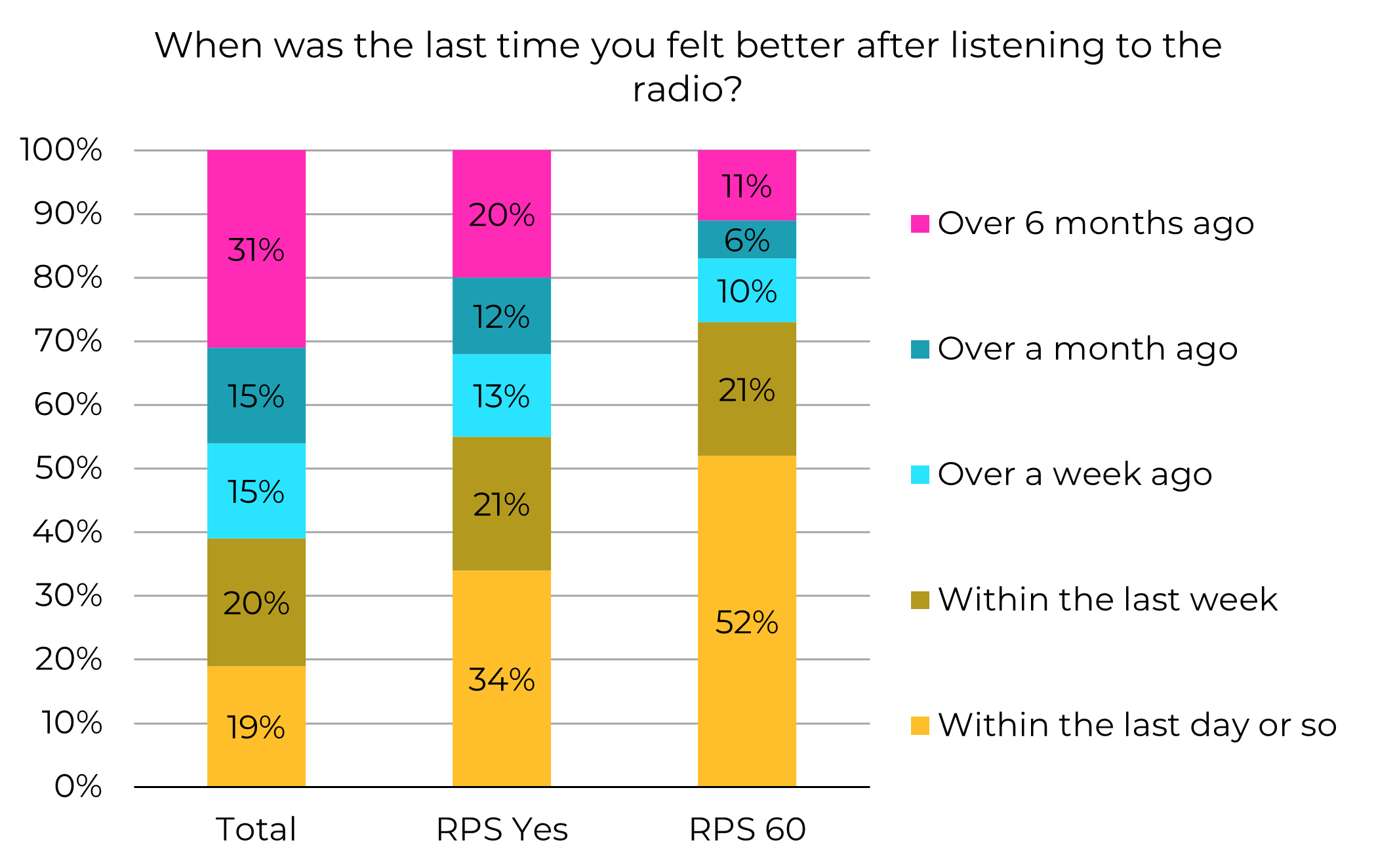 Among the RPS 60's – those most likely to swing TSL in your favor – over half say they've felt better after listening to the radio in the past day. That's the sort of mood swing that becomes addictive. We share data about getting listeners to laugh and smile, as well as the challenge radio faces in reestablishing morning habits in a video here.
We've got fresh for 2022 data to share from the latest Ratings Prospects Study – our nineteenth – coming up in a free webinar in February 16. Register for that webinar here.