RPS 19 Recap: In-Car Audio Systems & Radio Listening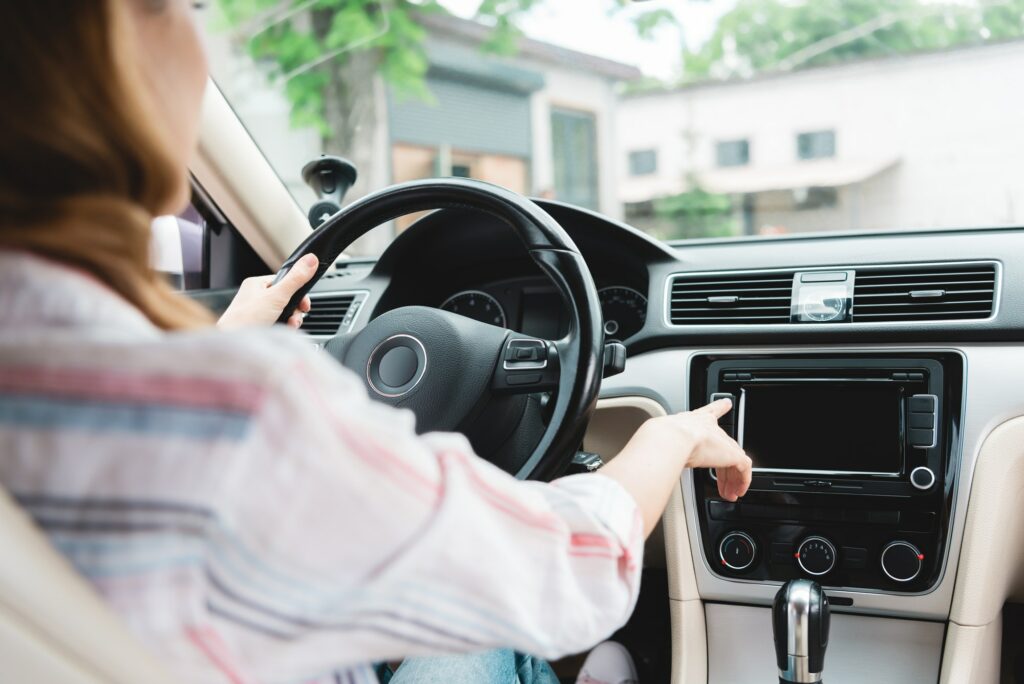 If you missed last week's webinar where we showed the latest data from NuVoodoo Ratings Prospect Study 19, you can view a recording of the session at nuvoodoo.com/webinars. It's a massive study conducted last month and includes 3,298 respondents, ages 14-54, across all PPM markets.  That wide swath of ages means our sample incorporates parts of three generations: Gen Z (ages 14-25 in our study), Millennials (ages 26-41), and Gen X (ages 42-54). To include Baby Boomers, we'd now have to interview above age 57.
NuVoodoo marketing honcho PJ Kling and I covered a lot of ground in just over 40 minutes. While we had fresh data on the declining number of in-home radios, for the first time we also shared data on the prevalence of Bluetooth speakers in homes. And we dived in deep on vehicle infotainment systems.
We showed that overall broadcast radio TSL takes a hit among constituencies driving vehicles with newer audio systems. We broke those audio systems into three buckets:
Regular Car – traditional car radios which might have a CD or cassette player, but nothing newer than that.
Cord/Bluetooth Car – newer systems that include satellite radio and have the ability to connect to a smartphone using Bluetooth or an aux cord.
Connected Car – the latest systems with icons for services like Spotify and Pandora (we included Apple Car Play and Android Auto in this bucket).
Half our respondents said they have vehicles with Cord/Bluetooth systems. Gen X – the oldest consumers in our sample – were the most likely to have a Regular Car radio. For now, the newest Connected Car systems sit at 13% of the sample. You can imagine that percentage will rise again as dealer inventories return to normal as supply-chain disruptions ease. The columns in the chart below don't get all the way to 100%, because some people don't have a car.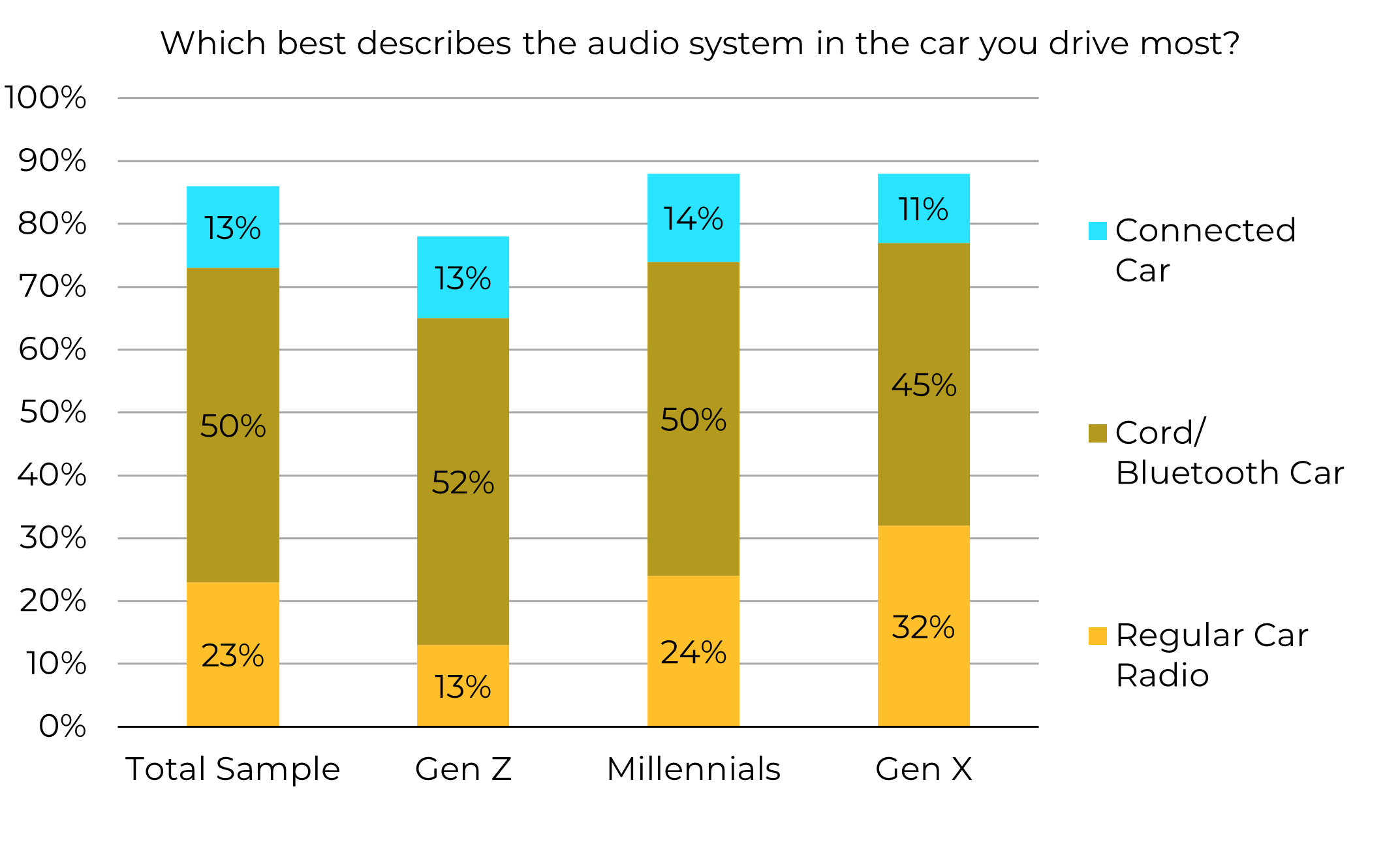 Later in the interview, we asked those with Connected Cars to agree or disagree with this statement: "I'm not sure how to program the presets for local AM/FM radio stations on my car audio system." Among Millennials with Connected Cars, 57% agreed they're not sure how to program the presets. Remember, these are the 26-41's in our sample. Move up to the oldest in our sample, Gen X, and 74% aren't sure how to program the presets. Perhaps it's obvious that the oldest people in the sample would have problems with new technology – but these people are 42-54!

In-car listening is the lifeblood of many radio formats. In fact, many in our sample said they only listen to broadcast radio stations when they're in the car. In-car listening has been strong for radio through so many shifts in technology in part because car radios made listening frictionless: it was easy and intuitive to change stations and, when your tastes (or station formats) changed, it was easy to reprogram the presets. A listener who can't figure out how to use their new car audio system could easily just select Spotify or Pandora.
Knowing that keeping radio on in the car is crucial for radio stations, PJ Kling suggested, "I'm willing to bet every station represented here has a car dealer as a client. But have you sat down with those dealers and tried to get their stations' apps pre-loaded onto every new car that leaves the lot? Have you put how-to videos for different new car models on your website to show your audience how to get your content on their new connected car? Knowing how big a deal the commute is to radio's success in 2022, we must have the same commitment to this that we have to promoting station apps and how to listen on smart speakers."
It's a lot of information in the full presentation. Some other highlights:
For the first time, we tested an extensive list of potential tune-out catalysts. We share what radio stations do that drives listeners away.
How often listeners use streaming apps, from Spotify, Apple, and Amazon to Soundcloud, Tune-in, and iHeart. We see how well local AM/FM radio streaming apps fare by comparison.
We compare and trend the lure of typical radio station cash offers and contest packaging tactics. Plus, we share some practical steps radio stations can take to battle the perception that sweepstakes are not on-the-level.
We look at radio station marketing strategies, including social media, connected TV, direct mail, outdoor, and telemarketing, and show you which have caused listeners to tune in and listen more.
The recording of the Ratings Prospects Study 19 webinar lives at nuvoodoo.com/webinars – including the several seconds at the top where I had trouble getting GoToWebinar to show the correct monitor (And to think I've been complaining about people not knowing how to program their presets!).