Re-engineering a 747 at 30,000 Feet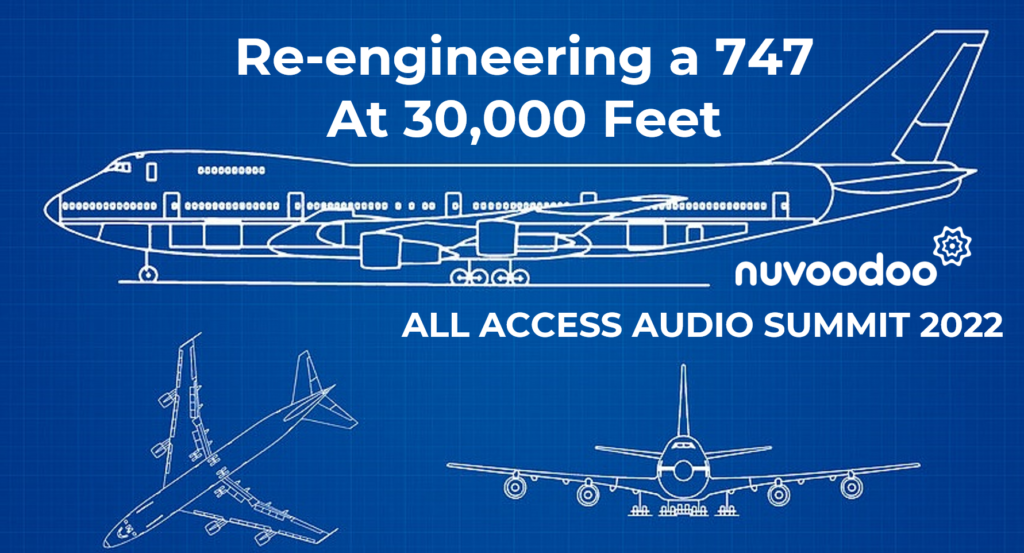 The All Access Audio Summit kicks off on Wednesday this week and NuVoodoo will be there on opening day. "Re-engineering a 747 at 30,000 Feet" is set for Wednesday, April 20 at 1 PM EDT/10 AM PDT. We're showing the challenges facing radio today, how to play the game at its best for current ratings success – and how to make the pivot toward a more engaged future. You can register for the conference at allaccessaudiosummit.com.
In crafting this year's presentation, we realized that, despite the massive changes going on across all media, stations never have the luxury of being able to ignore ratings or sales for a couple of years to retool. We were struck with the image of making structural changes to an airplane – while it's in the air. Our presentation will follow a discussion including amazing entertainers like Elvis Duran and Preston & Steve. We have a PowerPoint (though we think it's an interesting PowerPoint).
Included in our presentation is brand-new data showing listener reactions to stations taking on ten community-minded causes.
Animal welfare
Ending children's diseases
Helping homeless people
Preventing acts of intolerance or discrimination
Protecting every citizen's right to vote
Raising awareness for climate change and promoting clean energy
Stopping crime and helping victims of crimes
Stopping gun violence
Supporting women's rights and causes
Welfare of armed service veterans
We'll be showing our data broken out by a dozen different format core listening groups, including both spoken word and music formats across all 48 PPM markets. Some music format core listeners predict they'd listen less (a few presumably because they don't support the cause and perhaps others because they're not interested in anything but music from their stations). You can imagine some of the reactions among core listeners to political talk formats. Overall, we find strong upside for causes that align with listeners who favor various formats. Of course, our results are no replacement for local ascertainment and local audience research.
Fearless NuVoodoo leader Carolyn Gilbert, Jeri Fields (NuVoodoo's new VP/Research Insights), and I will cover a lot of ground during our presentation – and have time to answer questions at the end. Music, streaming, and radio professionals are accustomed to seeing Carolyn and me, but for many it'll be their first time seeing Jeri. Her experiences working with brands at Proctor & Gamble help give broadcasters new perspectives on the tectonic shifts going on in radio listening and media consumption.
We're hoping to convince broadcasters of three things with our presentation.
First, Gen Z really IS different from the Millennials and Gen Xers before them. Gen Z's haven't grown up with radio to nearly the same degree preceding generations did and their relationships with media and music are different as a result. We can't expect them to "age into" radio usage; we'll need new offerings and new tactics to attract them to our brands.
Second, while radio has adapted to new competitors across its century on the air, new technology coupled with lifestyle changes brought about during the pandemic are mixing to force us think differently to succeed. The radio may not be the default audio source in the car – and internet-delivered audio there includes lots of options for music and spoken-word programming. Many don't have radios at home at all.
Third, stations must function as brands – not just audio streams. The digital delivery options available today means you can connect with and influence your audience many more times per day. To survive and thrive, stations need to stand for something beyond a mix of music.
It's a tall order that we'll try to deliver in just over 30 minutes. You can register for the conference at allaccessaudiosummit.com.