Does Your Music Pass the Fitness Test – a New CRS360 Session
The old music PD adage "what you don't play won't hurt you" gets in the way when programmers are trying to expand their cume, follow what listeners are being exposed to in social media, increase variety, etc. This can be especially true in Country radio, where lifelong Country fans can sometimes be resistant to new influences in music.
We'd set out to explore those boundaries in the study we completed for the Country Radio Seminar (CRS) at the beginning of the year. Sadly, we had to shelve those plans – our presentation of the massive qualitative and quantitative studies we'd conducted filled every minute that had been allotted to us at CRS. Happily, a few weeks back we had a chance to update the data we'd collected and we're set to present the results this week in an online CRS360 session entitled Does Your Music Pass the Fitness Test?
The Country programming minds attached to CRS helped us put together a list of thirty-five titles they felt might be on the edges of the Country format. We gathered a sample of over 300 Country fans nationwide and had them complete a pretty typical music test – with a not-so-typical scale. We focused on whether they thought the songs belonged on a Country radio station or in a Country music playlist.
We thought we might see stark differences between men and women or across age groups or between those who prefer to listen to Country on the radio versus using a DSP. In fact, the biggest differences showed up between longtime Country fans and those who've been fans of Country for five years or less.
Fans newer to Country music often lagged behind longtime Country fans when it came to designating songs that seemed to be obvious titles for inclusion in a Country format or playlist. Yet, at the other end of the ranking, songs that tug at the edges of the Country sound ended up with far more support from recent Country converts than from longtime Country fans. Here's a snapshot from the presentation showing three of the songs that showed up near the bottom of the ranking of songs that belong as Country.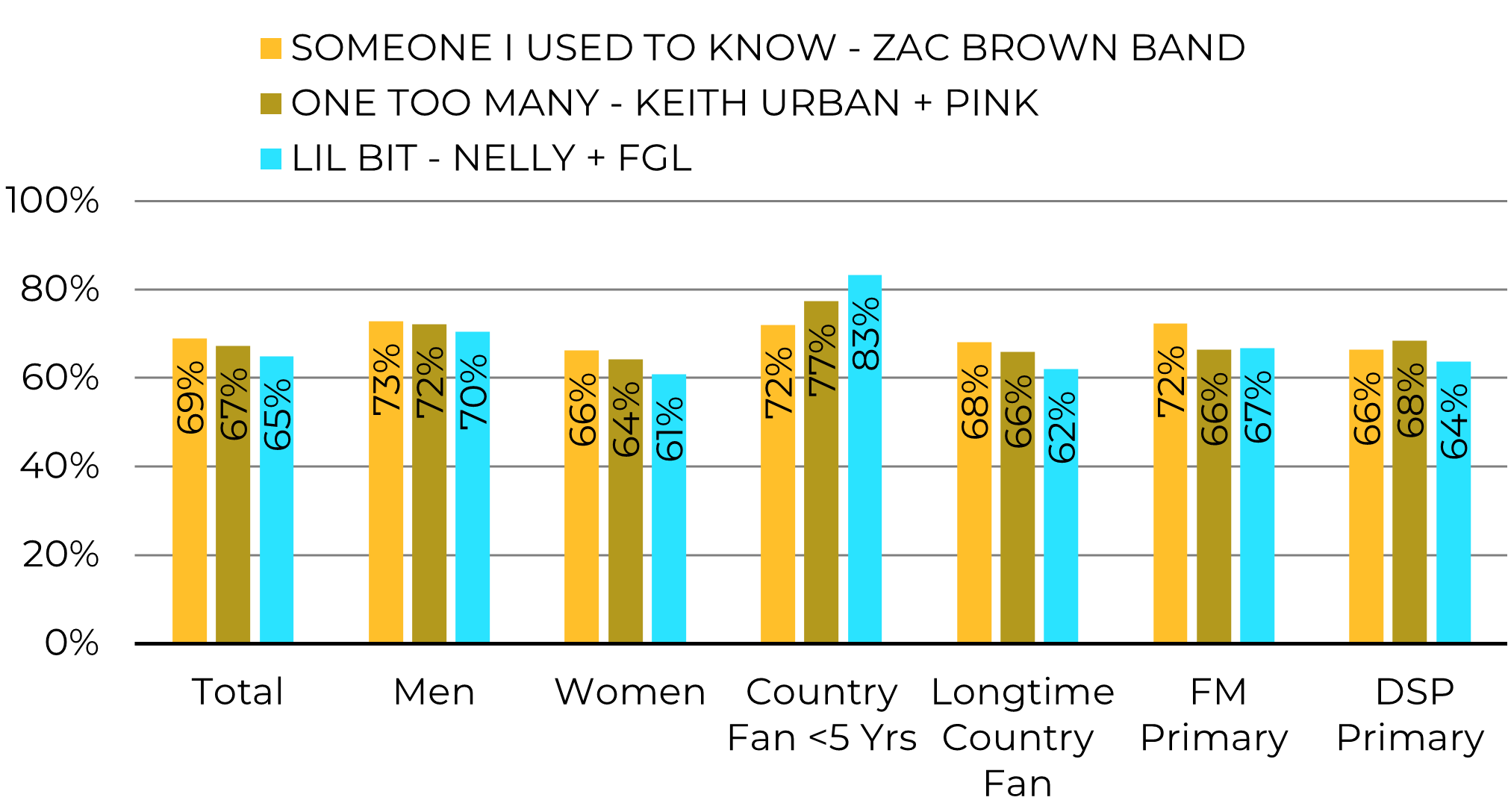 Note the big swing for the song Lil Bit which only 62% of the longtime Country fans feel should be on a Country station or playlist – compared to 83% of the newbie Country fans. NuVoodoo president Carolyn Gilbert and I show the details on the other thirty-two songs in the study, try to put it all in context, and suggest what to do with the information in our CRS360 session on Wednesday this week. Register here.