In The kNOW: Work 2.0: What Does Yours Look Like?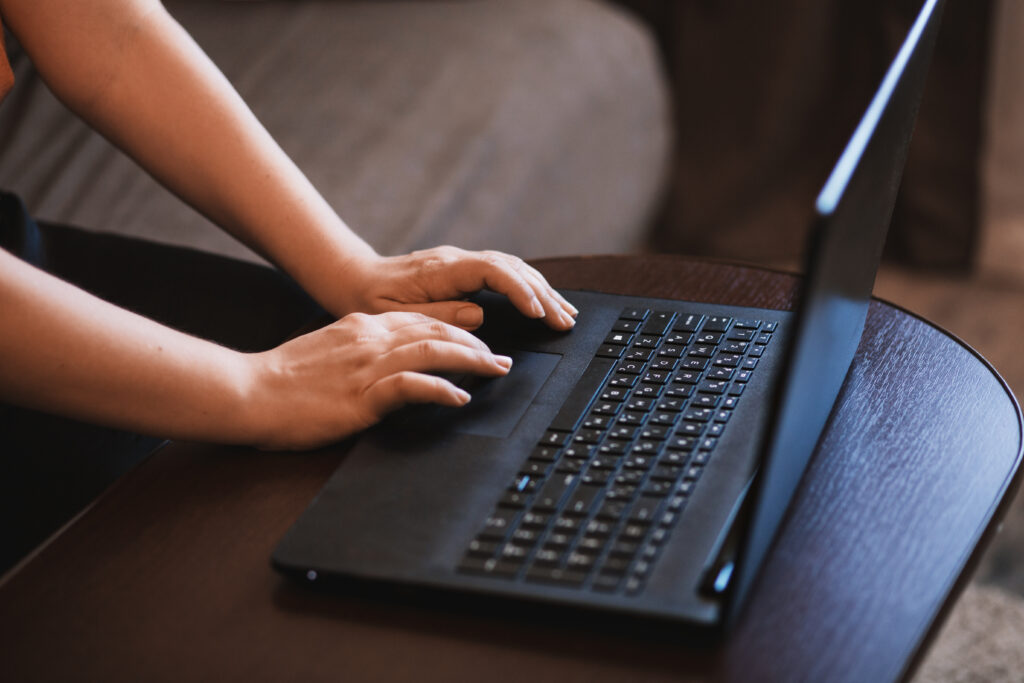 Remember just three short years ago sitting at a conference table…with other people… in real pants? What about Casual Fridays and Beer Car Thursdays?  Only Thursdays and Fridays. (I do kind of miss Beer Cart Thursdays, they felt rebellious and like an adult version of a well-earned ice cream cone treat.) Oh, how far we've come in three short years. As I sit here writing this, bare face and feet, it seems like so long ago. Of course, not everyone's career choice or employer enabled this significant pivot in work life. But many, many of us now have a choice. But should we? We surveyed over 1,300 Americans to understand better how they feel about our new work-world reality.
We talked to those that work from home 100% of the time, those who work a hybrid position and those who work in person, outside the home, 100% of the time. We wanted to make sure we heard from people with different perspectives about going work life, who should make the decision when a remote worker returns, if we owe it to ourselves and others to just 'go back,' what's behind "The Great Resignation" and more.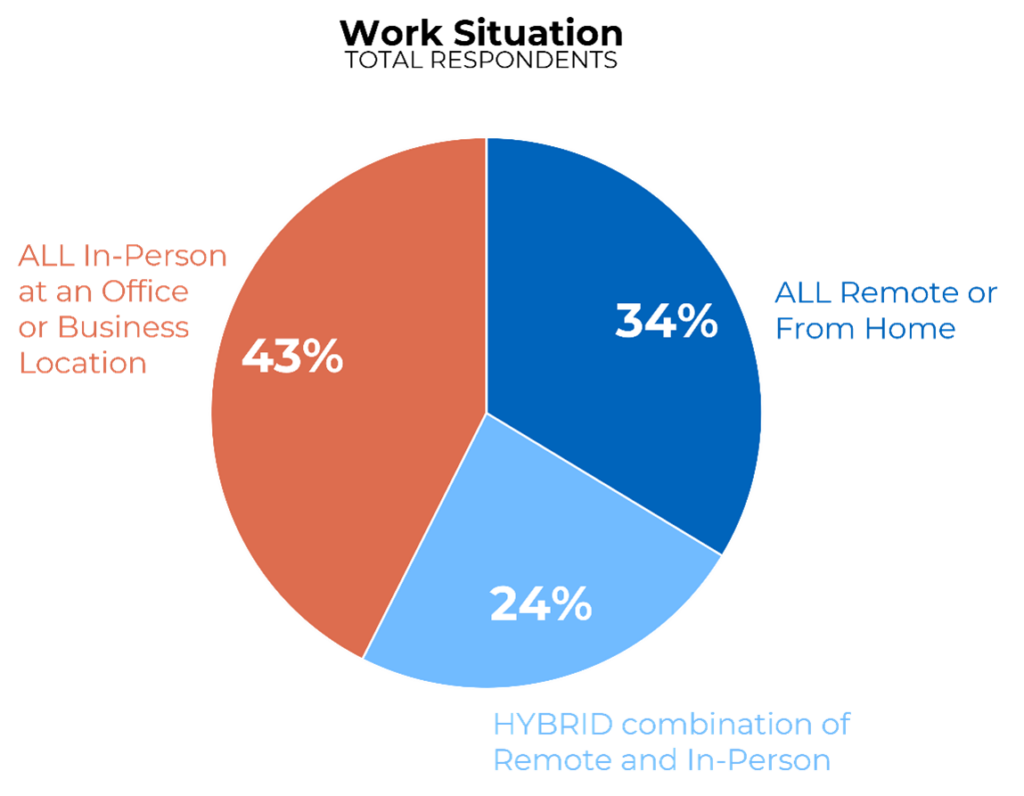 A report from LADDERS in December 2021 predicted that by the end of 2022, 25% of all professional jobs in North America would be remote. Pre-pandemic, remote numbers ranged from 5-10% of the workforce. Current remote work figures for 2022 vary from the low teens to the low forties, depending on how you define "remote" work, whether they include full and part-time workers, freelance, contractors and others. In our survey, we found that 34% of full- and part-time employed respondents work fully remote, about one-quarter work a hybrid combination of remote and in-person and just over 40 % work entirely in-person at an office or business location.
We've all noted stories about local shops and restaurants in city centers closing due to a lack of daily commuter patrons. We've heard about the complete burnout of essential workers in year three of this roller coaster. And we've all heard about the 'mandatory' return to work orders. So we asked respondents a few questions about getting "Back to the Good Old Days."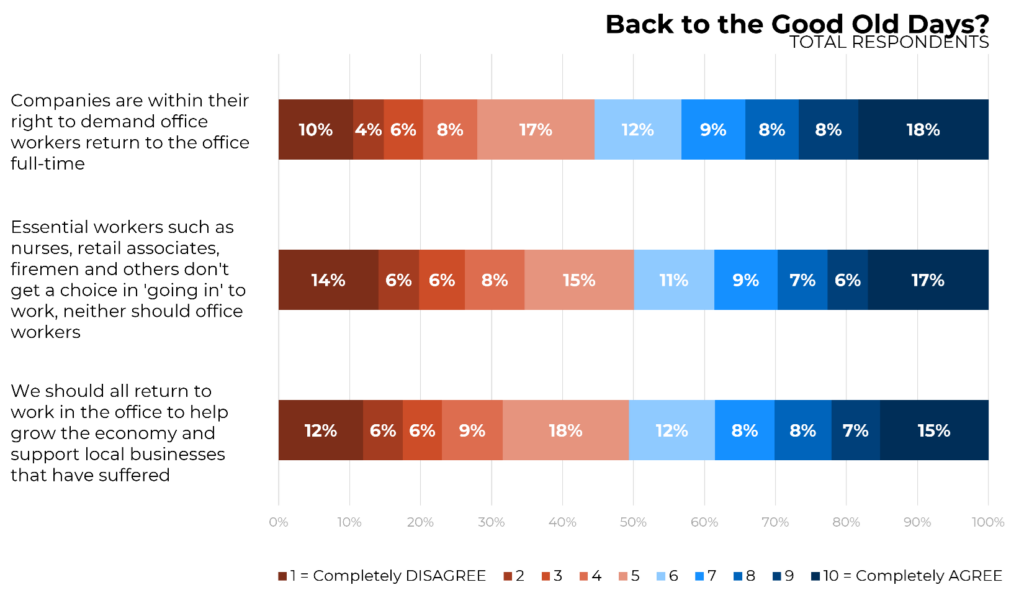 Respondents appear sympathetic to the companies, businesses and workers that have suffered the greatest over the last few years. And many believe companies are within their rights to demand that office workers return to the office full-time. And this sympathy exists regardless of personal work situation. The only group to slightly over-index toward agreement with these statements are those who currently work 100% In-person. Understandable as they're already there and think others should join them.
Despite our sympathy for others, we've all had to adjust in some way over the last three years. And if our work arrangement included completing it successfully from home, many of us would like it to stay that way.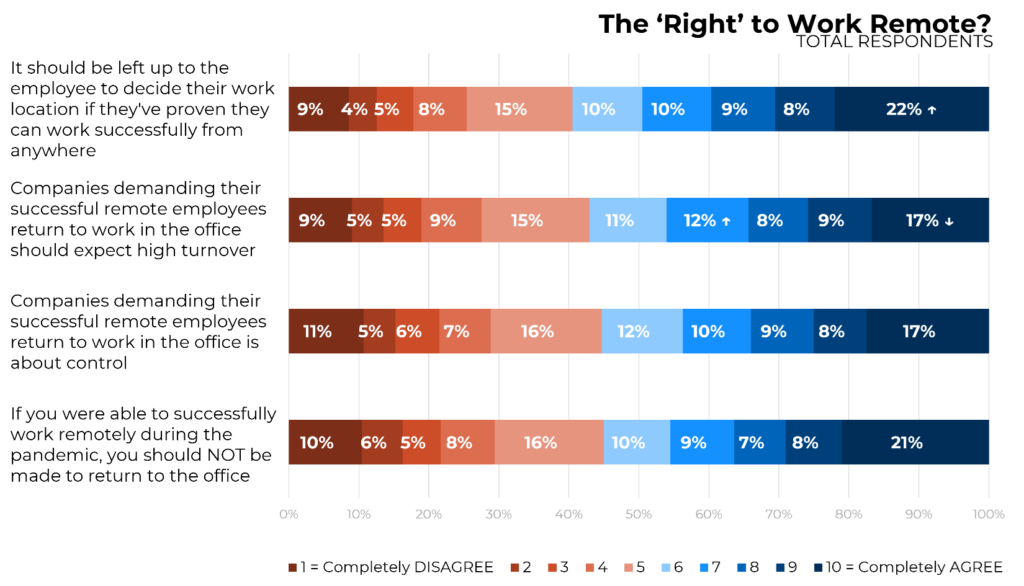 Allowing a successfully remote employee the personal choice about whether to return to the office found the most complete agreement with respondents. In second place, people supported successful remote employees, believing they should NOT be made to return. Those respondents who work 100% remotely over-index only slightly on these two statements vs. the total sample and those in other work situations.
Though nearly 20% of respondents Completely Agree that companies demanding their successful remote employees return to work in the office is about control and should expect high turnover, respondents were split overall about the "Right" to work remotely.
A survey conducted by Bankrate in August of 2021 found that nearly 60% of Americans ranked "Flexibility" most important when thinking about their employment moving forward. An April 2022 ADP Research Institute study, People at Work 2022: A Global Workforce View, reported that 64% of the workforce would consider looking for a new job if required to return to the office full-time. In the same report, ADP found that 52% of employees were willing to accept a pay cut – as much as 11% – to assure they could remain working remotely.
There's no shortage of reports about employees resigning, bargaining, leveraging talent shortages, signing petitions and more, demanding to keep the flexibility they've enjoyed. Does the shift away from the almighty dollar as priority #1, to a fuzzy, unique-to-everyone, priority such as "flexibility" a backlash to "hustle" culture? Is it a revolt against "the man?" Or at least against the "big guys?" The answer, it would seem, is, well, yeah!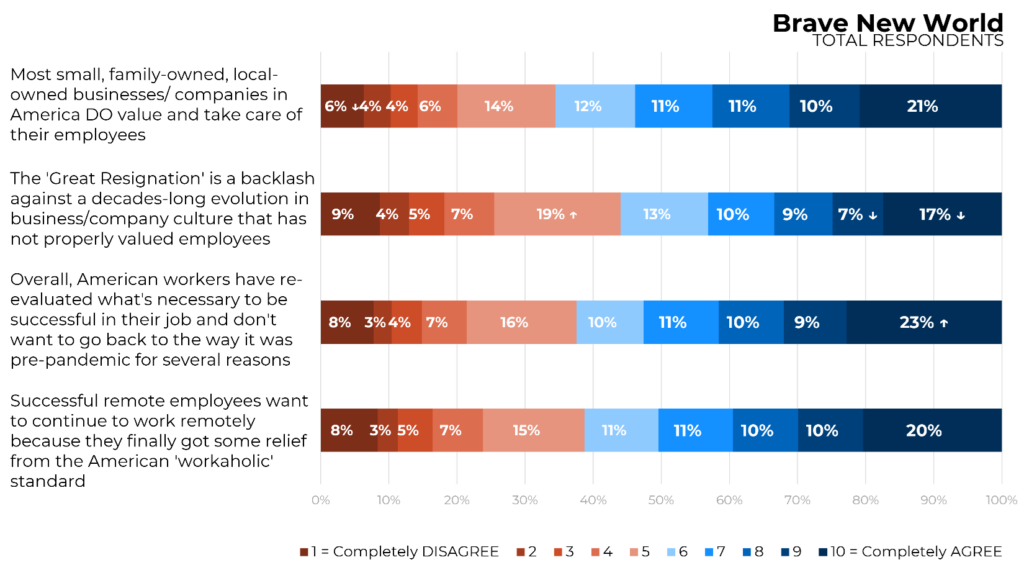 One-quarter of respondents Completely Agree that American workers have re-evaluated what's necessary to be successful in their job and don't want to go back to the way it was pre-pandemic. Another 1 in 5 Completely Agree that successful remote employees want to continue to work remotely because they finally got some relief from the American 'workaholic' standard. And 17% Completely Agree that the "Great Resignation" is a backlash against a decades-long evolution in business/company culture that has not properly valued employees. But the little guy, the mom and pops and family-owned businesses – they've still got heart. One in five Completely Agree that most small, family-owned, local businesses in America DO value and take care of their employees.
One thing's for sure. The "Good Old Days" were only good for some. But many of us found something to look forward to during some scary and unprecedented times. For some, it was not having to put on make-up and real pants. For others, it was wide-open roads and smog-free commutes. Work hasn't looked the same for everyone, but when has it ever? In the end, what we CAN do is be kind and appreciate one another. Not everyone has the option to work remotely. Not everyone wants to. And thank GOODNESS. How else would I get my Amazon deliveries? And when my local post office calls and asks me if I could please come to pick up my packages today, I find grace (and my shoes) and make the five-minute trip. It's the least I can do. As always, if you'd like to discuss a custom, holistic research strategy for your business or brand, feel free to contact us.
Our "In the kNOW" series tackles the burning questions we all want to know about right NOW. If you have questions you think we should ask, topics we should explore, or things you'd like to learn more about, shoot me a note at tellmemore@nuvoodoo.com.