New Data: Most Used Apps in the U.S. as of Mid-August 2023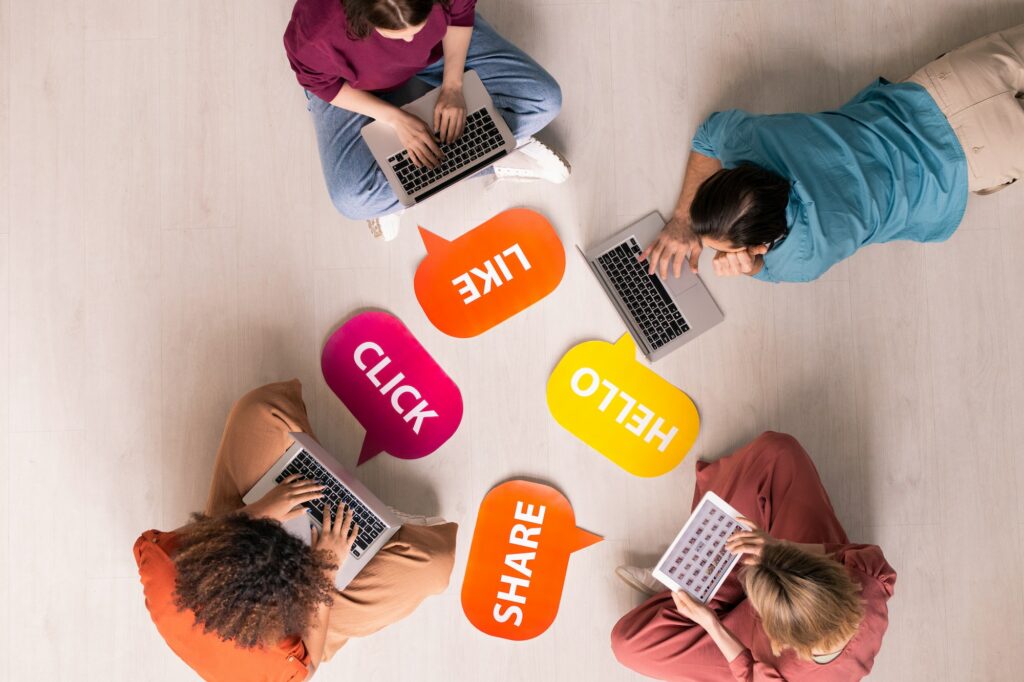 THE QUICK READ:
The social marketing playing field is made of quicksand – not granite. That means constant testing to assess which way that quicksand is flowing.
The Foundational Four: Google, Facebook, YouTube & Instagram remain consistent in their power & ubiquity, as well as the way to get the most bang for your marketing buck.
TikTok jumps out of the pack only for those with the least buying power – the Gen Z's.
After a positive launch, Threads would seem to be potentially stillborn – or at least resting for the time being, while Twitter… X continues to stumble while violating every marketing rule in the book.
HOW WE GOT HERE:
Twice each year for the past 12 years, NuVoodoo has studied the media and marketing preferences of thousands of 14-54 year-old consumers from across the US. These studies have been the foundation of all the custom marketing strategies we've developed for clients since the beginning. It's our competitive advantage to maximize precious media dollars based on the latest data so that our client's advertising reaches the right people for the best possible price.
But why semi-annual studies? The old adage says "Consumer habits & perceptions are like icebergs; slow to form and even slower to change."  Mostly true. But in the digital realm, rapidly changing acceptance can lead to shorter windows of opportunity, increased competition, and the need for continuous innovation to stay relevant.
We study consumer habits on an ongoing basis because media consumption is not only seasonal but because digital ads get more expensive as the quarters roll by. It's important to know which platforms are being used most by the audience segments that matter to a particular brand at any given time.  Prioritizing the way we spend ad dollars is critical. For our retail clients, the combination of Back-to-School, Halloween, Thanksgiving, Black Friday, Cyber Monday, Christmas, and New Year's Eve sales events can add up to 70% or more of total revenue for the year. For our traditional media clients, ratings garnered during the critical Fall ratings period set the competitive advertising rates for the balance of the year to come. Deep into the calendar is also when our client spending on external marketing reaches its peak.
So, it's critical that NuVoodoo's behavioral research reflects reality as accurately as possible at any given moment in time. As we readied our semi-annual study for summer media planning, that's when all hell broke loose.
"We're cutting the Twitter logo off the building with blow torches."
The summer of '23 was a particularly challenging time, and illustrative of how critical an ingredient current data is to a brand's marketing success formula.
NuVoodoo regularly tracks who is using what ad-supported digital apps, how often they're using them, and most importantly, how much they're paying attention to advertising on each platform.
On July 5, 2023, just four days AFTER we had completed nearly 3,000 interviews for NuVoodoo's summer study, Facebook parent company Meta launched Threads via its Instagram app.  The app offered users the ability to post and share mostly text at first (images and videos have since followed), as well as the ability to interact with other users' posts through replies, reposts, and likes.  In other words, non-X Twitter. Mark Zuckerberg claimed that Threads had garnered 100 million new users in a span of less than a week.  And that meant starting over at NuVoodoo.
So, we gave Threads a full two-week introductory media cycle, and then NuVoodoo went back into the field, conducting interviews with nearly 2,000 more respondents to gauge the impact of Threads' launch on the digital advertising ecosystem.
As soon as we began crunching the newly collected data, on July 24th, Twitter's iconic blue bird logo disappeared – and the 17-year-old social media platform became known as "X."  Elon Musk, the SpaceX and Tesla billionaire who purchased the site last year for over $40 billion, mandated the re-brand, commenting in a Twitter Spaces session that the company was "cutting the Twitter logo off the building with blow torches."  With the turbulence in the space, our question was, "How does our data stand up?"  It's all about timing.
So, back into the field we went, starting in mid-August. Let's face it – the time was probably better spent dusting off and sending to Elon a used edition of the Ries & Trout marketing masterwork from decades ago, "Positioning: The Battle for Your Mind."  We didn't expect such a desperate move to move the needle for X in the short run. But, since even a Marketing 101 refresher would not likely have been enough to alter Musk's trajectory, we instead conducted interviews with an additional 1800ish 14 – 54-year-olds nationwide. Our third digital media study of the summer.
So, as a follow-up to earlier data, we've shared on NuVoodoo.com/webinars prior to the X-Driven marketing platform shake-up, here's how things look as of August 2023:
How often are you using each of these apps (at least once/day)

How to Read: 62% of the total sample and 38% within the Generation Z segment use Facebook once daily or even more often.
We set "daily" use or greater as our gold standard for platform inclusion in NuVoodoo media buys. We know that advertising exposure frequency is key to determining campaign success, and we must reach a broad group of consumers with enough cumulative ad exposure to move the needle.
Key Finding: Overall Google, YouTube, Facebook, and Instagram – our Foundational Four ad platforms continue to be the dominant players for Millennials and Gen X'ers. Meta-owned Facebook and Instagram remain an effective duopoly, reaching healthy percentages in all three key demographic segments on a daily basis.
Meanwhile, TikTok, YouTube, and Google have put significant distance between their daily use stats and all other players in the competition for Generation Z eyeballs.
The best we can say about the platform formerly known as Twitter is that as of August 2023, it has defended its turf in a head-to-head match-up against Threads.  However, once Zuckerberg and company add their new social network to Meta's integrated ad platform, Twitter will have a tough time convincing media buyers like us that their standalone platform offers much upside unless they plan to offer fire-sale CPMs.
Chronic or compulsive daily use is another important metric for determining levels of ad spend for our clients. This is especially true when budgets are tight.  Any platform that brings significant percentages of users back four times or more every day has a powerfully addictive secret sauce. It doesn't take nearly as many ad dollars to compete for a share of an eye on a platform with significant compulsive daily use levels, such as TikTok and YouTube, where around four in 10 Gen Z users are checking in at least 28 times a week!
How often are you using each of these apps? (4x/day or more)

How to Read: 28% of the total sample and 43% within the Generation Z segment use Facebook four times a day or more.
Ad campaigns on platforms with compulsive daily use numbers need extra care and feeding.  NuVoodoo's marketing team spends a great deal of time coaching clients to run multiple ad creative at any given time and to change the creative more frequently.  Ad fatigue is a significant challenge on digital media platforms. And when roughly four in 10 Millennials are on Facebook and nearly a third are on sister outlet Instagram four times every day it doesn't take long for a narrowly targeted display ad on the Meta platform to turn into wallpaper.
The compulsive use of data, or lack thereof, is telling for both Threads and Twitter.  Matt Zuckerberg recently copped to a "ready-fire-aim" premature Threads launch, where the platform's bugs hadn't been properly QA'd.  It's like throwing a grand opening sale without unstopping the toilet, sweeping the floors, or taking out the garbage.  Once you've convinced the potential regular user to never come back, it's almost impossible to recover.
With chronic use metrics mostly in single digits across the generations, that's not a lot of stickiness for Threads.  There should be concern about users trying and rejecting this new platform, though nothing in our data specifically points to that.  NuVoodoo staffers have been tracking product launches for decades, and if the user data supplied by Meta is to be believed, Threads is not enjoying the halo effect of a successfully launched brand (where research respondents may attribute even more time spent with the brand than is the reality). To our eyes, the metrics spell big trouble.
X/Twitters' own violations of the immutable laws of marketing haven't helped its cause.  With only about a fifth of the total sample and just shy of a quarter of all Millennials using X at a compulsive level, the core of heavy users is simply not competitive. It's hard to see a path toward an advertising windfall and a return on Elon's $44 billion digital (mis)adventure.
Of course, these data were captured before Republican presidential candidate Donald Trump returned to Twitter/X.  (Truth Social commanded less than 3% daily use levels and was excluded from the result presentation along with a few other platforms).  As politics get more intense in the coming months, we'll be back at the start of the new year to see if resurrecting Trump's Twitter/X account offers much upside.