NuVoodoo's January 2021 Ongoing National Study Sheds Light On Americans' Concerns Over Political Violence in the U.S. – and What They Want to Hear From Their Radio Station About This Issue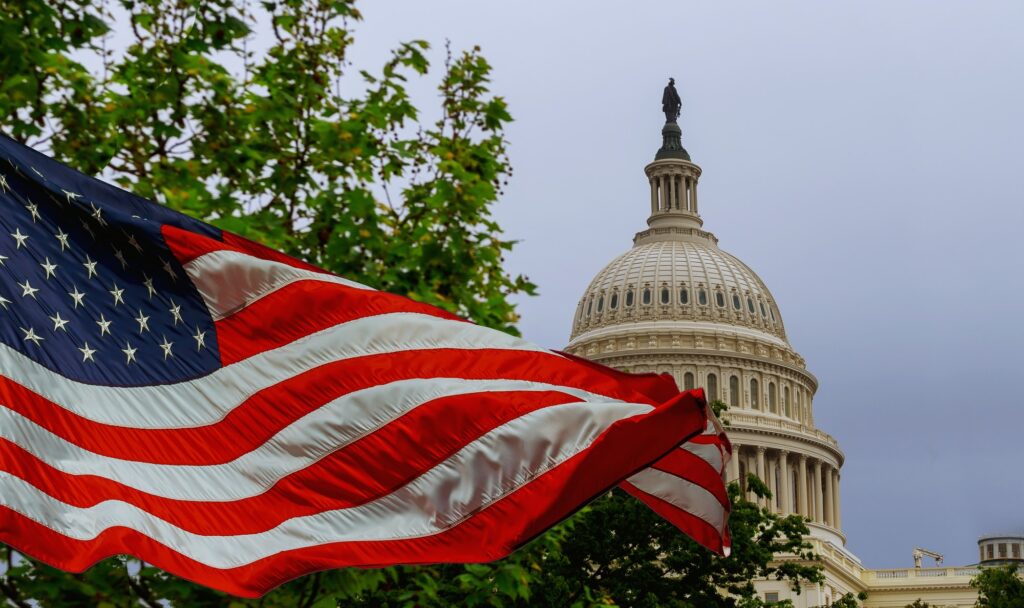 51% of Respondents Say They Only Want to Hear Relevant Facts From Radio – and No Opinions – About Political Protests and Riots
67% Say They Are Concerned About Democracy in America
60% Believe That President-Elect Joe Biden Won the Election
55% Reveal That Are Afraid of Violence From Recent Protests
CINCINNATI, OH, January 19, 2021 – NuVoodoo Media Services, a data-driven media marketing, programming and content intelligence provider, announces that its ongoing national study conducted online January 8-18, 2021, among persons 16-54 reveals an overwhelming concern among Americans over political violence in the U.S.; particularly, the insurrection at the U.S. Capitol and ongoing threats of violence, and a need for vocal community support from local media.
67% of respondents expressed that they are concerned about democracy in America, and 60% believe that President-Elect Joe Biden won the election. 55% say they are afraid of violence associated with protests.
42% of respondents shared that they have a positive impression of media outlets or companies that explicitly denounce the Capitol protestors and the elected officials that support them, while another 42% say that they have a positive impression of media outlets or companies that issue statements against Trump or election protestors. As it pertains to recent events at the U.S. Capitol, 65% of respondents say they are strongly against the riots and/or violent protests, while 23% strongly support peaceful protests.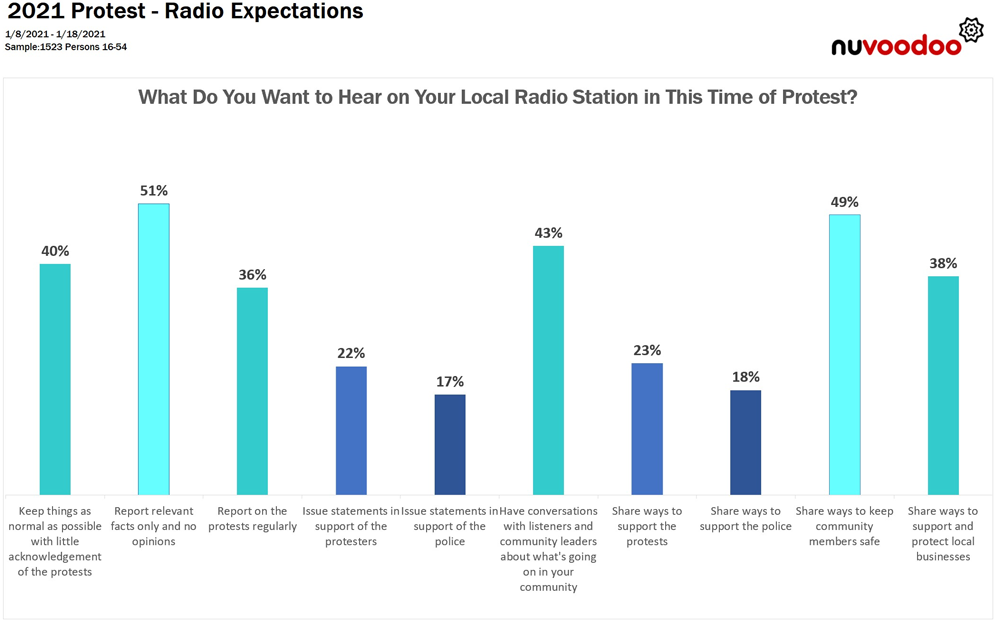 In addition, 51% of respondents reported that they only want to hear relevant facts from their radio stations and no opinions about recent political protests and riots. 49% say they want radio to share ways to keep community members safe, and 43% say they want their radio stations to have conversations with listeners and community leaders about what is going on in their community.
Carolyn Gilbert, President, NuVoodoo Media Services, commented: "Post-election and pre-Inauguration, the results of our January 2021 ongoing national study are clear: Americans are deeply concerned over the insurrection at the Capitol and the continued threats of violence in the current environment of civil unrest. We condemn violence on all fronts and firmly support the rule of law. NuVoodoo aims to provide actionable data to support our industry during a time of disturbing turmoil in our nation."
FOR MORE INFORMATION, visit: https://nuvoodoo.com/hot-topics/2020-protest-data/ or contact Carolyn Gilbert, President, NuVoodoo Media Services, at: cg@nuvoodoo.com or at 888.9VooDoo (888.986.6366).
About NuVoodoo Media Services
NuVoodoo Media Services provides data-driven digital, social and direct marketing and programming and content intelligence to the radio, television, newspaper, music and retail industries through innovative new research and marketing products and services that give clients a winning edge. NuVoodoo also provides customized and proprietary web-based research designed to connect music lovers with the music they love most. NuVoodoo Founder and President, Carolyn Gilbert, has been the radio industry's foremost research strategist for more than 30 years. NuVoodoo brings fresh thinking and lower costs to media research, including a budget-friendly barter for services model. A "virtual" company, attracting the best people from all over, NuVoodoo has offices in Cincinnati, Austin, Chicago, New York, Philadelphia and Middletown, OH. More information may be found by visiting www.nuvoodoo.com.
MEDIA CONTACT: Lisa Dollinger, Dollinger Strategic Communication for NuVoodoo Media Services, 512.633.4084, lisa@dollcomm.com.