We help radio stations play the Nielsen game.  
Back in the Arbitron world, expensive billboards and TV were go-to tactics for playing the ratings game. In the current Nielsen world, NuVoodoo leverages cutting edge digital tactics and big data to deliver big results to our clients.  
Unlike other radio industry marketing partners, NuVoodoo's research expertise assures every marketing tactic we deploy is supported by our ongoing media studies.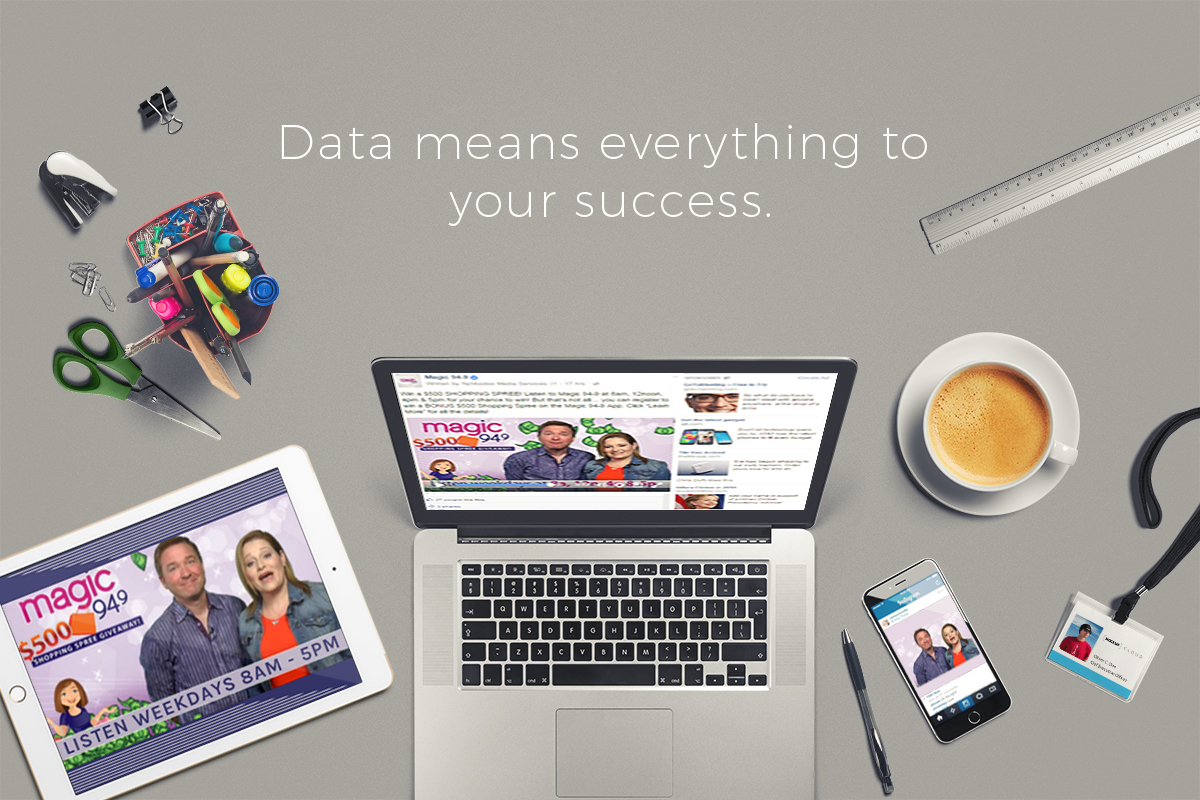 Step 1:  Zip Code Extrapolations
Pay only to reach likely listeners in zip codes where the meters are or the diaries fall. In PPM markets, NuVoodoo helps clients determine where the meters are today -- not last quarter!  
Step 2: Focus on At-Work/Work-From-Home
Our research confirms it: Listeners who agree to participate in ratings spend more time with radio while working.  With the workday audience now evenly split between out-of-home and in-home in the COVID era, NuVoodoo clients have successfully replaced workplace calling programs with multiple waves of targeted prospecting emails to support promotions tailored to weekday prime dayparts.  Our prospecting email programs are double-opt-in, so we avoid Clutter and Junk Mail boxes.  All emails are matched to physical home addresses in key zip codes for ratings, so we can have impact that's similar to a targeted direct mail campaign, but at a fraction of the cost. 
Step 3: Personalized Direct Mail
Surgical direct mail remains the most engaging tactic for capturing the attention of Nielsen-friendly radio listeners. Direct mail ranks ahead television, outdoor, social and other digital marketing tactics. Personalization lifts response rate even further.  
Step 4: The Facebook Ecosystem - Including Instagram and the Audience Network
In the digital media jungle, Facebook remains king. According to our latest tracking study, 8 in 10 use Facebook at least weekly, and for those likely to accept a diary or meter, the number is even higher. NuVoodoo deploys Facebook video and display media as a foundational digital tactic for clients. And since Facebook's ecosystem includes Instagram and the Audience Network, campaign reach is substantial.
Step 5: YouTube, Twitter & Other High Testing Social Media Platforms
The more one uses social media, the more likely one is to be part of a ratings panel or to accept a diary. Through constant ongoing research, we constantly determine the most ubiquitous social media platforms. With social media, we can target by music taste or subject interest--and market to fans of competing talent and stations!
Step 6: Programmatic Mobile Media Buying
90% of radio listeners have smartphones. The most survey friendly among them consume digital content for more than 4 hours a day. NuVoodoo places programmatic video and display campaigns on dozens mobile networks so that your marketing reach is practically ubiquitous. Whether targeting hot zips or your competitions festival, we put the geo-precision of mobile marketing to use in a highly efficient manor. 
Let us show you how our data-driven, modern marketing approach can help you build a stronger brand that listeners love. We'll help you save real money and get better results.
Because the Old Voodoo Doesn't Work Anymore.