Are You Attending Podcast Movement?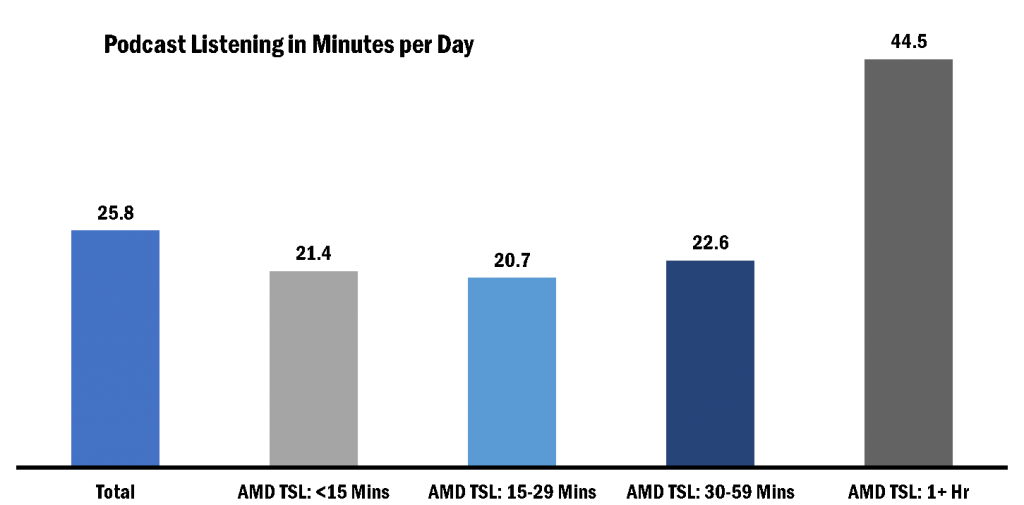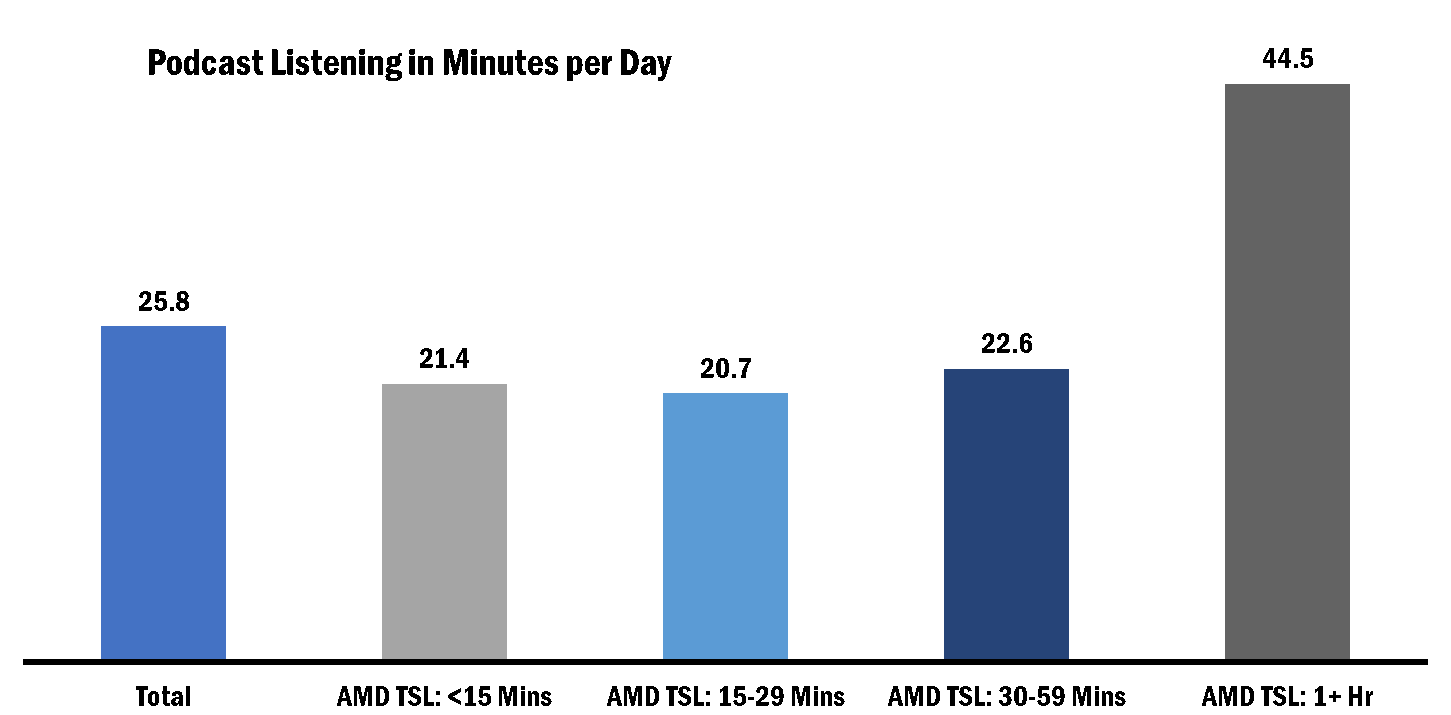 Thursday sees NuVoodoo again on stage with Steve Goldstein of Amplifi Media, this time at Podcast Movement in Anaheim (11 AM Pacific, in case you're attending the convention). Back in March, Carolyn presented results of a NuVoodoo podcast listening study at the Talk Show Boot Camp along with Steve. It's a massive study, starting from a nationwide sample of nearly 9,000 respondents 18-54, but after that initial presentation we decided that the numbers needed context; they needed emotions; they needed video.
So, late this spring we spent several days conducting dozens of one-on-ones with regular podcast listeners. These individual depth interviews (in the research biz parlance) allowed us to dig in and get deep qualitative information from respondents.
We talked about their listening.
We probed how podcasts fit in among other sources they listen to (including terrestrial radio).
We talked about how podcasts fit into their lives.
We talked about what they get from podcasts (we even interviewed a recent immigrant who's using podcasts to improve her understanding of how Americans use English).
We talked about devices they use (including smart speakers).
We talked about how they find out about new podcasts.
We talked about ads within podcasts.
We even grabbed screenshots of their smartphones to see which apps they use to listen to podcasts – and which are cued up for easy listening.
The video captured in those interviews will be paired up with the hard numbers captured in our study of thousands of podcast listeners. The information collected in the one-on-ones gives wonderful color and depth to the quantitative information we'd gathered.
One point we'd shared at Talk Show Boot Camp bears repeating here. People who are heavier listeners to morning radio and also listen to podcasts turn out to be heavier listeners to podcasts. In the chart below, when we stratified the sample by daily morning drive radio listening ("AMD TSL"), we saw that people who listen to morning radio at least an hour a day also spend more time with podcasts.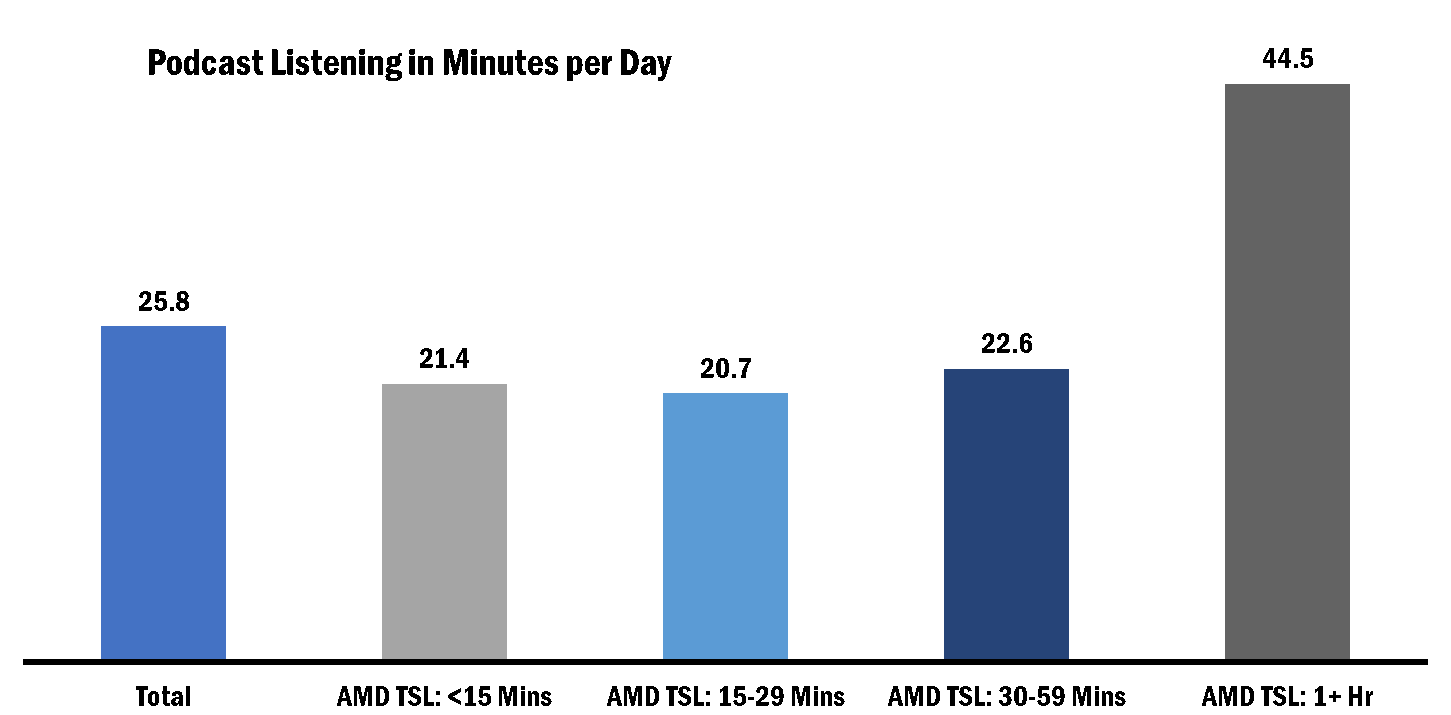 From a station perspective, knowing that your heavy morning listeners also like podcasts might cause you to make it easy for listeners to get a podcast of morning show highlights they missed. But, it also means that commercial radio can use its broadcast signals to launch new podcasts, just as public radio has been doing successfully. It would mean that extensions from that morning show have an advantage.
While some say we need to adapt to the idea that radio is just part of the wider audio landscape, we'd rather include all possible audio listening options as radio. The handiest word consumers have for Pandora and Spotify is radio. Podcasts could conceivably fall into that same category. In that case, radio is a vibrant, growing and, yes, insanely-competitive business (just as it's been for years and years). Hope to see you in Anaheim!