New/Old Tactics to Increase TSL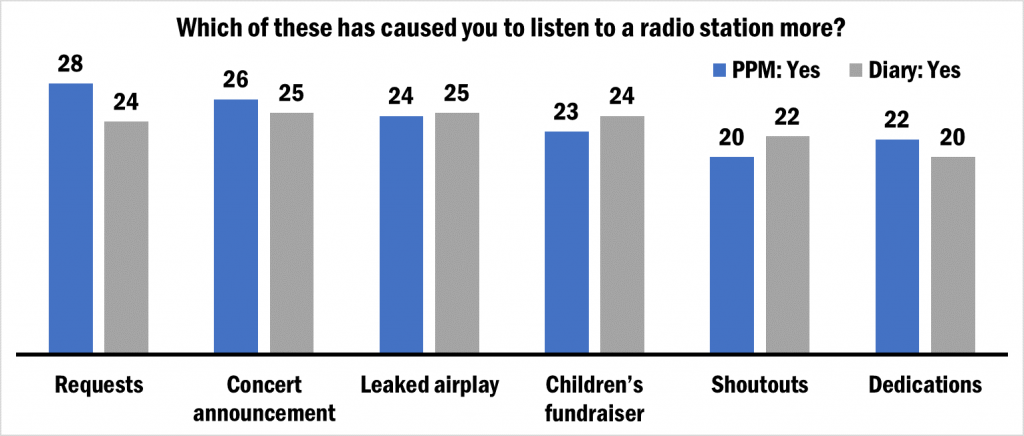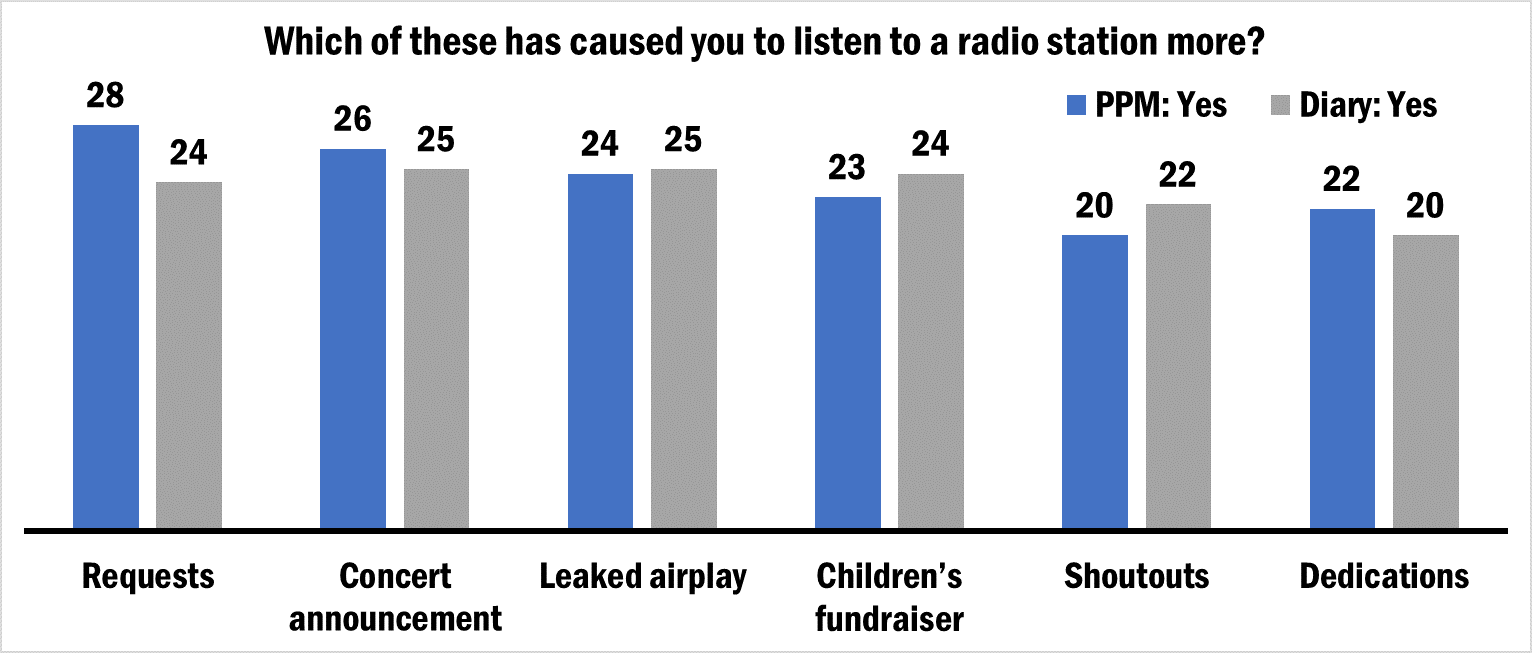 Among the many things we looked at in the latest NuVoodoo Ratings Prospects Study were tactics that can help increase TSL. Most importantly, which tactics will help increase TSL among the groups likely to play the Nielsen game. Drilling down through our latest sample of 2,979 persons 14-54 across all PPM markets to find those who are likely candidates for either ratings methodology, we saw significant interest in nearly all the tactics we researched.
We asked respondents which of a dozen different things had caused them to listen to a station more.  We're showing the mid-range of responses here; those which we felt would be most useful to music radio programmers. All showed the power to generate lift among at least 20% of the ratings' responsive groups.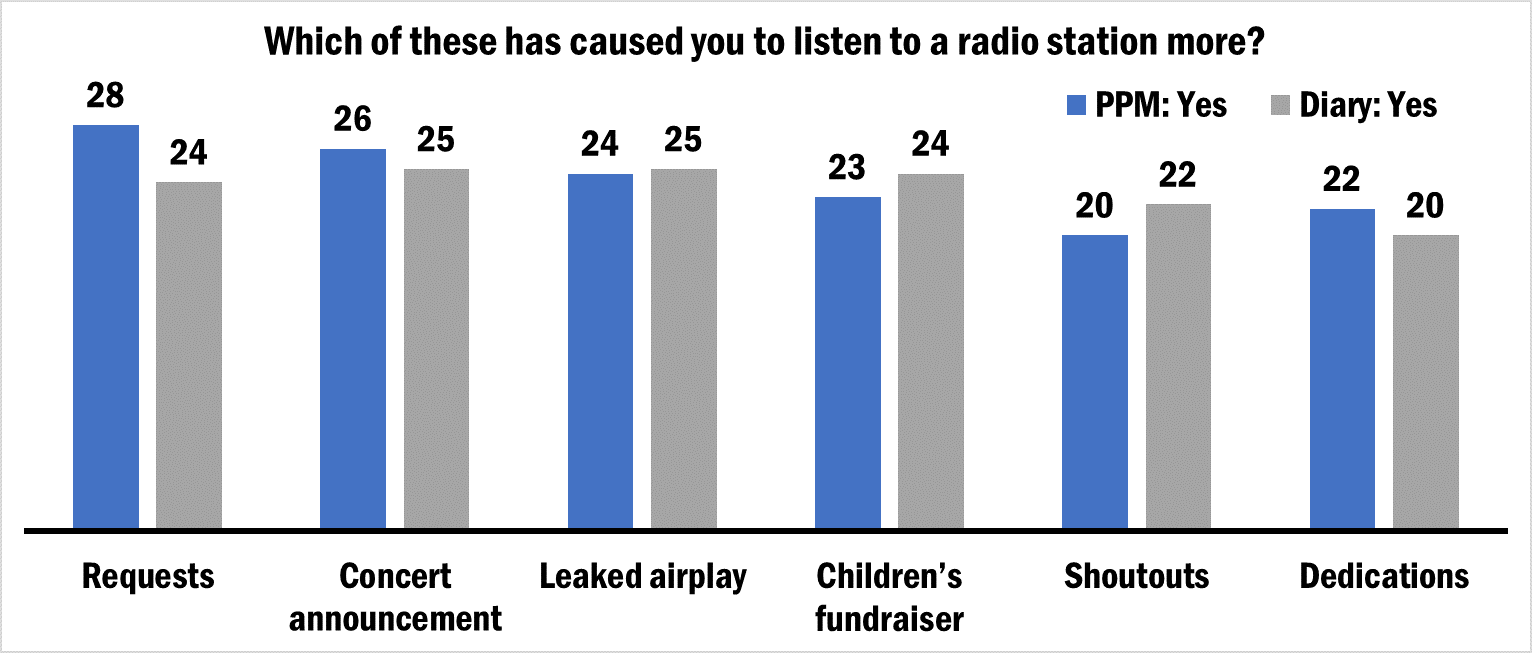 Perhaps the gains predicted here distill down to only incremental lift, but we couldn't help noticing that many require only minimal adjustments to accomplish. Requests, Shoutouts and Dedications are still used by some stations either occasionally or regularly. These numbers suggest that they could be used by most stations on a regular basis. While the mild benefit involved here wouldn't outweigh playing a poor-testing song, even the mention of a listener's name has predicted lift here. Of course, there are artful ways of handling requests and massaging music schedules so that the station can get the benefit without suffering the consequences of airing songs that only make one listener happy.
From our perspective, these three tactics have in common that they acknowledge a listener, by name, as being part of the station's community. We may think of dedications as corny, but listeners don't agree. Including listener names on the air is, in a sense, a very early iteration of social media. Even earlier, when movies were new, a young Walt Disney would drive around town with a camera on the back a truck taking movies of people on the street. A sign on the truck said people could see themselves that night at a local theater before the movie.
It's getting harder for stations to get early access to concert tour information or to get access to music before it's more widely released. But, these numbers support making the effort to get it done – or find ways to make the audience believe you did. Yes, content is king, but distribution is queen and, sometimes being the first legacy media to make a big deal about a concert date or new single is good enough to get the benefits involved.
Lastly, people registered increases in TSL connected with children's charity fundraisers and, while not shown here, also for fundraising efforts for local charities or humanitarian support. Being local media, forging a connection with the local community, is vital to broadcast radio. Being there to support local charities can showcase that commitment in a credible way. The usual caveats about carefully managing the content to avoid inadvertently turning your music station into a talk station apply, of course. Moving longer-form content to the station's website or Social Media is one way to do just that.
These formerly tried-and-true tactics can still provide lift for radio, provided their implementation is updated to use the full width of current technology and that you observe best practices in terms of playing the Nielsen game.