Building Audience One Listener at a Time?

One of the points in our latest NuVoodoo webinar, How to Play & Win the Ratings Game, is where we asked about things that have caused tune ins for stations. We asked "Have you ever tuned in to a radio station because of these things?" We gave respondents a list of things that might have influenced their behavior. Social Media postings and word of mouth were at the top, but we saw good numbers for one of those free tactics that many stations used to do regularly (and some stations still do): the shoutout – just saying someone's name on the air.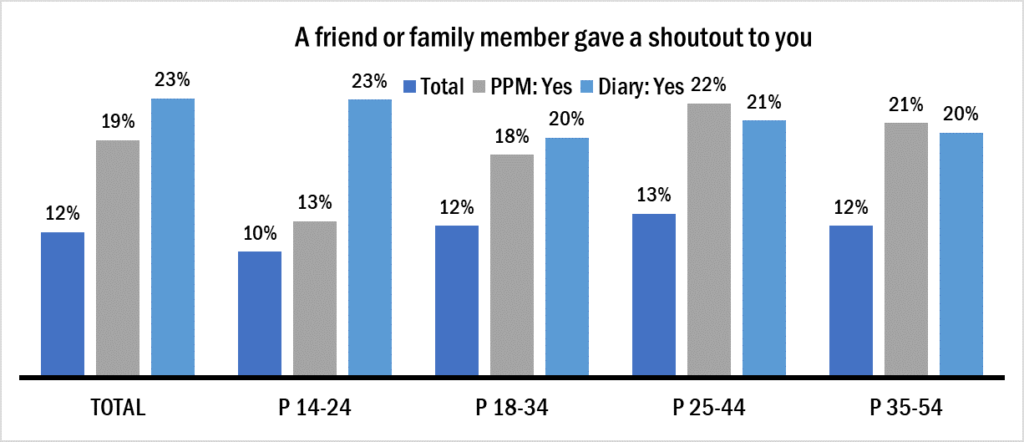 The overall numbers of 12% of the sample may not get your attention. But when we drill down to those who modeled through our questions as being likely to accept a meter ("PPM: Yes") or fill out a diary ("Diary: Yes"), the numbers get more interesting – especially when you remember that the cost of doing this is zero.
Inciting tune-in one person at a time isn't a remedy for goosing a particular monthly – it's a long-term commitment. And, of course, it's a hit-or-miss proposition whether or not the intended recipient will even hear the shoutout. But, digital media and Social Media have opened up some interesting possibilities.
What if you recorded the shoutout and emailed a copy to the subject? That's a pretty nice thing to get in your email. You can imagine someone playing it for friends and family. Even better would be a quick in-studio video of the shoutout that the person could share in Social Media. Better still would be for the shoutout video to have entertainment value beyond the mere mention of a name.
Broadway Bill Lee at WCBS-FM New York has made a habit of posting videos of song talkups on Social Media. They're always wonderfully executed and ring a lot of the bells for radio programming types. This one from back in March happened to end with a shoutout to an NYPD officer. Imagine an on-brand video from your station touting a listener in a similarly creative manner.
Maybe it's a message from co-workers about why they love a co-worker. Maybe it's an utterly tongue-in-cheek message from co-workers on why someone is the worst co-worker ever. Maybe it's some ridiculous message between spouses or lovers meant to embarrass one another. It could change day to day or hour to hour. It's about creating content and making connections.
If your video is entertaining, good looking and easy to share, you'd stand a good chance of expanding the circle around that one shoutout long after it was actually on your air. And, if people see if and like it, they'll be inclined to want to get in on the action themselves.
We're working on the second installment of our fall webinar series that we'll launch right after Labor Day. We'll be sharing more insights from NuVoodoo Ratings Prospects Study Twelve, including the best contest appointment times, new details on group contesting, fresh data on streaming competition and what platform is trying to replace radio as the leader for new music discovery. Watch this space for registration information, or check nuvoodoo.com/webinars.