Problems Getting Smart Speakers to Play Your Radio Station?

CINCINNATI, OH, February 13, 2019– NuVoodoo Media Services, a data-driven media marketing, programming and content intelligence provider, announces that the latest NuVoodoo Ratings Prospects Study of 3,084 respondents, ages 14-54, across all PPM markets revealed that Smart Speaker penetration is up to 43% among Persons 14-54.
The NuVoodoo Ratings Prospects Study is conducted twice a year to learn more about those who are most likely to say "yes" to the opportunity to wear a meter or fill out a diary in order to provide NuVoodoo clients with competitive insights and advantages that they can exploit to capture higher ratings. This is the 13th Ratings Prospects Study that NuVoodoo has completed since 2011. The company shares the top-level findings of its studies with its radio broadcasting clients to develop winning next-generation marketing and programming strategies for stations of all formats in PPM markets.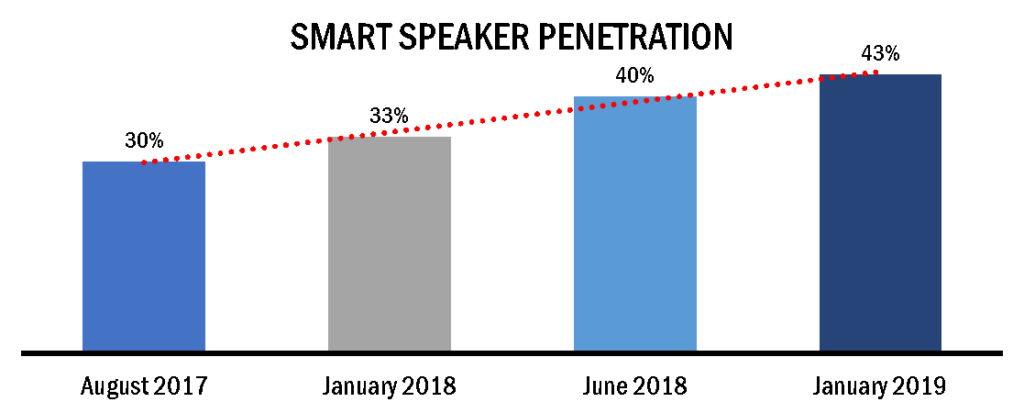 Not shown here is that penetration is even deeper among those likely to end up in a Nielsen sample. Additionally, a prime placement for Smart Speakers is turning out to be the bedroom. The bedroom used to be home turf for radio once upon a time because of the ubiquity of the clock radio, but clock radios are now about as common as rotary phones.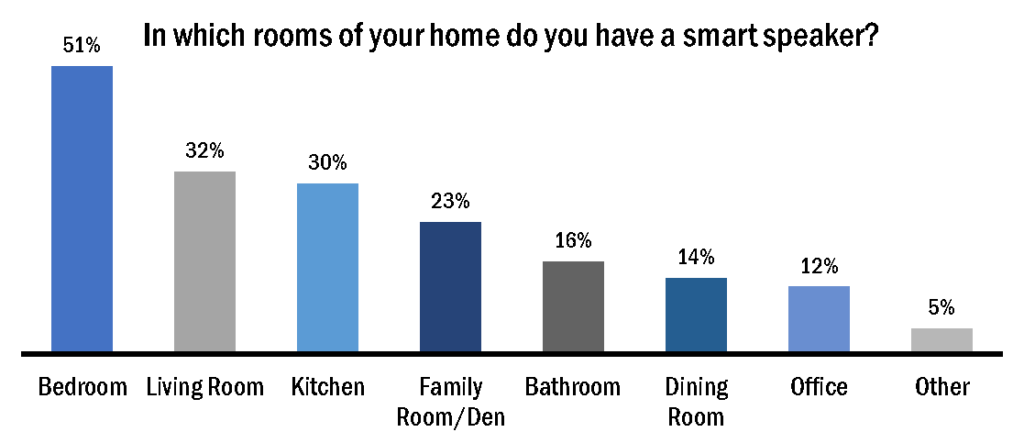 While listening to a favorite local FM station is a pretty common thing for Smart Speaker owners to try, the NuVoodoo Ratings Prospects Study shows that listening to digital pureplays on Smart Speakers is gaining traction.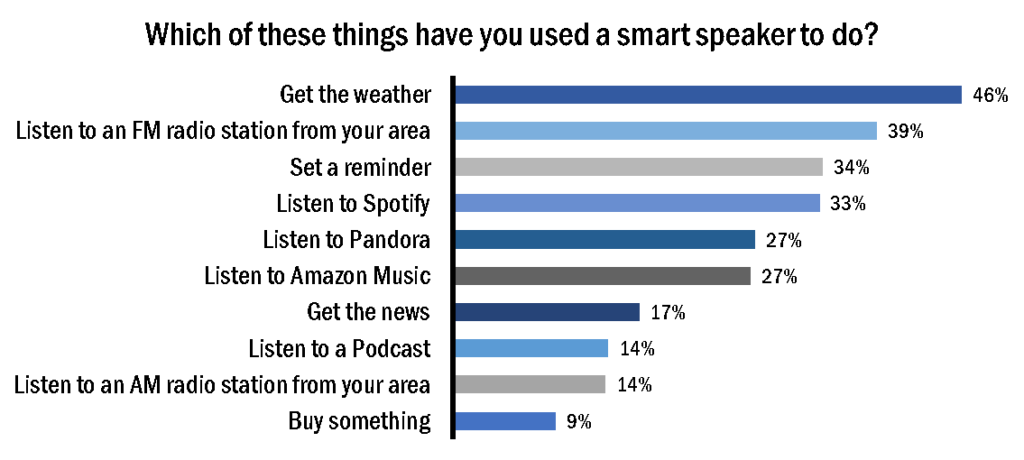 Leigh Jacobs, Executive Vice President, Research Insights, NuVoodoo Media Services, said: "Spurred by verbatim comments picked up in client studies in the past year, we asked Smart Speakers owners to agree or disagree with this statement: "I've had problems when asking smart speakers to play one of my favorite AM or FM stations" – and 46% of Smart Speaker owners agree. That's a lot of potential occasions snubbed out because the Alexa couldn't find what they were asking for or played the wrong thing."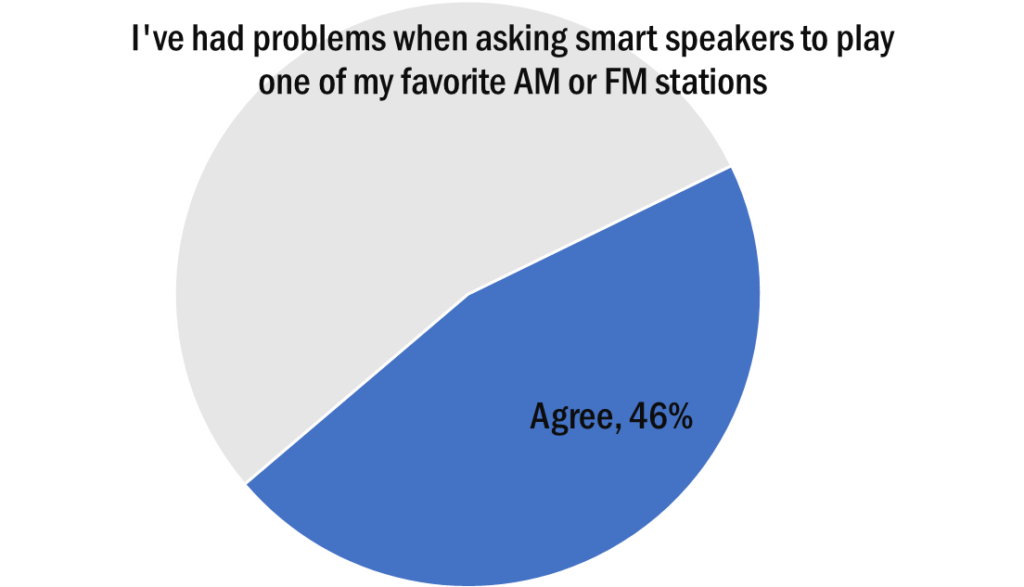 Looking at the data, Mike O'Connor, Executive Vice President, Marketing, NuVoodoo Media Services, remarked: "Jeff Bezos recently touted Alexa's improved ability to understand requests and answer questions, proudly announcing that the number of learned skills had doubled to over 80,000 worldwide. In the face of this tectonic shift in audio distribution, radio station listeners have identified a "skill gap" when attempting to access their favorite radio station. These data say to the industry, "Drop everything and address this – NOW!"
Carolyn Gilbert, President and Chief Executive Officer, NuVoodoo Media Services, noted: "The good news is that more homes have Smart Speakers – and that's a huge opportunity for radio and for those who are smart enough to optimize their brands' positioning on them. We invite all radio professionals to learn more about the opportunities and insights uncovered by our latest Ratings Prospects Study at our Spring 2019 Webinar Series beginning Tuesday, February 19th at Noon Eastern."
NuVoodoo will dive deeper into Smart Speaker penetration in the first installment of its Spring 2019 Webinar Series starting on Tuesday, February 19 at Noon Eastern (with four more opportunities to participate through Monday, March 4th). In addition to Smart Speakers, this first webinar episode will give you the latest information on:
• The advertising channels that likely ratings respondents pay attention to.
• Marketing messages and tactics that have prompted likely ratings respondents to listen more.
• How digital ads, phone calls or mail from a station might impact the listening of likely ratings respondents.
• The Social Media platforms that are used most by panelists and diary keepers.
• Whether increasing data privacy concerns are enough to cause likely ratings respondents to seek alternatives to Facebook.
Register at nuvoodoo.com/webinars/.
FOR MORE INFORMATION, Contact Carolyn Gilbert, President, NuVoodoo Media Services, at: cg@nuvoodoo.com or at 888.9VooDoo (888.986.6366).
About NuVoodoo Media Services
NuVoodoo Media Services provides data-driven digital, social and direct marketing and programming and content intelligence to the radio, television, newspaper, music and retail industries through innovative new research and marketing products and services that give clients a winning edge. NuVoodoo also provides customized and proprietary web-based research designed to connect music lovers with the music they love most. NuVoodoo Founder and President, Carolyn Gilbert, has been the radio industry's foremost research strategist for more than 30 years. NuVoodoo brings fresh thinking and lower costs to media research, including a budget-friendly barter for services model. A "virtual" company, attracting the best people from all over, NuVoodoo has offices in Cincinnati, Austin, Chicago, New York, Philadelphia and Middletown, OH. More information may be found by visiting www.nuvoodoo.com.
MEDIA CONTACT: Lisa Dollinger, Dollinger Strategic Communication for NuVoodoo Media Services, 512.633.4084, lisa@dollcomm.com.