How Many People Are Addicted to Radio in 2020?

CINCINNATI, OH, February 5, 2020– NuVoodoo Media Services, a data-driven media marketing, programming and content intelligence provider, announces that the latest NuVoodoo Ratings Prospects Study of nearly 4,000 respondents, ages 14-64, including a proportional group of over 700 Baby Boomers, across all PPM markets revealed that three-quarters of the sample overall and 6 in 7 among Millennials say they are addicted to their smartphone. Addiction to favorite FM radio stations holds up well in the NuVoodoo study, given the many media choices today: nearly half the Gen Xers and fully half of the Millennials in the sample say they are addicted to their favorite FM radio station. The number addicted to an FM station drops to just a third of Baby Boomers (not surprising, since few stations are targeted at them). NuVoodoo will dive deeper into the findings, now with Baby Boomers 55-64 included in the sample for the first time, in its first installment of the company's annual spring webinar series: 20 Things to Put Your Station on Top of the 2020 Ratings. The free webinar series kicks off Thursday, February 13, 2020, and is open to all radio professionals who register for any of three sessions at www.nuvoodoo.com/webinars.
In order to provide NuVoodoo clients with competitive insights and advantages that they can exploit to capture higher ratings, the NuVoodoo Ratings Prospects Study is conducted twice a year to learn more about those who are most likely to say "yes" to the opportunity to wear a meter or fill out a diary. This is the 15th Ratings Prospects Study that NuVoodoo has completed since 2011. The company shares the top-level findings of its studies with its radio broadcasting clients to develop winning next-generation marketing and programming strategies for stations of all formats in PPM and diary markets.
In addition to media choices – including Social Media – NuVoodoo asked respondents whether they felt addicted to their smartphones. And smartphone addiction is immense:

The numbers addicted to FM and AM radio actually go UP when the Baby Boomers are dropped from the sample. Most importantly, the FM-addicted numbers shoot up to roughly 7 in 10 among the subset who'd be likely to participate in either Nielsen methodology and the AM-addicted numbers push up to well over half among those Nielsen likelies.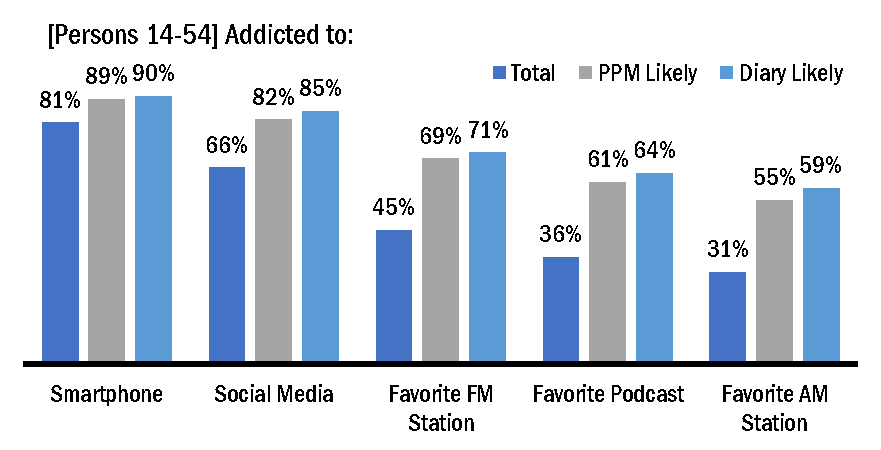 Leigh Jacobs, Executive Vice President, Research Insights, NuVoodoo Media Services, said: "We are excited to take radio professionals on a deep dive into lots of different media habits and share key findings from the 15th NuVoodoo Ratings Prospects Study, including respondents' addiction to various channels and platforms. Based on our recent findings, social media and smartphone addiction are at epidemic levels across all but the oldest generations."
Jacobs added: "As is often the case, once we cross-tab results against that portion of our sample that would likely accept an invitation from Nielsen Audio to be a part of the radio ratings, addiction levels to AM/FM radio stations rises significantly, nearly matching social/smartphone usage. It's a perfect storm for radio stations playing the Nielsen game: influencing the most addicted listeners on the devices and in media environments where their habit is unbreakable."
Carolyn Gilbert, President and Chief Executive Officer, NuVoodoo Media Services, noted: "The big news here is that people still have such a deep connection with their favorite radio stations that they consider themselves 'addicted' to them. That's a strong testament to the fact that programming professionals continue to find more and better ways to make contact with and hold their listeners and create the very special affinity and relationship that great radio has always enjoyed with its audiences. We're thrilled to be able to share with them more smart strategies for developing that relationship and loyalty that will help move their ratings to the top in 2020. "
Mike O'Connor, Executive Vice President, Marketing, NuVoodoo Media Services, commented: "We'll be focusing mainly on the money demos up to age 54 in the first installment of our spring webinar series: 20 Things to Put Your Station on Top of the 2020 Ratings. Register now at www.nuvoodoo.com/webinars and give yourself and your stations an early Valentine!"
NuVoodoo's first installment of its Spring 2020 Webinar Series is on Thursday, February 13, 2020, at Noon Eastern (with two more opportunities to participate on Monday, February 17th and Thursday, February 20th). This first webinar episode will get deep in the weeds to show which format P1's are most likely to feel addicted to their favorite stations in the webinar. It will also reveal NuVoodoo's latest information and insights on:
• Social Media usage (including Twitch and TikTok)
• Workplace listening (How much of an impediment is headphone listening?)
• National and local contests
• Marketing messages that drive tune-in or boost TSL
• Programming benchmarks that move the needle
Each webinar session will last less than 30 minutes and will include Q&A at the conclusion.
Register at nuvoodoo.com/webinars/.
FOR MORE INFORMATION, Contact Carolyn Gilbert, President, NuVoodoo Media Services, at: cg@nuvoodoo.com or at 888.9VooDoo (888.986.6366).
About NuVoodoo Media Services
NuVoodoo Media Services provides data-driven digital, social and direct marketing and programming and content intelligence to the radio, television, newspaper, music and retail industries through innovative new research and marketing products and services that give clients a winning edge. NuVoodoo also provides customized and proprietary web-based research designed to connect music lovers with the music they love most. NuVoodoo Founder and President, Carolyn Gilbert, has been the radio industry's foremost research strategist for more than 30 years. NuVoodoo brings fresh thinking and lower costs to media research, including a budget-friendly barter for services model. A "virtual" company, attracting the best people from all over, NuVoodoo has offices in Cincinnati, Austin, Chicago, New York, Philadelphia and Middletown, OH. More information may be found by visiting www.nuvoodoo.com.
MEDIA CONTACT: Lisa Dollinger, Dollinger Strategic Communication for NuVoodoo Media Services, 512.633.4084, lisa@dollcomm.com.