In The kNOW: Retail Holidays Offer 'Prime' Opportunity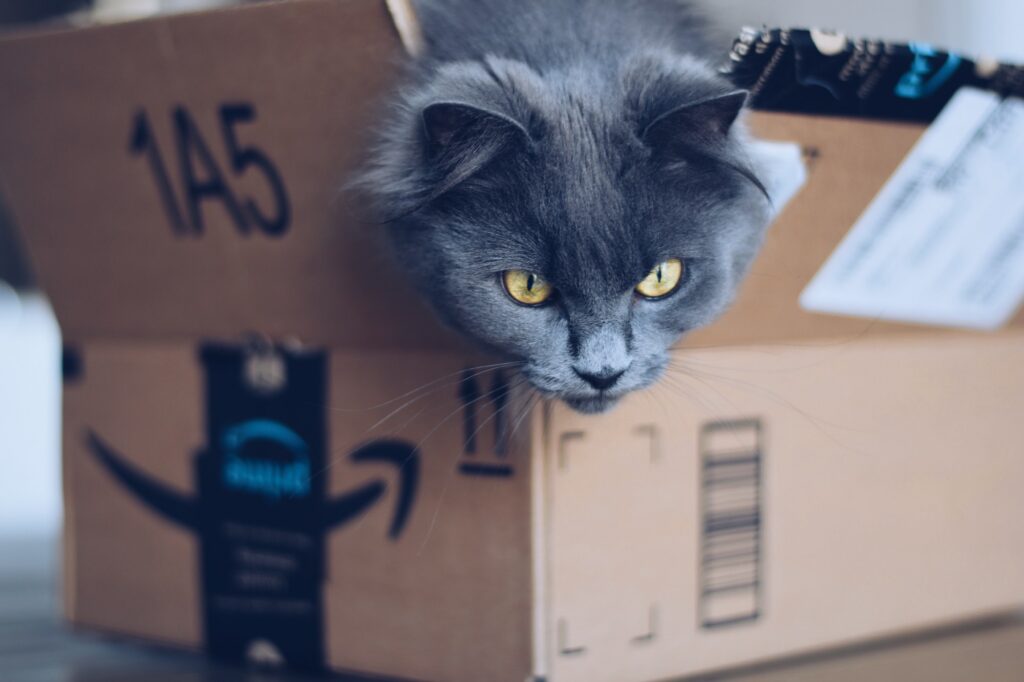 Prime Day has come and gone; early this year. And this year, in particular, we noticed other retailers jumping in and riding the Prime Day coattails. There were articles galore discussing the competing Prime Day deals from Walmart, Target and more. And we were curious to know how these other retailers might fare on a big sale day, not of their own design. So, we thought we'd ask about Prime Day and other strictly 'retail holidays.' Do people wait for them, shop them, buy on them? We asked 2,400 people nationwide and discovered that Prime Day isn't just Amazon's anymore! Sorry, Mr. Bezos.
By all accounts, Prime Day 2021 was a success. According to Adobe Analytics, CNN and other news outlets, the two-day event brought in over $11 billion, an increase of over 6% compared to last year's Prime Day in October. While still a powerhouse, Prime Day sales growth has slowed compared to the 45.2% growth experienced from the 2019 to 2020 Prime Day (CNBC). But with Prime memberships increasing nearly 25% between March 2020 and March 2021 to a whopping 147 million members (Consumer Intelligence Research Partners report), it was bound to be a big year for sales. However, Amazon isn't the only retailer cashing in on Prime Day. Target, Walmart, Kohl's and others announced that they'd have competing sales events on Prime Day, 2021. And, according to our research, Amazon isn't the only winner on Prime Day.
Nearly 30% say we made Prime Day purchases on Amazon in past years. But we also purchased items on Prime Days in the past at Target (24.3%), Walmart (23.1%) and other retailers (24.2%) at impressive rates.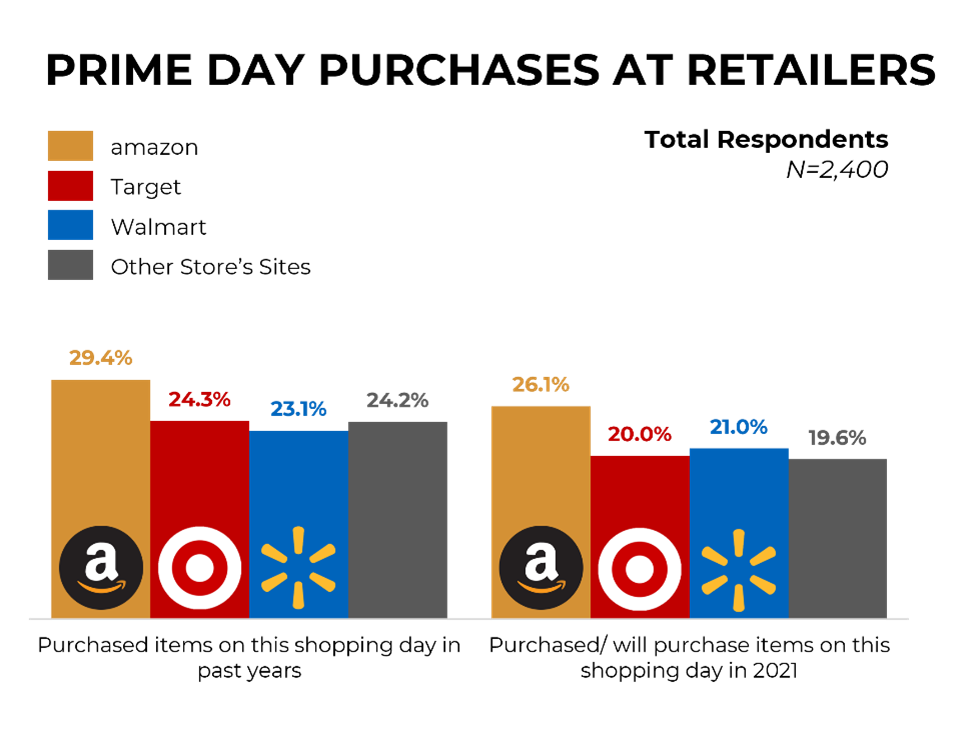 But we wanted to know more than just purchases on Prime Day and from where. We also wanted to see if they waited for Prime Day, anticipating great deals they can't get other times of the year. And what about browsing/ 'window shopping' and impulse purchases? Does Prime Day have the magnetism to draw people in for things they didn't know they wanted? It looks like it does.
Over 15% claim they wait for Prime Day with a pre-made list of items, anticipating what Prime Day deals might bring. And they don't just wait to shop Amazon on Prime Day. Over 15% wait for Prime Day, lists in hand, to shop Target, Walmart, and other store's sites as well. Fewer wait to buy 'big ticket' items (>$200) on Prime day. But, interestingly, about as many wait for Prime Day to buy big-ticket items at Target (12.1%), Walmart (12.6%), and other stores (12.3%) as they do Amazon (14.0%).
The real surprise is that more of us report browsing or 'window shopping' on Prime Day at Target (26.9%) and Walmart (27.5%) and other stores (25.5%) than on Amazon (25%) itself. It seems the 'halo effect' of Prime Day is in full effect for other retailers. But, despite browsing other sites at slightly higher rates, it looks like Amazon still slightly edges out the other retailers for impulse/ unplanned purchases. Perhaps we're curious if Target and Walmart can compete on Prime Day, so we comparison browse but still find the better deal on Amazon. Or maybe Amazon has a better variety, and shipping is faster/ cheaper. Or perhaps Amazon is just better at converting 'browsers' to 'buyers' than other retailers on Prime Day.
There's no denying Amazon does well on Prime Day. But it's safe to say that Prime Day isn't just for Amazon anymore.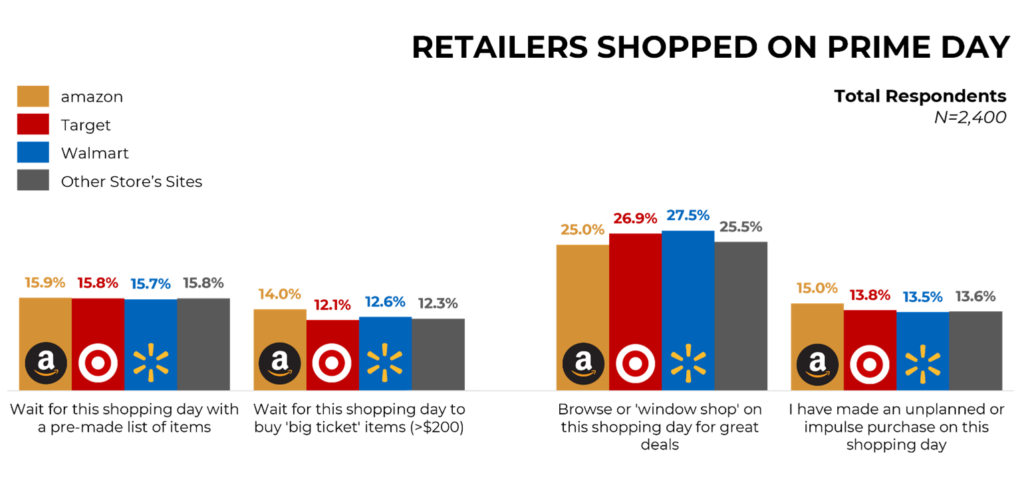 But what about other popular 1- or 2-day retail holidays known for significant discounts and great sales? We wanted to see how Black Friday, Cyber Monday and Tax-Free Weekends, especially popular for back-to-school shopping, stacked up against the fledgling, seven years young, Prime Day.
One thing seems clear according to our survey participants. Black Friday barely registers. There's little interest in the shopping day right after Thanksgiving. With its reputation for big crowds at best and complete melee at worst, coupled with our 'new normal' born out of a global pandemic, Black Friday may not be worth the trouble for retailers this year. But Cyber Monday is a different story. Cyber Monday, around since the early 2000s, remains a very popular 1- day retail sales holiday, with 2020 Cyber Monday e-commerce sales reaching $10.8 billion (Forbes).
Nearly 1/3 purchased items on Cyber Monday in the past, and 27.6% intend to buy on Cyber Monday 2021, likely -at least in part- due to not wanting to shop in-store on Black Friday. Even more of us wait for Cyber Monday with pre-made lists (17.3%) and to buy 'big ticket' items (16.3%) than wait on Prime Day for these. While 22.1% report they browse or 'window shop' for great deals, 15.3% report having made an unplanned/ impulse purchase on Cyber Monday. It appears that this year, the smart bet for retailers may be to spend resources toward Cyber Monday and let your retail associates have the Friday after Thanksgiving with their families.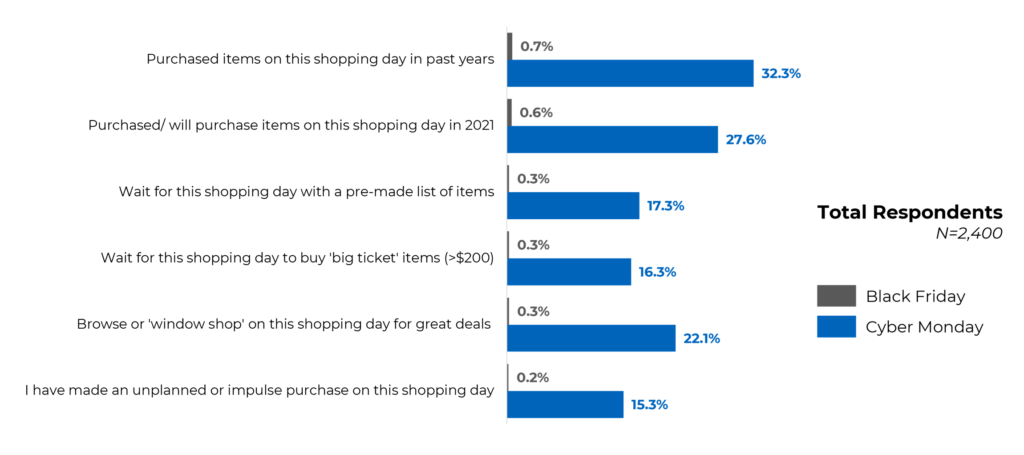 Another popular, usually 2- day retail 'holiday,' is the Tax-Free Weekend. Seventeen U.S. states have some version of a Tax-Free weekend planned for 2021 (https://www.taxadmin.org/2021-sales-tax-holiday). Some tax-free weekends/ days are allotted to specific product categories to encourage purchase of energy-efficient appliances, entertainment/ events tickets, or disaster preparedness items. Still, most participating states offer a 'back-to-school' tax-free weekend as well. While there are limits on the back-to-school products included and tax-free amounts, these weekends remain very popular with parents and retailers alike. (Though if you've ever shopped one of them, it can feel very much like a 'Back-to-School Black Friday.')
Despite the category and spend limits, tax-free weekends enjoy significant participation in both home and neighboring states alike. About ¼ purchased items on a tax-free weekend in past years, and over 20% intend to purchase on these days this year, in their home state and a neighboring state. They wait for tax-free weekends for their pre-made list of items and 'big ticket' items at equal rates, as seen on Prime Day. Browsing for great deals on tax-free weekends is only slightly lower (23.9% in my state, 21.6% in a neighboring state) than browsing on Prime Day and Cyber Monday; surprisingly comparable given the traditionally in-person nature of Tax-Free Weekend shopping. Impulse buying on tax-free weekends runs about the same as that of both Prime Day and Cyber Monday.

As we discussed in our last article, Amazon's profits increased 200% during COVID. Obviously, any retail site that can rake in $11B over a forty-eight-hour period is doing quite well. And it seems that Target, Walmart and others have decided -if you can't beat them, join them- when it comes to Prime Day. But other 1- and 2- day retail holidays can also bring in the bucks for retailers wanting and needing a solid spike in sales to shore up their bottom line. Likewise, Cyber Monday shouldn't be ignored. And Tax-Free Weekends can afford retailers the ability to focus their marketing on allowable items, creating high ROI.
Black Friday appears to have made way for a different kind of retail holiday -one with no crowds, or long lines, or early morning campouts in the parking lot. Now we want to search sites in our pajamas from the comfort of our own homes. We want our retail holidays like any other random Thursday, but with our eye toward the great deals of the day.
Our 'In the kNOW' series tackles the burning questions we all want to know about right NOW. If you have questions you think we should ask, topics we should explore, things you'd like to learn more about, shoot me a note at tellmemore@nuvoodoo.com.