New NuVoodoo Study on the Delta Variant Reveals Sobering Insights for Attendance at Live Events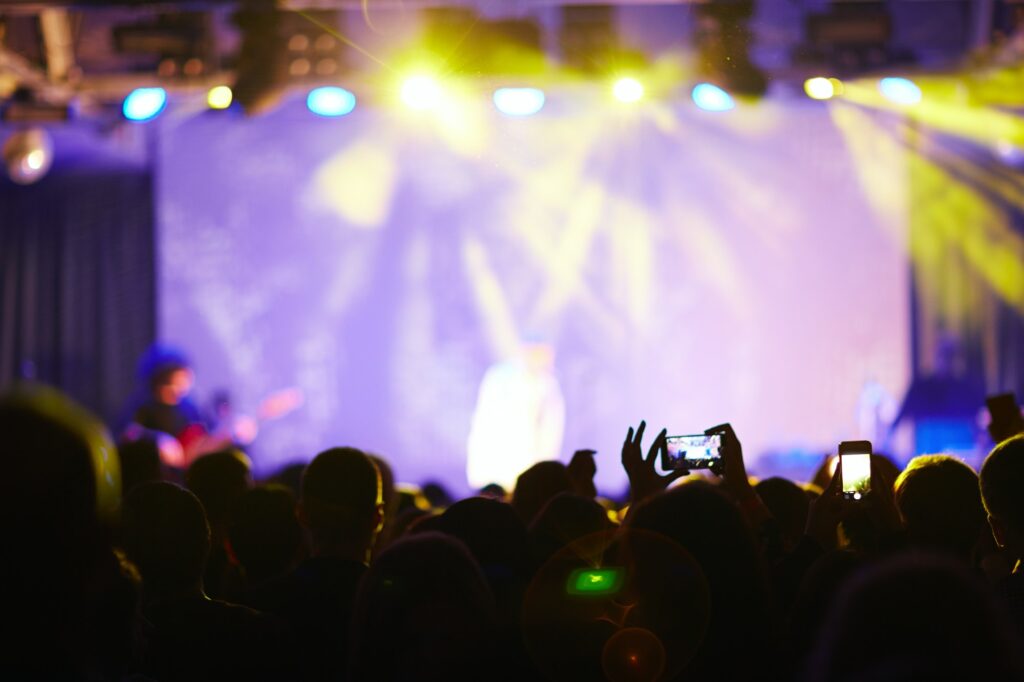 – Only 4 in 10 People Would Attend a Large Public Indoor Gathering That Didn't Require Prior COVID-19 Vaccination or Other Safety Measures
 – The Unvaccinated Are Nearly Twice as Likely to Attend Large Indoor Gatherings With No COVID Restrictions, When Compared to Their Vaccinated Counterparts
 CINCINNATI, OH, September 21, 2021 – NuVoodoo Media Services, a data-driven media research, marketing and content intelligence provider, announces findings of a Quick Turn Study fielded nationwide on September 9 and 10, 2021, to 1,854 adults aged 18-64, balanced by age, gender and geography. Among people 18-64, 47% were fully vaccinated, with another 10% having had the first of the two-shot vaccines – meaning 57% of the subjects are at least partially vaccinated. There's another 5% who say they're trying to find time to get vaccinated. There are 20% who are not interested in getting vaccinated at all and another 18% who say they're still researching facts about the vaccines or aren't sure about getting vaccinated.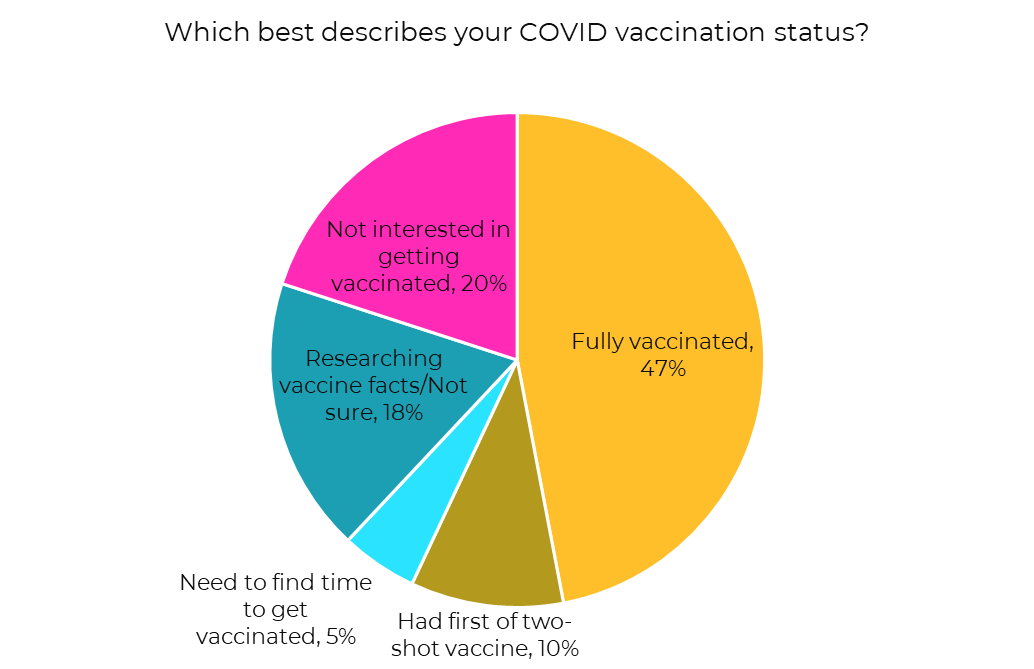 Carolyn Gilbert, President, NuVoodoo Media Services, noted: "As always, the devil is in the details – and the results change with age. In our sample, which includes only pre-retirement demographics and excludes the vaccination status of seniors, 55-64's are the only age cell in our study where a solid majority are fully vaccinated. Vaccination rates hover around 40% among young women and fall well below that level among young men."
The NuVoodoo study further found that the unvaccinated are nearly twice as likely to attend large indoor gatherings, free of safety protocols, when compared to their fully vaccinated counterparts.  Even when at-least partially vaccinated individuals are added into the data, nearly 7 in 10 would still avoid events without vaccination requirements or other safety measures in place.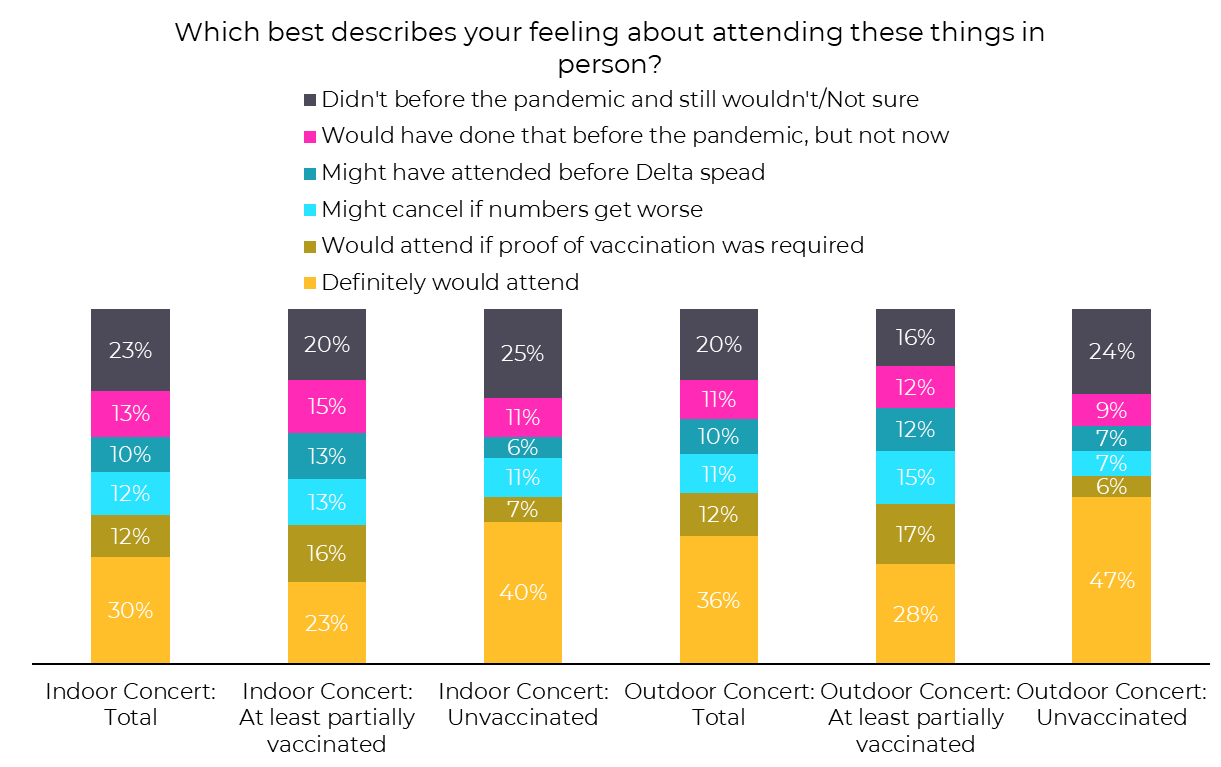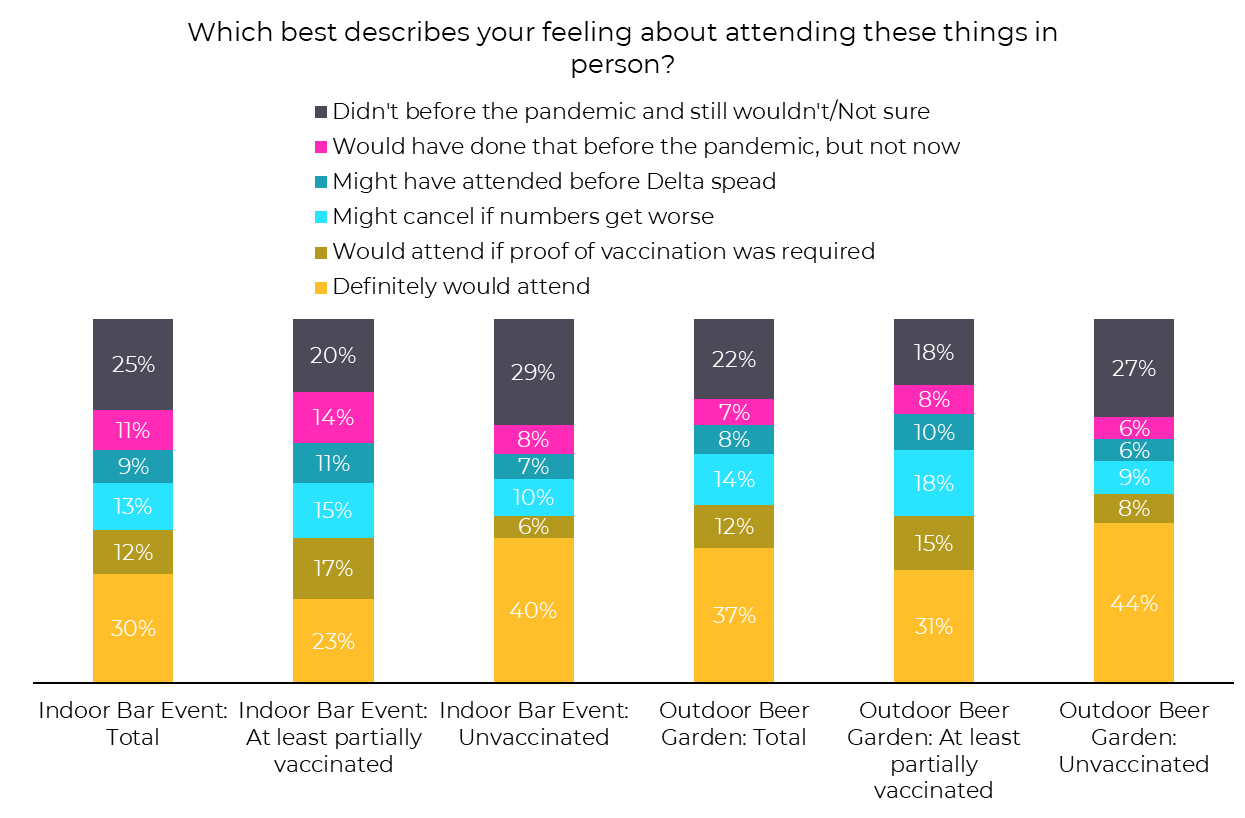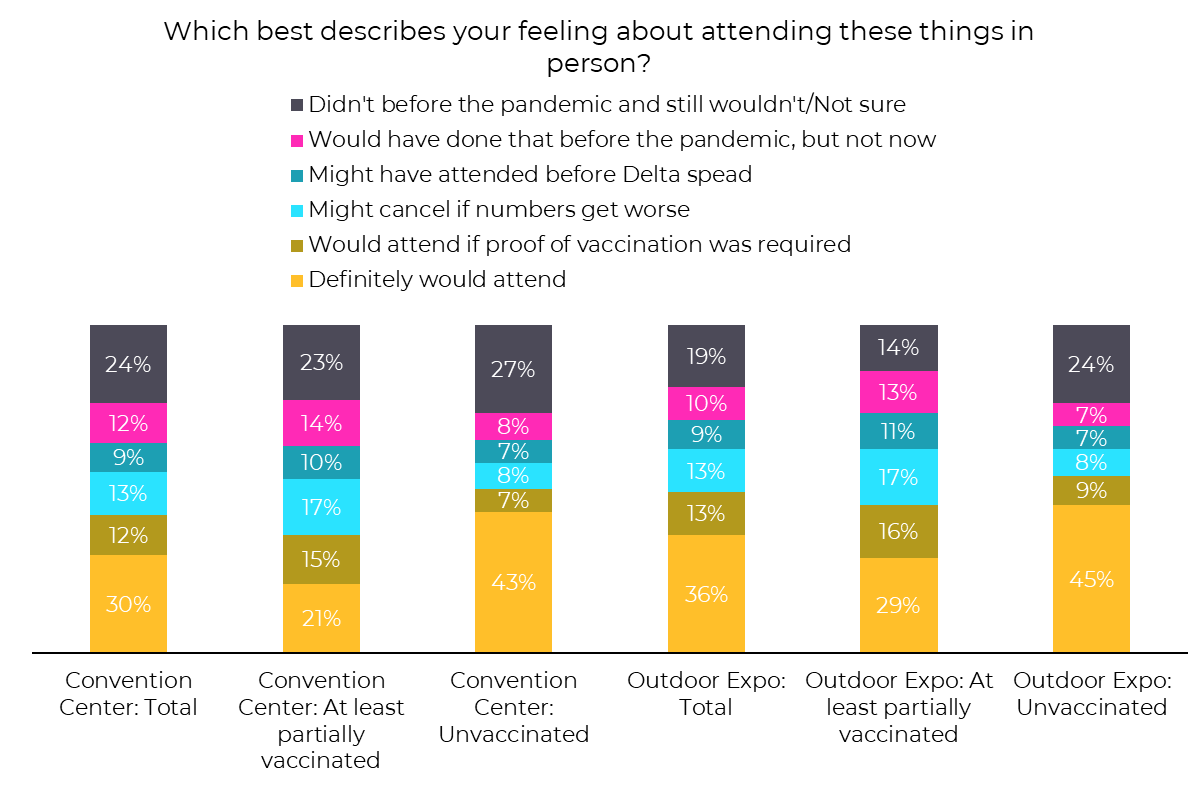 Among those in the sample with pre-pandemic attendance of work-related events involving more than a couple of dozen people, over a third say they would prefer to attend such meetings virtually now (a number that would rise if vaccinated individuals can't be guaranteed that vaccination proof would be required OR unvaccinated individuals can't attend without showing vaccination proof).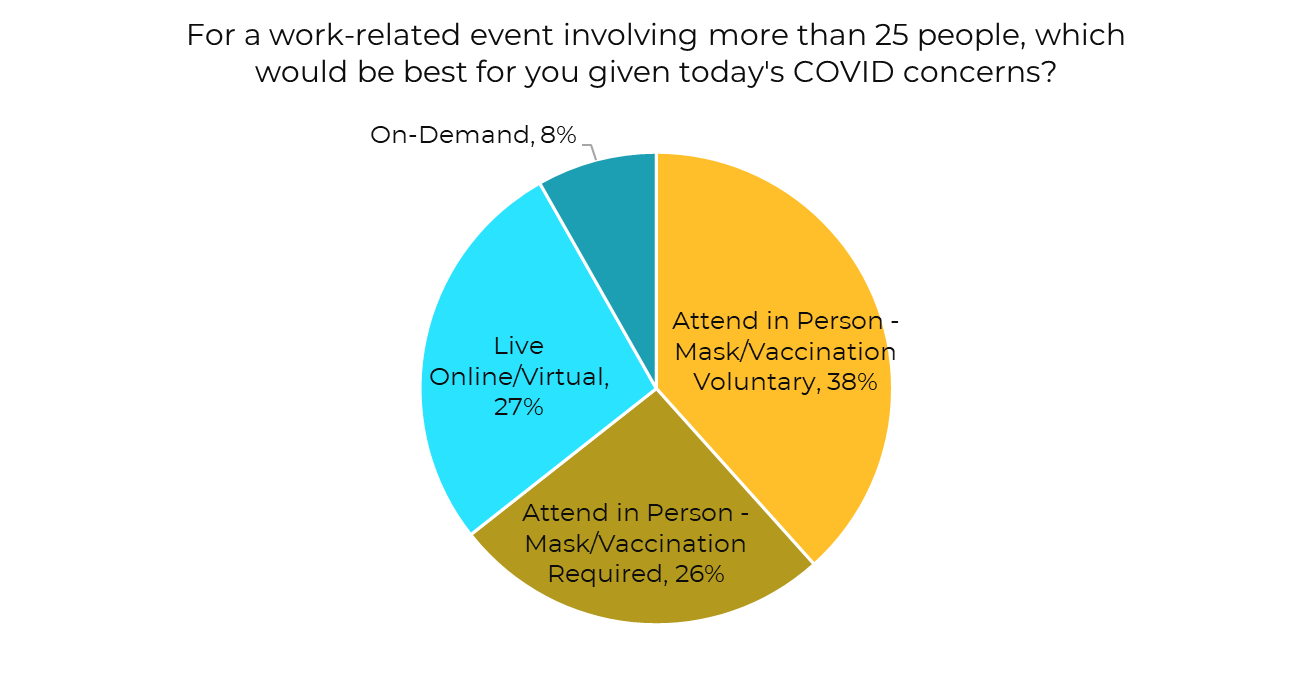 Leigh Jacobs, EVP, Research, NuVoodoo Media Services, commented: "Our study results indicate that Delta's impact on event attendance is significant. For example, better than 2 in 5 either will not (or might not) attend business conferences or trade shows. Requiring proof of vaccination lifts attendance among the vaccinated while disenfranchising the unvaccinated. Potential attendance is limited either way."
Jacobs added: "Last week's cancellation of the October NAB event underscored the value of virtual attendance options wherever possible. Virtual won't work to replace every event experience, but it can be an attendance-widening addition in many cases – and an insurance policy in others."
Watch this video to see a complete presentation of all of NuVoodoo's study findings: https://nuvoodoo.com/webinars/.
The NuVoodoo digital team is made of event, web, and broadcast experts. They have experience producing conferences, conventions, political debates, media broadcasts, music festivals, charity events and more for professional sports leagues, leading universities, top experiential agencies, and event production companies all over the country. Contact NuVoodoo at: TellMeMore@nuvoodoo.com for examples of their work and the opportunity to discuss options for any event you're considering.
 FOR MORE INFORMATION, Contact Carolyn Gilbert, President, NuVoodoo Media Services, at: cg@nuvoodoo.com or at 888.9VooDoo (888.986.6366).
About NuVoodoo Media Services
NuVoodoo Media Services provides data-driven digital, social and direct marketing and programming and content intelligence to the radio, television, newspaper, music and retail industries through innovative new research and marketing products and services that give clients a winning edge. NuVoodoo also provides customized and proprietary web-based research designed to connect music lovers with the music they love most. NuVoodoo Founder and President, Carolyn Gilbert, has been the radio industry's foremost research strategist for more than 30 years. NuVoodoo brings fresh thinking and lower costs to media research, including a budget-friendly barter for services model. A "virtual" company, attracting the best people from all over, NuVoodoo has offices in Cincinnati, Austin, Chicago, New York, Los Angeles, Philadelphia, Columbus, OH, and Middletown, OH. More information may be found by visiting www.nuvoodoo.com.
MEDIA CONTACT: Lisa Dollinger, Dollinger Strategic Communication for NuVoodoo Media Services, 512.633.4084, lisa@dollcomm.com.