Surviving Change May Require Introducing Even MORE Change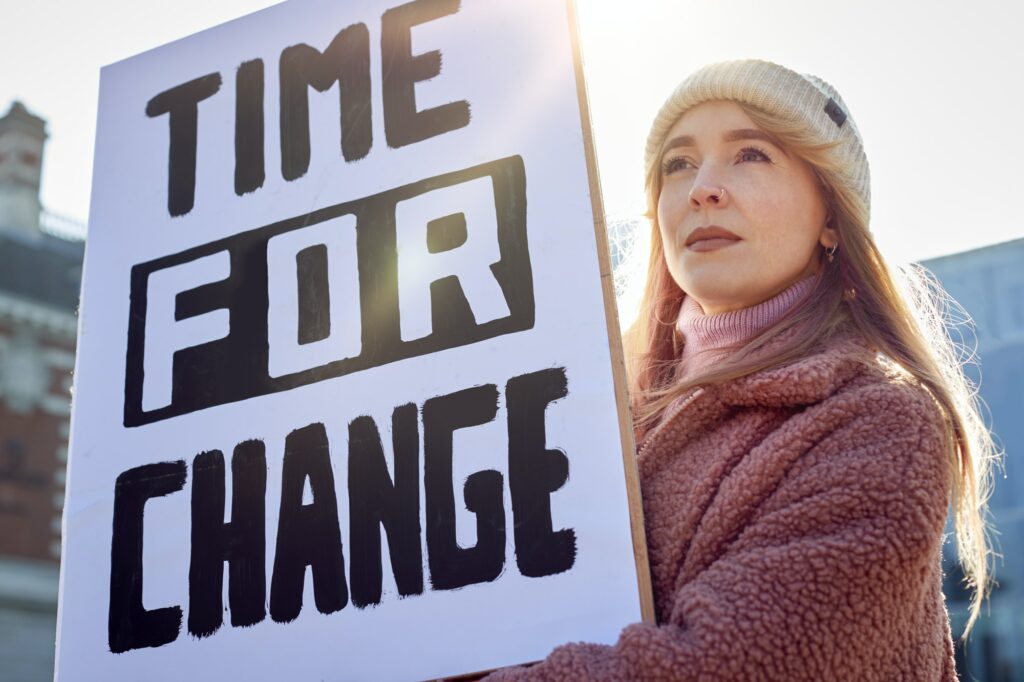 We watched a webinar last week from a major research company enthusiastically touting the rollout of a new piece of technology.  They'd been working on it for four years.  In 2022, this means that it is an old piece of technology.
NuVoodoo has traditionally been a company, primarily serving an insular industry where the executives knew how to budget, serve a disparate set of customers and make a profit and get 9 holes of golf in on a daily basis.  That industry has been turned upside down by technology during the last 20 years.  We used to tell them that if they had to do qualitative research, they didn't know their customers very well.  Now, because of new technology and a total disruption to their business, they don't know their business very well and golfing isn't on the agenda anymore.  The fundamental changes that have taken place over the last few decades have changed everything about their businesses.  So we believe that they would benefit – and profit – from taking a second look at how their customers see them.
And then there's COVID.  It was, to say the least, a disruptive force.  We can speak of the uncertainty, the change in everyday routines, supply chains, our whole lives.  But here I'm going to focus on the disruption to our businesses.
As a business owner, I've been preaching change forever.  But it took the COVID disruption to make us jump head-first into that unknown vat of, "What do we do now!?" soup.  April 1, 2020 was a brick wall of lost business.  Thanks to a few clients, PPP and an amazing and flexible staff, we made it through.  And we took that time as a time to reinvent the company, with an eye toward making it work better for you – our customers.
In a time of inflation, we looked at more efficient ways of doing things to maintain pricing (which we have) so that we could offer you the best possible deal.  We developed a few new products, some of which were far outside of our "traditional" and reputational wheelhouse to create more of a "one-stop-shopping" experience and to better serve our industry.  But the biggest change and perhaps the biggest challenge, were the "strangers" we allowed into the closed system of our company.  We always talk about the empty space left when someone leaves our lives.  What we don't talk about is the space that has to be created for the newbie.  And these newbies expanded our knowledge and ability to provide better, quicker and more actionable intelligence to you!
After business normalized in 2021, we very deliberately hired some incredible people who moved us squarely out of our comfort zones.  And that discomfort has brought us to a new space in terms of our recommendations to our clients – and allowed us to move beyond our traditional client base to new and challenging opportunities.
To that end, if you zero-base how you do your research and marketing, you can find opportunities that you might not know you had.  We didn't used to recommend "focus groups" because if you had to do focus groups or didn't know the questions to ask your customers, you certainly didn't know your business very well.  It's become apparent during the past few years that many of us don't know our businesses very well anymore.  It took Jeri Fields, our newest research vice president, to open our eyes to that.  With razor blades on her elbows, she's poked her way through to our inner circle to share her on-the-ground experience with consumer brands, ad agencies and other research companies to move us into asking new and different questions.  This provides a broader and deeper approach for you – and a way into understanding your business that frankly, we couldn't offer before.  We're getting more first-person, live consumer impressions.  We're doing much better research and offering you better answers.  Because we're asking more questions than ever.
Roger Malinowski comes to us from the live event space.  His relationships and experience have opened us up to opportunities we couldn't have foreseen three years ago.  Biz dev?  Who needs that?  Well, we certainly found out that we did.  And his perspective has changed us in substantive ways.  If you've been hiring the same "kind" of people with the same kinds of experience, again, looking outside your comfort zone can help you gain both new perspectives into your business and generate more business at the same time.
Krystin McKee is our newest "disrupter," poking her nose into all of our products.  Her data expertise, along with her marketing, social and business background, are sure to move us to the next level on many fronts – and again, give you better solutions to your business problems.
Our "old" guard remains brilliant, efficient, effective and amazing.  These changes have made all of us up our games substantially.  And most importantly, they've improved our ability to serve you and help offer new perspectives to both your research and marketing efforts.
It's been uncomfortable.  And in a world where patience is not perceived as a virtue, it's taken well over a year to watch seeds planted during the depths of COVID lock-down to begin to sprout.  It's also been invigorating, challenging and wonderful to watch the change not only in the business, but in the culture that we were proud of to begin with – and are even more proud of now.  The best news is how our customers have used our business to help grow theirs.  Indeed, since we are a B2B enterprise, your success is the measurement of ours.
Make no mistake.  There have been some missteps.  We go back to the old aphorism that if you're not failing, you're not trying enough new things.  The best we can do is make sure the same mistake isn't made twice.  Should you take our advice and zero-base the way you conduct business, we also suggest you fail quickly.  Taking four years to go to market with a piece of technology that was old when you began probably isn't the best plan for success.
Try new things.  Move quickly.  Make yourself uncomfortable.  Find disrupters.  Make mistakes.  Be impatient.  Be patient.  Contradict yourself.  Press forward, no matter what.  And focus on serving your customers.  What can you change that can benefit those who put food on your table?
We know that change is uncomfortable.  We also believe that moving through it brings you to a far better and healthier place than building up the barriers to dealing with it ever will.  The world is changing.  The train is moving.  Get on.  Get off.  Get out of the way.  Those are the only choices.  We prefer to enjoy the ride.  And appreciate those who take the ride with us.  Today.