Inside/Out – Reflections on NAB From a First Time and Veteran Attendee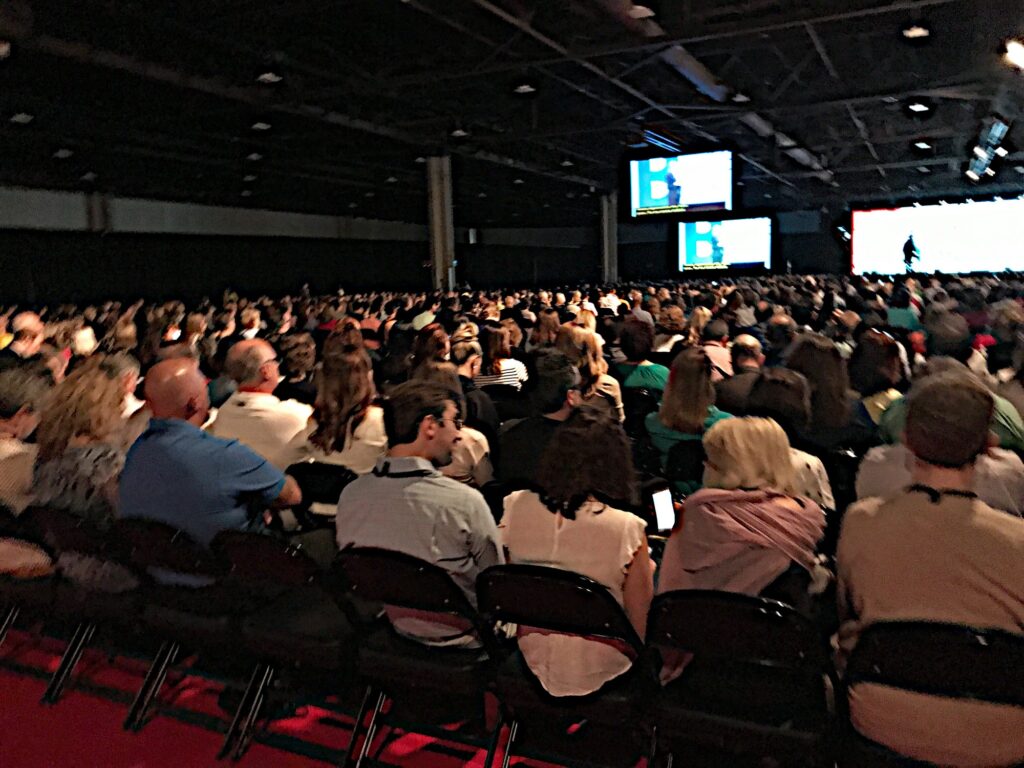 I joined NuVoodoo late in 2020 during the pandemic as the VP of business development.  I had been told about the vast experience and amazing reputation the company had in the radio/broadcast industry. Over the last two years, I've seen firsthand just how deep our connection with media runs. While I've been personally tasked with bringing new industries into the mix, I always appreciated my new team's viewpoint and perspective on "how things work" in the world of broadcasting.
When the world emerged from the lockdown days of the Covid pandemic, I was offered an opportunity to attend the National Association of Broadcasters conference, which traditionally takes place in one of my favorite stomping grounds, Las Vegas. I was certainly no stranger to attending events in Vegas. In fact, any excuse I could get to visit the sin city, I would generally jump on. This year, the opportunity to embed myself in the culture broadcast community at the entertainment capital of the world was simply something I couldn't miss.
So, I purchased my ticket, hopped in the car and headed to this unique event. Fortunately, I was with my co-worker Russ, who has been connected to the industry for decades. He gave me the lay of the land and made sure I understood that most everything a business development guy would care about, happened at the Encore bar. After a few sizable bar tabs and a headache or two later, I found this to be quite true.
That said, I was fascinated by the show floor and all the exhibits touting their goods and services. It became quite clear and was confirmed by Russ on many occasions, that anyone who was serious about creating quality content, could do so in ways that are much more attainable than in the past. Professional-grade equipment was developed and priced to bring the production studio to smaller spaces, even the home. I am familiar with professional-grade tools finding their way into smaller, more consumer-driven sections of the marketplace, but this was truly something to witness. The booths were littered with high-end video cameras, switchers, streaming software, lighting gear, green screen technology, and more. A candy store for content creators and producers.
Alas, a content creator I am not. And while it was amazing to see such state-of-the-art gear, I certainly didn't understand the showcases as deeply as Russ. I recommend the conference itself, great displays, interesting interactive booths, and amazing and friendly people, all encapsulated within the energy of Las Vegas!
From the insider's perspective on the show, I'll turn things over to Russ to provide his top 3 takeaways of NAB 2022!
It's smaller, and will probably stay smaller
After the pandemic, it's good to get back out into the world, but it's hard for many companies not to notice that business seemed to keep on running without the massive expense and time suck that a real NAB presence requires. As such, I saw fewer booths and only the most established players and effective disruptors could really afford to stand out.
A few highlights from the exhibit floor included Adobe's city block-sized booth, the massive wraparound LED "volumes" that have taken the film industry by storm, and the Blackmagic booth which laid out their entire product line in various displays where you could get up and personal with every one of their devices.  Many of the camera and workflow vendors had similar booths, but BlackMagic's really stood out.
Of course, all the usual suspects were there trying to one-up each other whether or not they actually had anything new or interesting to present.
2. New and Disruptive Vendors are here with a vengeance
I did my first NAB in the late 90's and some of the largest presence in 2022 was from companies that didn't even exist back then or were in radically different forms.  I mentioned BlackMagic Design above – that's a company that's turned filming and broadcast workflows on its ear in the past 10 years, and they didn't even exist in Y2K.  TriCaster, another player in that space, was a software program on a Commodore Amiga.  We're seeing Chromakey replaced by wraparound UHD screens, broadcast studios that only use Ethernet cables, and vendors like Zoom (not the web conference Zoom, the other one) are putting capabilities from a 1990's air studio into a $500 mixer that fits in a briefcase.
3. Standing out is harder than ever
I couldn't help but contrast those behemoths with smaller booths that dotted the periphery.  One that stuck out was Magewell's, which was tiny and tucked away in the corner.  NuVoodoo did a lot with video and streaming during the pandemic, and I found that brand to sit in the sweet spot of cost and value so I stopped by.  In that booth, I met the developer for one of the most truly innovative streaming products I saw at the show without any fanfare or even a sign for it. Like always, you can find diamonds in the rough between so many six-figure snooze-fests, but it's hard.
As always, unless you're planning to plunk down six or seven figures to compete with the big dogs you need to adopt a guerilla mindset. The biggest deal I personally did this year happened in a suite at the Bellagio, and that's usually how things go.  I saw a smattering of QR code-laden decals stuck along walkways that reminded me of years past when you'd see radio station bumper stickers put on stop signs but otherwise nothing really eye-catching.
As good as it is to get hands-on with hardware unless you're planning to build a new facility or rebuild a workflow from scratch it's hard to justify the travel and time spent in today's world. Of course, it's good to catch up with friends and colleagues from around the industry, but even the impact of that is lessened in a world that has Zoom calls in it.
It will be interesting to see how NAB leverages its own members to provide conferences and content going forward. If there's something I took away from this year, it's that the future of conferences will be smaller and higher-tech.