One of Six Things Listeners Love About Podcasts

A recording of NuVoodoo's presentation from Podcast Movement 2022, "Six Things That Listeners Love About Podcasts (and Four That Drive Them Crazy)" is available at nuvoodoo.com/webinars. Our data is the result of quantitative interviews with nearly 1,700 respondents who listened to podcasts at least an hour in the prior week, gleaned from a wider universe of 5,000 respondents.
Number four among the "things that listeners love about podcasts" is that "Podcasts are a topic for listeners." In this new era of democratized media – far from the days where people chose from the nightly offerings of the three major TV networks in the evening or the handful of local radio stations during the day – getting recommendations from friends on what they're watching or listening is a regular topic of conversation.
We were fascinated at how much people like to talk about the podcasts they love with their friends. Even among the least-frequent podcast listeners in the sample, nearly 3 in 5 say they've recommended podcasts to friends.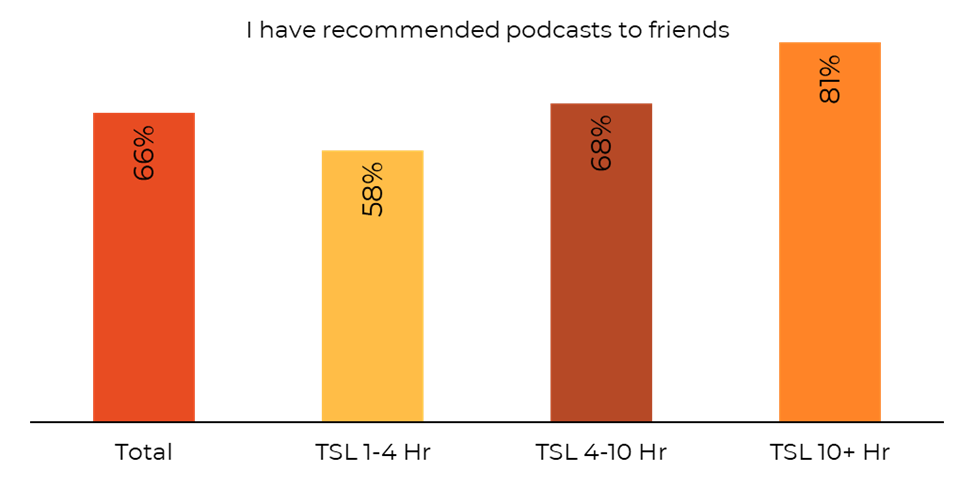 Word of mouth is a massive tool for podcasters. In our ranking, recommendations from friends is eclipsed only by YouTube (and equaled by podcast apps) as a way to learn about new podcasts. Yet the importance of a strong social media voice cannot be understated. In addition to YouTube, we see the Meta duo, Facebook and Instagram, as well as TikTok high in the rankings of where listeners learn about new podcasts.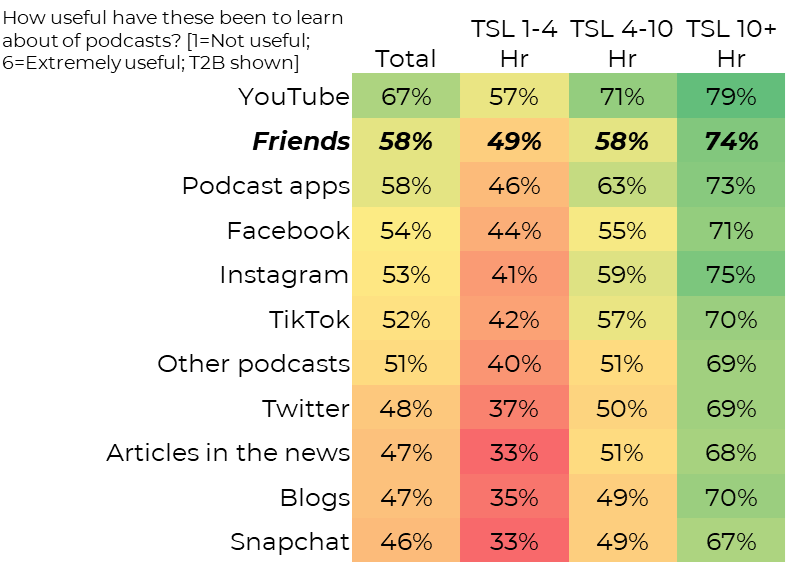 Nevertheless, we did pick up a sentiment that perhaps podcasts are less relevant now. In our qualitative interviews we heard some say that talking about podcasts with friends was more fun when Serial had emerged on the scene in 2014. And our data shows a majority of the heaviest podcast listeners saying it's rare they talk about podcasts with friends now.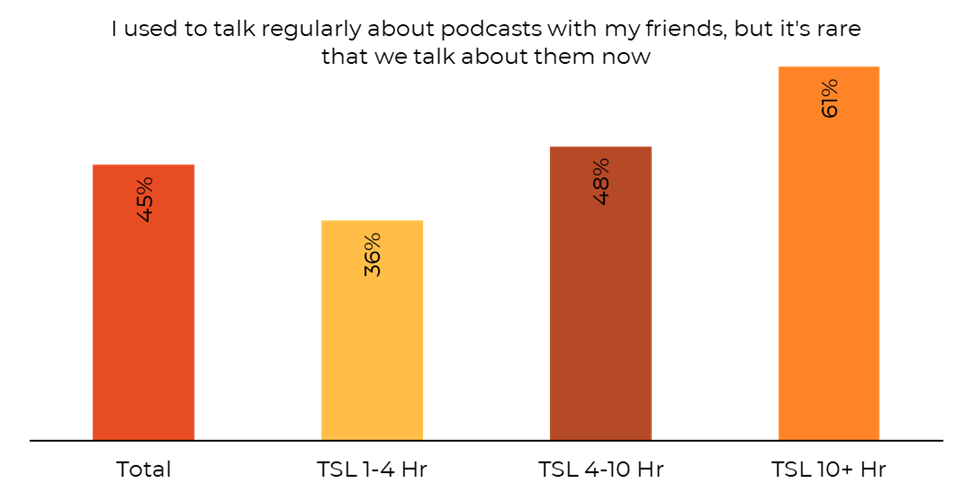 A new hit podcast would quickly reverse that impression, of course. Yet the savvy podcast publisher is always looking for ways to grow their reach. The good news we found is that the heaviest podcast listeners tend toward being info-maniacs, so they're more likely to pay attention to ads on many platforms (especially digital platforms). And digital media allow hyper-focused targeting to minimize advertising spend while maximizing reach and frequency. (Shameless plug: NuVoodoo's marketing team are experts in digital ad platforms and can tailor a plan to your budget; contact them at tellmemore@nuvoodoo.com.)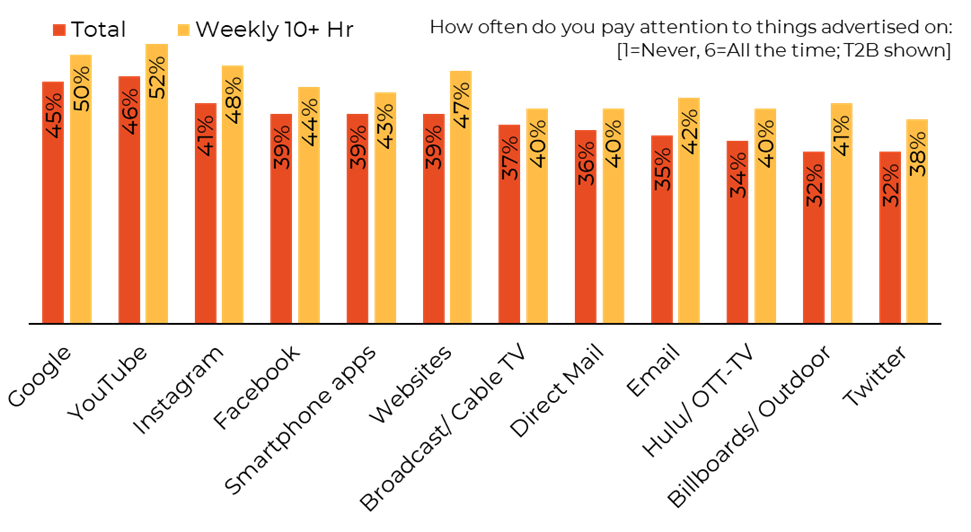 Want a look at what you might have missed at Podcast Movement? Our complete presentation, "Six Things That Listeners Love About Podcasts (and Four That Drive Them Crazy)" is available at nuvoodoo.com/webinars. The presentation includes a deeper dive into all the quantitative data, great supporting commentary from the dozens of qualitative interviews we conducted, as well as ideas from our research team.