New Country vs Catalog Country: Which Wins in a Faceoff?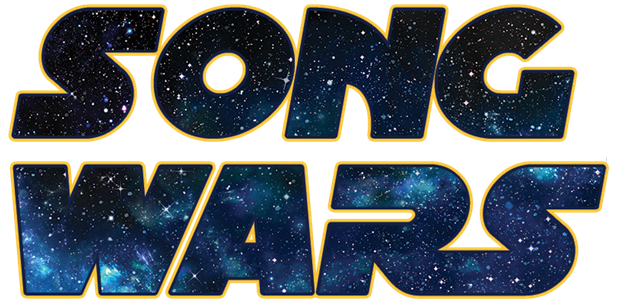 Given a choice between two Country songs – one newer, one older – which would Country fans choose? And what does that say about the vintage of playlists on Country radio? That's the mission we undertook for last week's CRS360 webinar for the folks at Country Radio Seminar. ICYMI, you can watch the SONG WARS presentation here (complete with our cheesy nods to the Sci-Fi classic).
Decisions for the respondents were very simple. They saw screens like the one shown below where they auditioned two Country hooks and decided which they would choose to listen to if both were playing on the radio at the same time. We randomized the song pairings heard by respondents and the sequence of whether the newer title was the first song or the second song. Respondents could stop, start, and restart to audition the hooks in each pairing – as they could switch between stations before setting in to listen to one song or the other.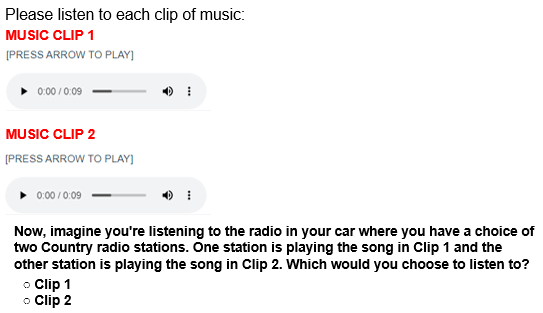 We chose groups of five Country songs to represent current hits, five titles to represent recurrents, five recent gold titles, five titles apiece representing gold from the earlier 2010s, and early 2000s gold titles. We ended up with fifteen titles representing 90s Country (with so many great titles we couldn't choose just five). We used Mediabase and our own troves of Country music research to ensure the songs used in the study all tested equally well – leveling the playing field as much as possible.
Five hundred (500) Country radio fans aged 25-49 nationwide were given choices between faceoffs of songs from those eras: a current versus a recurrent, a current versus a title from each gold era, then the same process pitting recurrents versus each gold era. The results of currents versus recurrents set the tone here, with men heavily opting for the currents and women more split – with women 35-44 leaning solidly toward the currents, but the other female cells nearly split down the middle.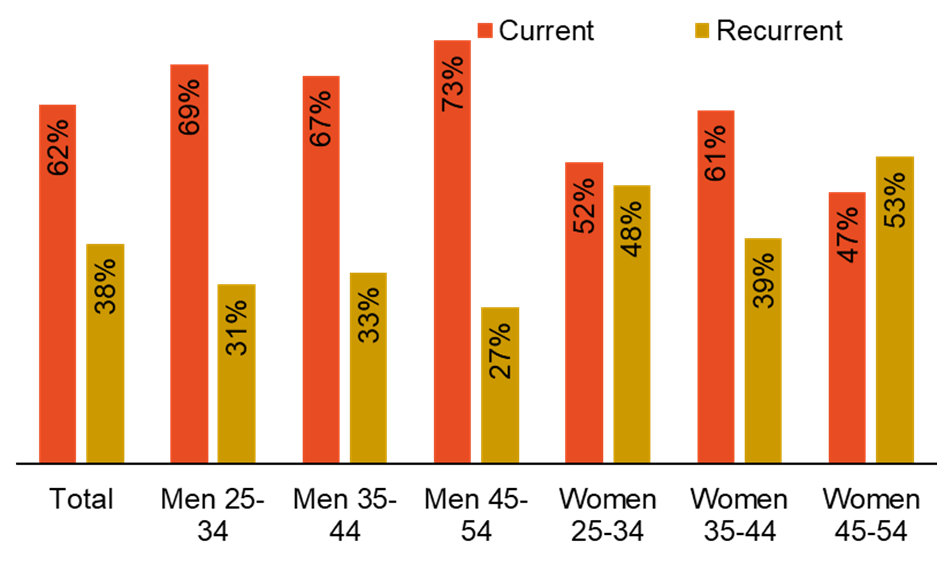 In the presentation we started with currents versus recurrents. Then we cycled through currents and recurrents versus gold from each of the four eras: 2017-2020, 2011-2016, 2000-2010, and 90s. By the time we got down to the 90s, the gold titles were pulling ahead across many of the demos.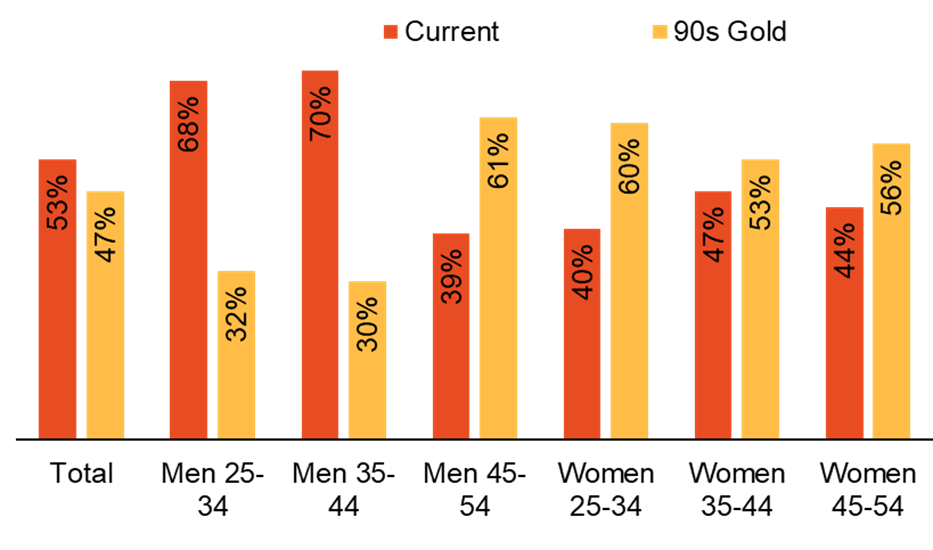 What's underneath these choices is how long respondents have been fans of Country music. As we've seen consistently in Country music research, women are far more likely to be lifelong or long-term Country fans. Comparatively, men – especially those under 45 – are far more likely to have jumped on board with Country in the past decade (many in the past five years).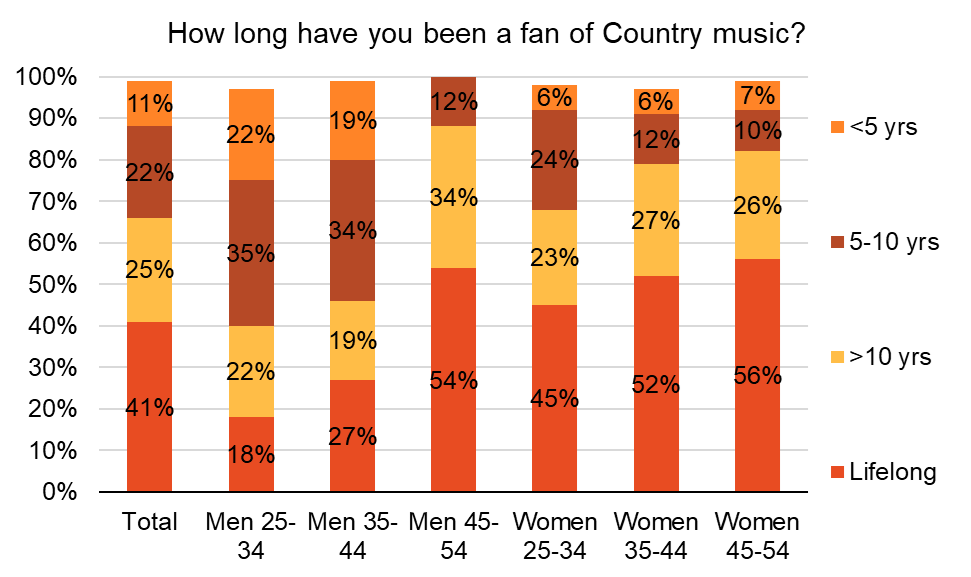 As we'd shown in our CRS360 session this summer, it's fans who've found Country in the past decade who are more likely to accept new styles and influences that producers are bringing to Country. While these new influences can be good for Country overall, they can be tricky if you're programming the one-size-fits-all programming stream that is a Country radio station. This summer we suggested setting up your music research so you can look at longtime fans separately from the "new" converts (who've been Country fans for a decade or less).
Similarly, we're seeing that longtime Country fans love the Country catalog. CRS has commissioned NuVoodoo to do a massive Country library test for Country Radio Seminar 2023. Catalog sales are big money for music labels. We'll be looking to learn if there are enough catalog titles to power deep gold categories for Country radio.