A Remarkable Hotel Closet?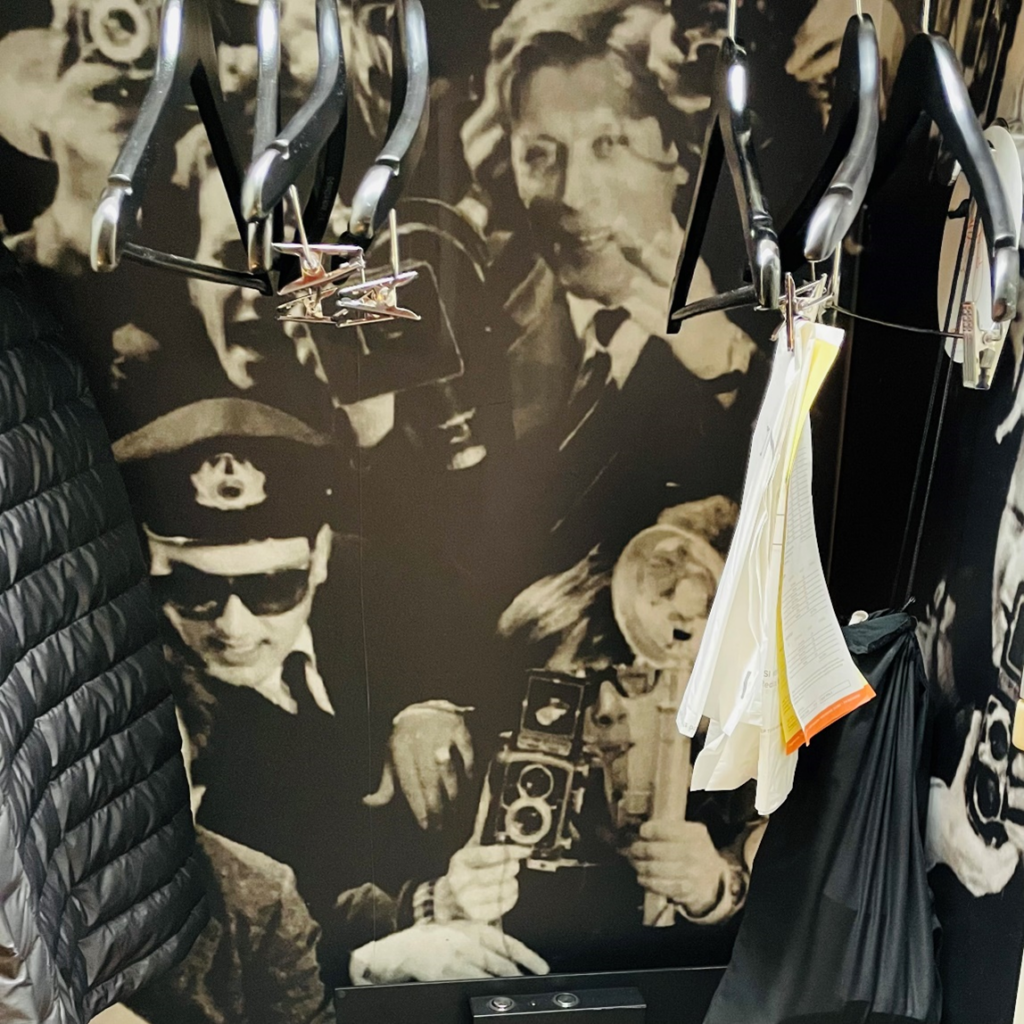 The last trip of 2022 took us to Hollywood for a client's year-end meetings. Through years of business travel, we've run the gamut from great hotels to dumps, but never in those years has a hotel room closet been remarkable. Until now. The picture probably doesn't do the experience justice, but upon opening the closet door, bright lights in the closet came on – and we were treated to this old-style Hollywood image of photographers and reporters clamoring.
It was a good surprise – an unexpected, pleasant experience that brought a smile after a long day of travel. Even better, the hotelier knew that surprises turn to disappointments if the basics aren't there. So, the closet was well stocked with the hotel room essentials, lots of hangers, bags to send to the hotel laundry (plus others marked for collecting your own laundry), a safe for valuables, etc. Great attention to details, all the basics nicely covered, and some unexpected surprises – like a winning radio station. (You knew that's where we were going here, right?)
You can just imagine the planning session for that hotel with someone keeping careful notes of the items, fixtures, and features for the closet … and someone else thinking outside the box trying to find a way to make it delightful. The room must have a closet, how can the closet be delightful? Surely there are things your station does regularly to which you could apply the same thinking.
The UN World Happiness Index asks people three essential questions:
Did you laugh a lot yesterday?
Did you enjoy yourself yesterday?
Did you learn [or do] something interesting yesterday?
Many listeners say they've smiled at something they heard on the radio in the past week – but even among heavy broadcast radio listeners, fewer than 3 in 8 say they smiled or laughed at something they heard in the past day or so.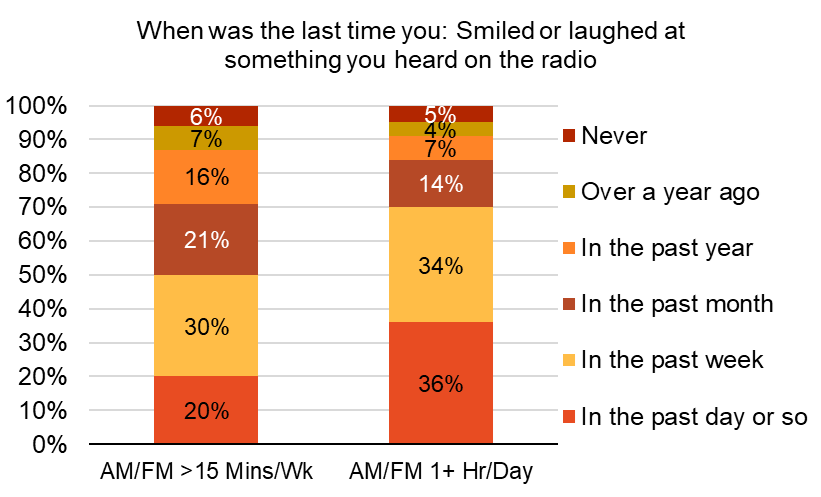 It seems to us that radio stations should be looking at the opportunities to improve even the perfunctory elements – ID's, timechecks, liners, positioning statements, etc. Every one of them is an opportunity to connect with a listener, to make them smile, to give them an extra moment of pleasure, to inform them about something they'd find interesting.
Not all of those ideas will work over the long haul. You need the discipline of allowing these experiments to "fail fast" when they don't work. Many leaders have noted that if you're not failing occasionally, you're not trying enough new things. Ellen DeGeneres said, "When you take risks you learn that there will be times when you succeed and there will be times when you fail, and both are equally important."
Speaking of connecting with listeners, just over two weeks remain to enter Radio's Got Talent. This is a competition to have listeners determine radio's best on-air talent and programs. Programs and personalities have until January 19, 2023, to submit a 1-3 minute audio sample at radiosgottalent.com. That entry could be an on-air bit, show break, parody song, or running feature – whatever it is that best showcases their talent. MP3 entries can be submitted in any of ten format categories: AC/Hot AC, Alternative, Classic Hits/Adult Hits, Contemporary Christian, Country, News/Talk, Rock/Classic Rock, Sports, Top 40/CHR, Urban/R&B.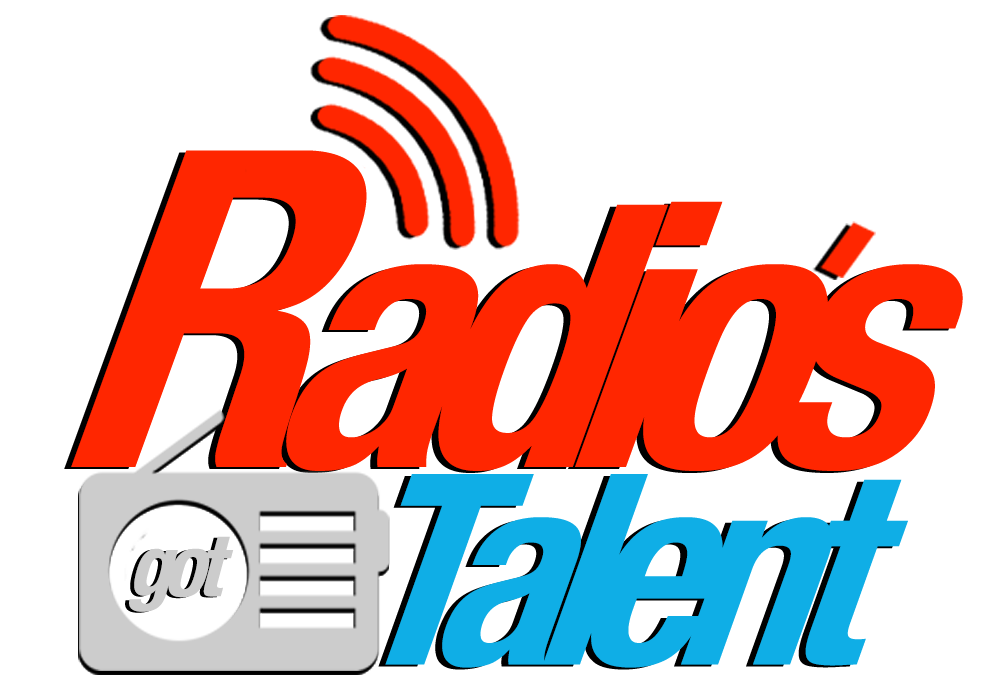 NuVoodoo will have at least one hundred randomly-selected, paid respondents screened to be listeners of each format rate all the entries in that format. The goal will be to find out which entries respondents like best. Up to five finalists in each format will be announced in March 2023. Those finalists will proceed to another round of testing in which respondents will be able to rate the finalists against each other. That round of testing will determine the winners in each format.  Winners will be revealed at the All Access Audio Summit in April 2023. In addition to bragging rights, the one winner in each of ten format categories will receive $1,000 from Benztown – meaning Benztown is on the hook for $10,000.
Radio's Got Talent is open to radio programs and personalities at any experience level from a wide range of formats and including internet radio talent. Must be 18 or older to enter. Details and complete rules are at radiosgottalent.com. Radio's Got Talent is sponsored by All Access, Benztown, McVay Media, Dollinger Strategic Communication, and NuVoodoo.