What VoodooVision Says About Broadcast Radio TSL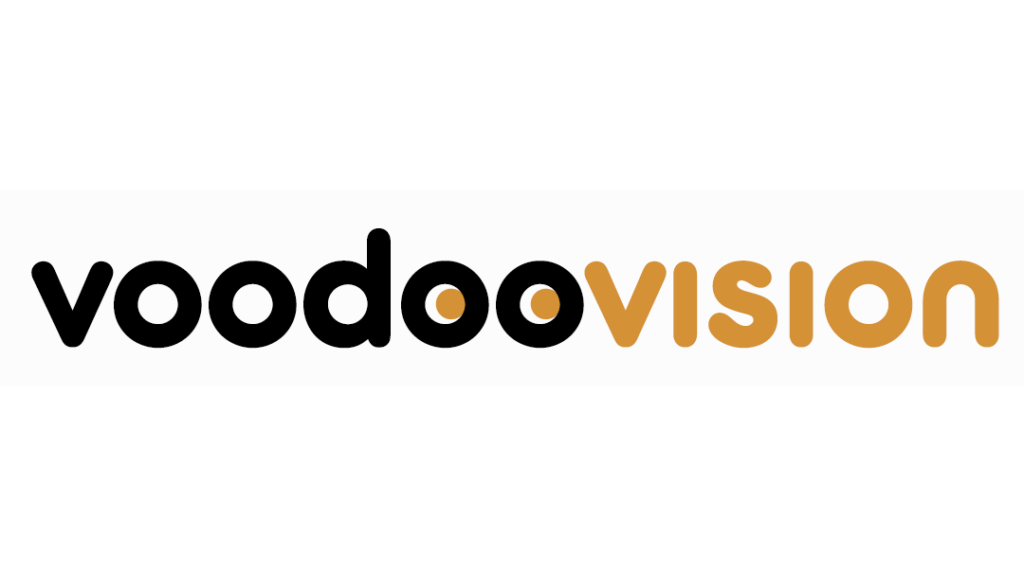 NuVoodoo's twice-annual Ratings Prospects Studies morph this year to what we're calling VoodooVision. This new perspective allows us to better serve with wider range of audio entertainment providers we're working with – but also allows us to better understand where Broadcast Radio stands in that landscape. It's a massive study encompassing over 5,300 respondents nationwide. And while it expands into the concerns of podcasters and digital streamers, it still allows us to dive deep into the concerns of broadcasters – including our longtime focus on those most likely to participate in the ratings.
We're rolling out sneak previews to clients this week as we prepare for the webinars we'll be presenting in March. Signing up for one of the three sessions gets you the opportunity to ask questions at the end of the session. You'll find complete information at nuvoodoo.com/webinars.
The chart below shows year-over-year perceived TSL momentum for a range of media covered in the new study and shows how Broadcast Radio is doing compared to others. While the data show a slight negative trajectory for FM/AM, it's not nearly as negative as some media experts would have you believe. Meanwhile, podcasting is only very slightly positive and satellite radio is strongly negative (along with audiobook listening).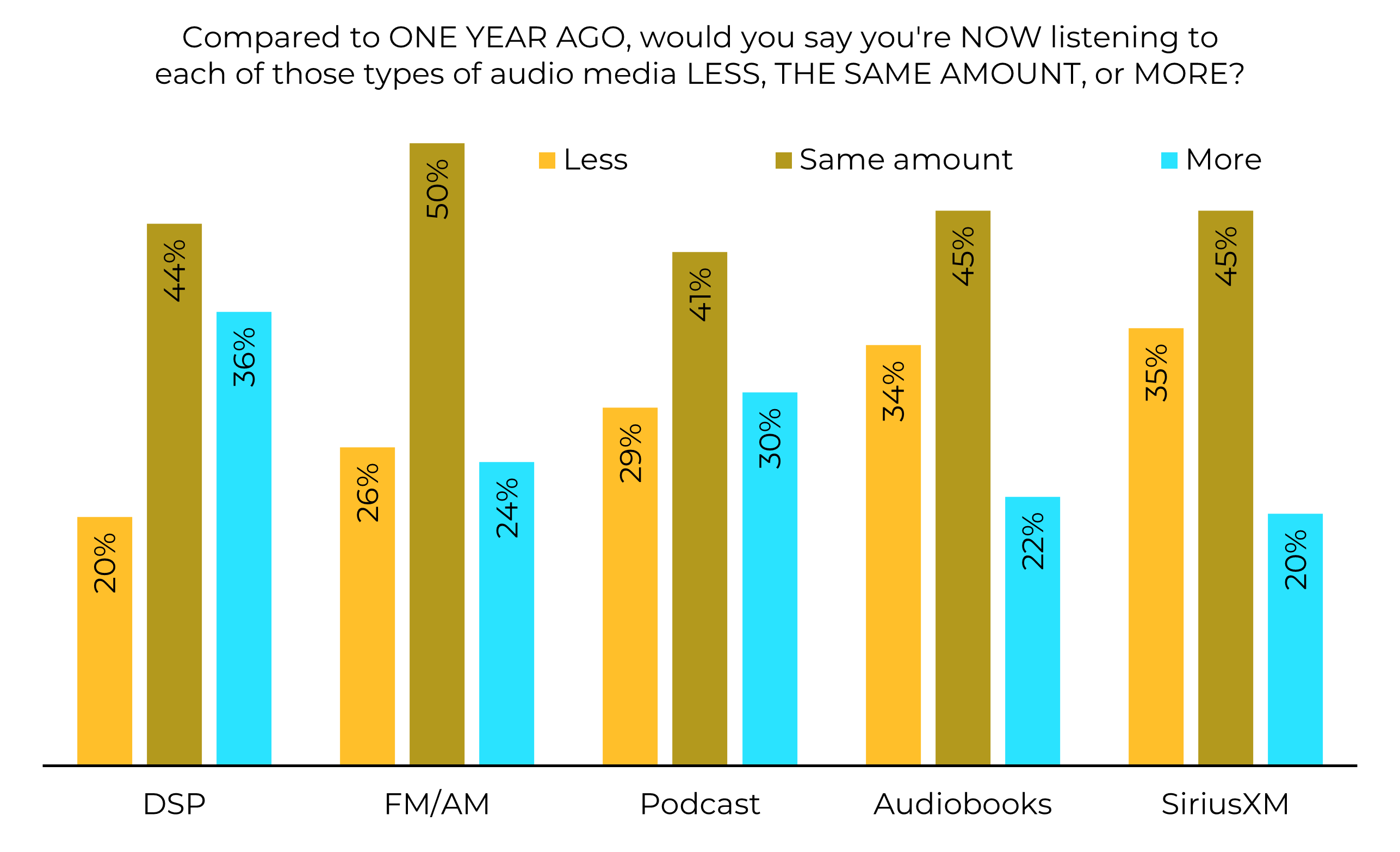 Drilling down into Broadcast Radio shows that radio TSL momentum is positive among men overall and among Millennials (now ages 27-43 and a plurality of our sample of 14-54s). Gen Z (ages 14-26 in this sample and aging into 25+ demos) are not great radio consumers, raised with so many newer media options. Distressingly, these data show negative TSL momentum for radio among women overall and Gen X (ages 44-54 in this sample, though the generation spreads several years above that).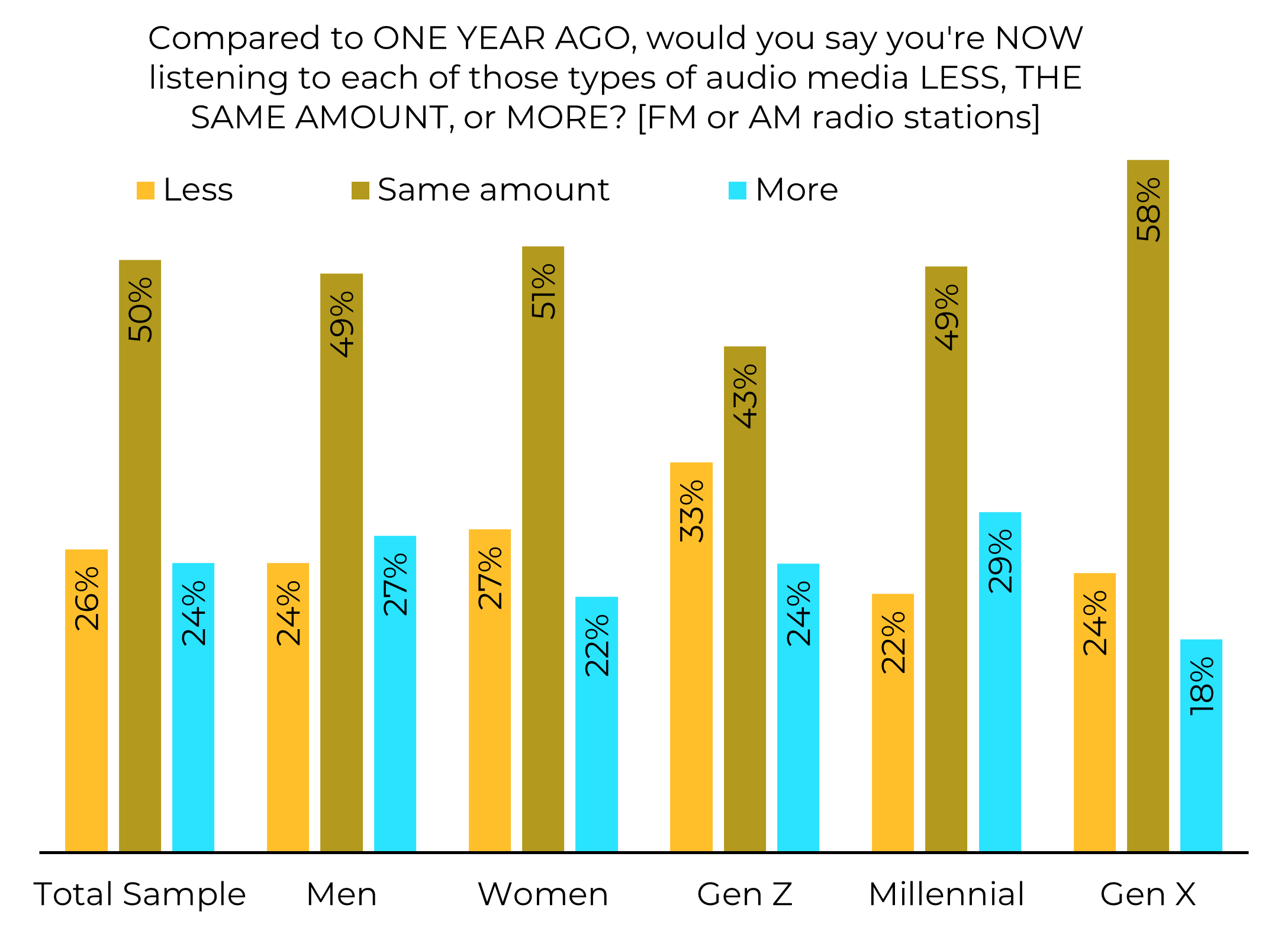 Those who say they're spending less time now with radio than a year ago average out to just under a quarter hour per day in current daily listening. While the Gen Z portion of that group listening less to radio may be tough to reverse, both the Millennials and Gen X listeners need radio's attention. Some of the shift is technological. New cars and trucks are chock full of new listening possibilities AND demote Broadcast Radio. But stations and owners need to take action to make the listening experience the best it can be for all of those in the audience.

Working strenuously to bring back TSL from those listening less and fighting for more TSL from the narrow majority who say their listening is about the same amount now as it was a year ago is critical. Broadcast Radio stations are no longer battling only the competing stations in the market – they're battling all of these choices in the spectrum of audio media.
Our new study will deliver a snapshot of consumer behavior across social, mobile, podcasting, streaming, connected TV, and other digital advertising ecosystems. We'll focus on where and how consumers are spending their time right now and reveal where they pay attention to commercial messages, so advertisers (including yourself when promoting your radio brand) can reach prospects efficiently and more effectively. We explore digital privacy issues and share how users feel about having their location and online activity tracked.
Register to attend VoodooVision at nuvoodoo.com/webinars.