How Data Privacy Concerns Impact Station Promotion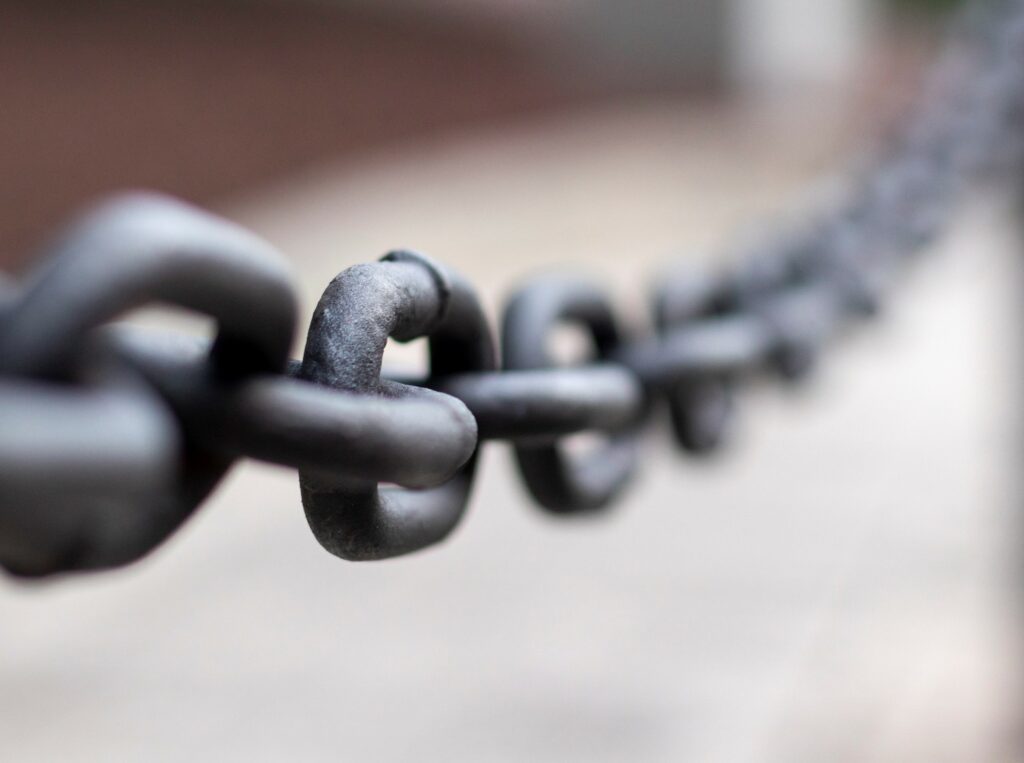 We're meeting with NuVoodoo clients (and could-be clients) to show results from our 22nd Ratings Prospects Study that finished fielding earlier in July. If we've missed your company (or our email invitation got caught in a spam folder) for a preview session, please ping us with an email to TellMeMore@nuvoodoo.com and we'll get you scheduled ASAP.
We're extending the Moneyball for Radio banner over the results of the study. The data include opinions from 2,504 respondents 14-54 nationwide and there's a lot to cover:
Daily audio media TSL trends
How broadcast radio is faring in the car and at work
How listeners feel about the prospect of AI DJs on music radio
Beyond social media usage, which platforms are best at getting action from consumers
An update on contest prizes and contest mechanisms
What brings listeners in – and what sends them away (other than commercials)
We're also releasing the results through our NuVoodoo Live series on YouTube and other social media, as well as via our website at NuVoodoo.com/webinars. The next NuVoodoo Live session has PJ Kling, Mike O'Connor, and I talking about data privacy and the need for stations to have first-party data relationships with listeners.
We found respondents to be pretty liberal when it comes to accepting "the use of cookies" while browsing.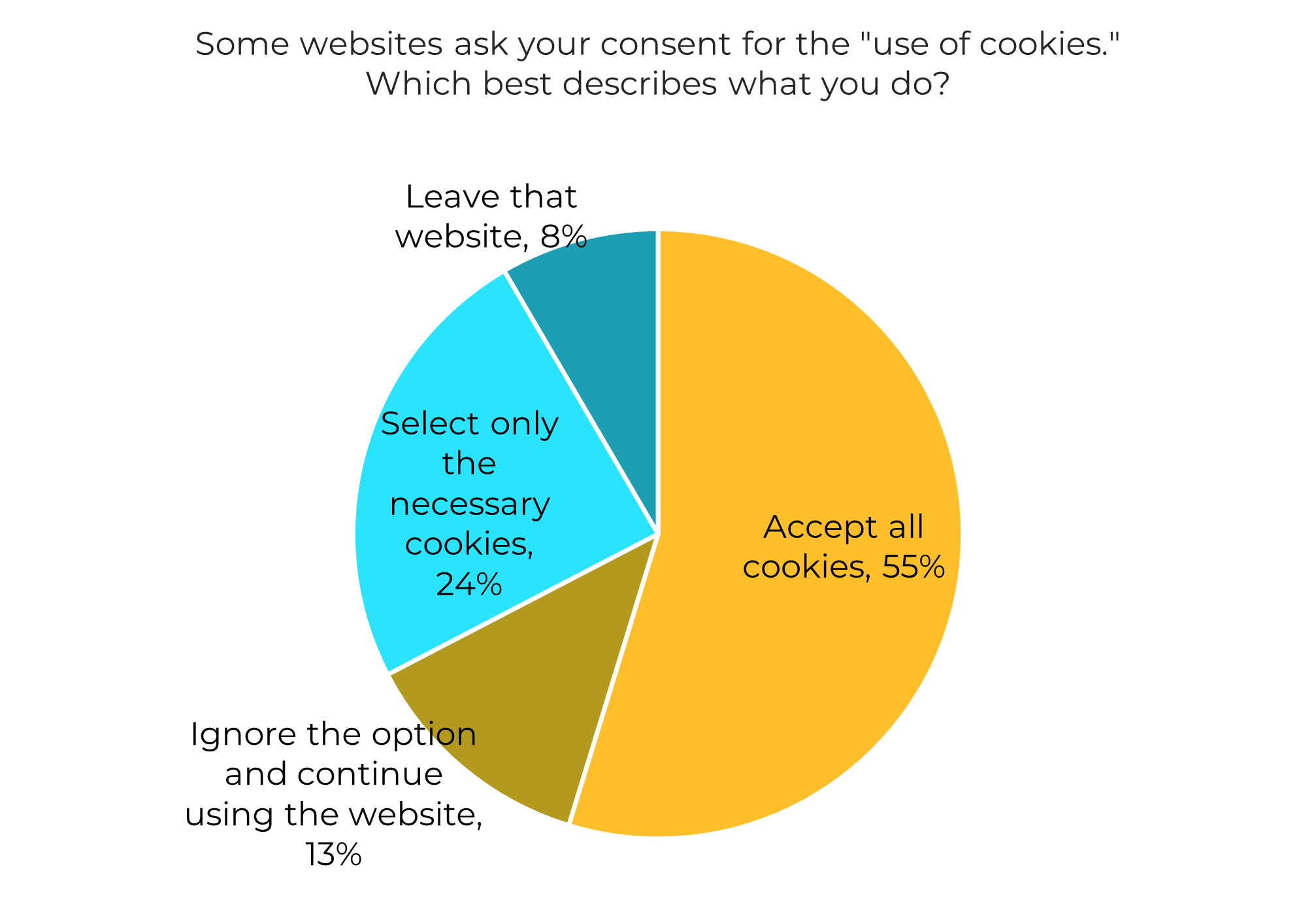 With over half accepting "all cookies" and another 13% ignoring the option (and effectively accepting all cookies), 2 in 3 take all the cookies and only 24% say they take the time to select only necessary cookies.
Location tracking is another matter. While nearly 3 in 10 say they allow apps to track their location "Always" or "Often," nearly 2 in 5 say they allow location tracking "Rarely" or "Never." Trying to maintain our privacy, many of us implicitly ask app providers, "What do I get by allowing you to know where I am – what's in it for me?" We understand the benefit we receive when we allow location tracking for map apps. Perhaps deals from nearby businesses would be enough to get users to allow location tracking for your station app?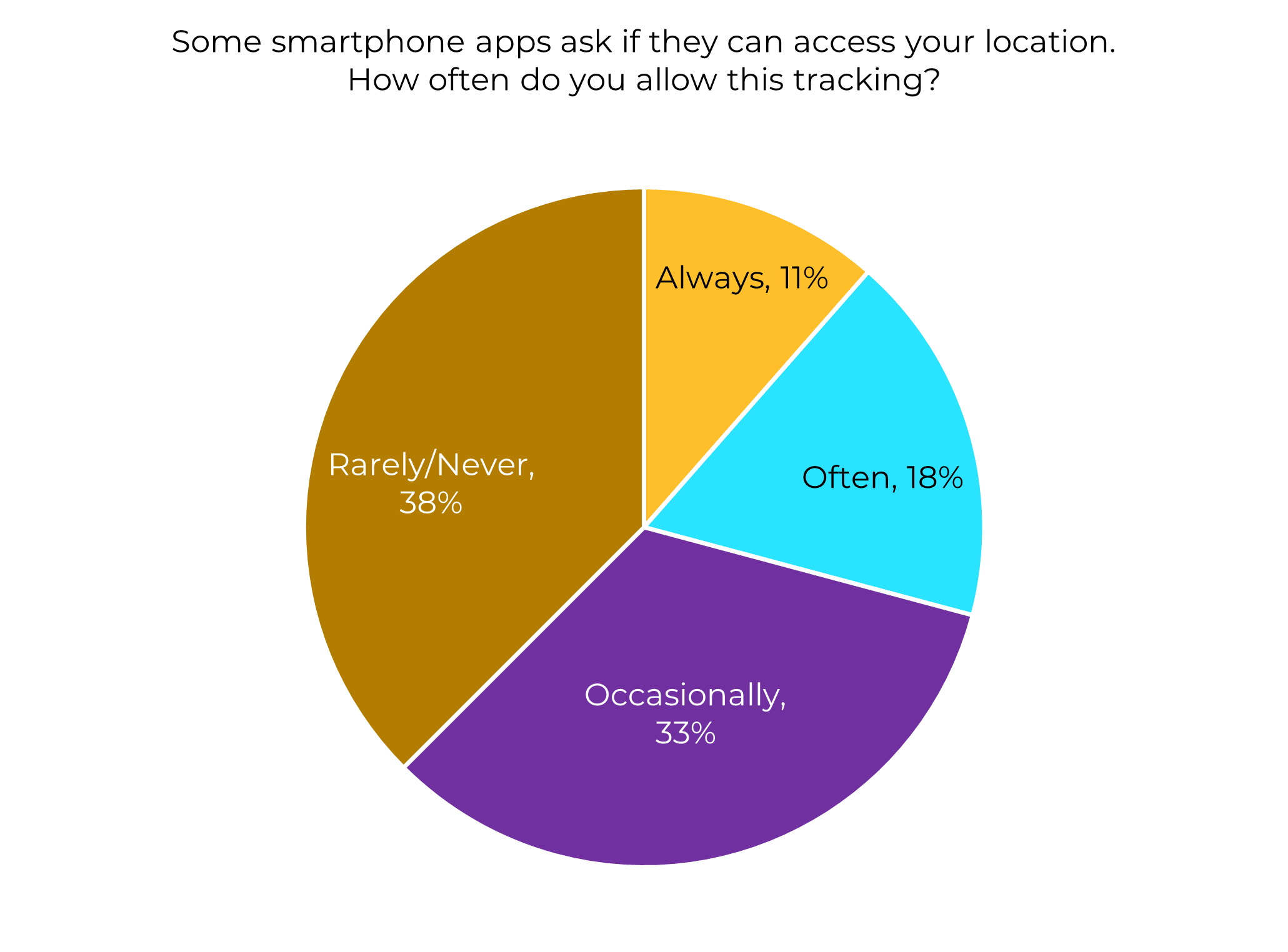 Activity tracking continues to tighten. We've been tracking this for several years and the latest numbers show just 24% saying they allow this type of tracking.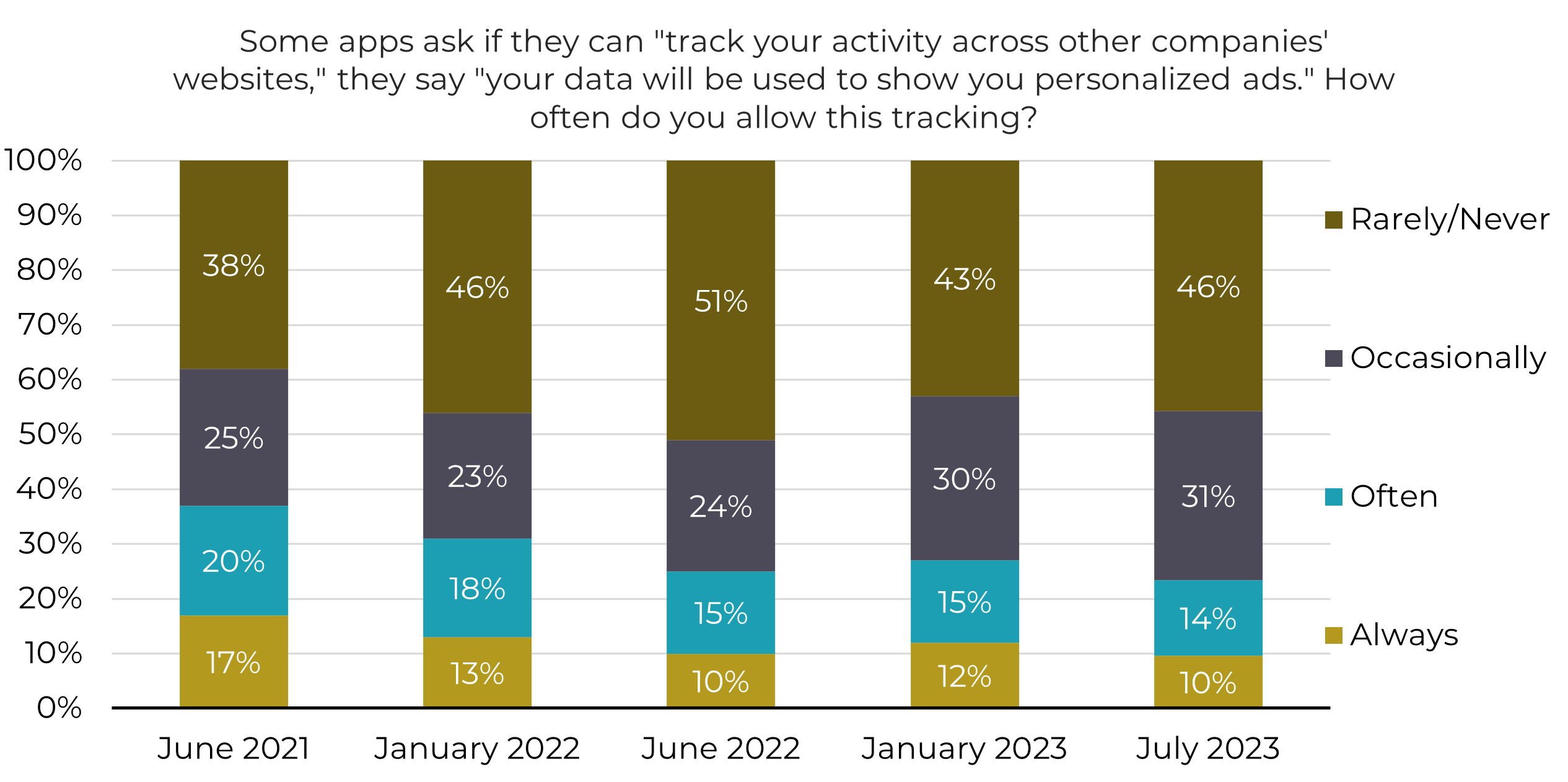 To combat these limitations in digital media, the NuVoodoo marketing team uses contextual AI to place your advertising within video content that fits your target audience. An easy example would be a music video from an artist in your station's format – but we extend far beyond that example. We're able to use similar technology for website ads by scraping nearly a half a billion URLs every two weeks to optimize your placements. We can go deeper by looking for the topics that people like those in your target are reading and finding the best placements around those topics. It's powerful stuff. To find out more, go to NuVoodoo.com/webinars.
Speaking of AI – and many people are – we'll be in Dallas for Morning Show Boot Camp on August 10 & 11. I'll be moderating a panel on "Dissecting the Myths and Realities of AI." We'll start with study data showing how listeners feel about the possibility of AI on-air talent and then open it up to discussion.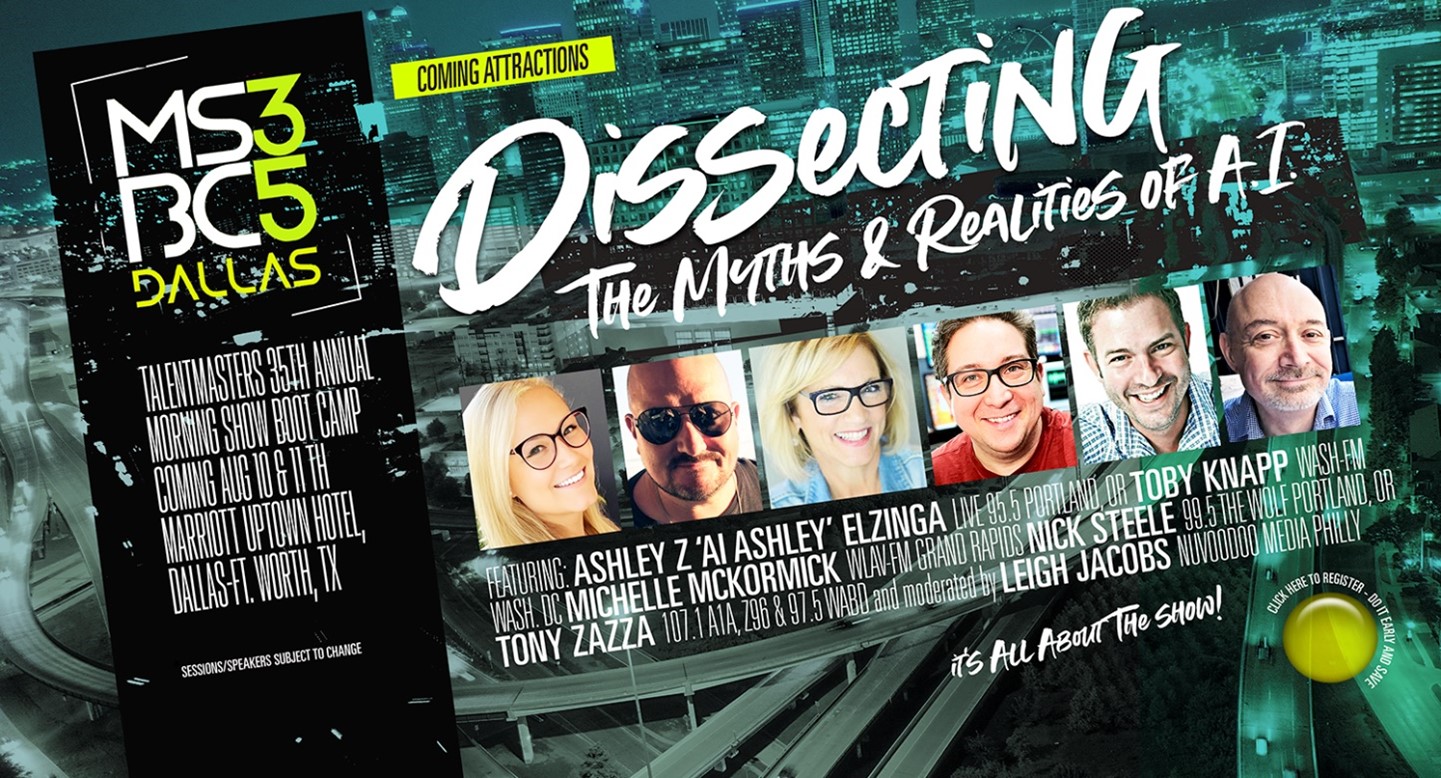 It's a great lineup of panelists including Ashley "A.I. Ashley" Elzinga from Live 95.5/Portland, Toby Knapp from WASH-FM/Washington, Michelle McKormick from WLAV-FM/Grand Rapids, Nick Steele from 99.5 The Wolf/Portland, and Tony Zazza from 107.1 A1A, Z96 & 97.5 WABD.