Moneyball for Radio: the Top 19 Listening Catalysts for 2023 According to NuVoodoo's Nationwide Research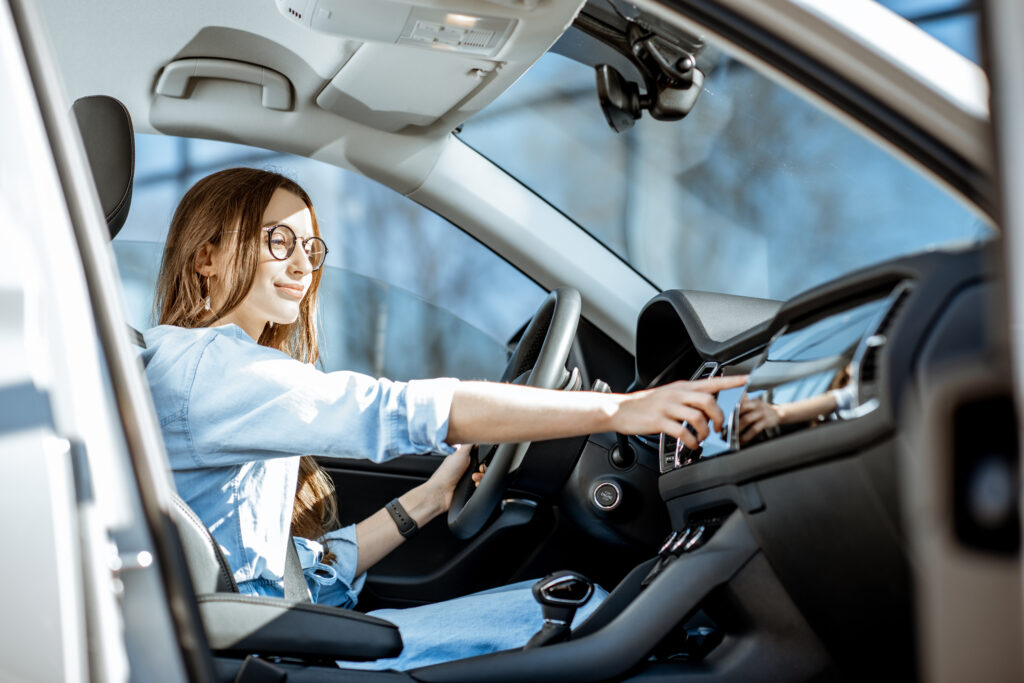 NuVoodoo's marketing experts help stations narrow the marketing playing field to a small subset of listeners likely to make a big difference in the radio ratings. We've spent nearly a decade and a half perfecting the art of modeling and micro-targeting these high-probability RPS "Yes" radio listeners for clients, who represent, at most, about one in five radio listeners. Among those in the RPS "Yes" category, there is a segment of listeners who spend appreciable time with radio and are even more rare. The incidence rate for this RPS-heavy group is fewer than one in ten.
This research approach has allowed us to develop our Money Ball for Radio Playbook, which encapsulates many small tactics that combine to make a potentially significant impact on the ratings. So, this week we're counting down the Top 19 Tune-In and Cross Promotional Catalysts we've uncovered for 2023.
We've likely reached an age where industry marketing budgets are permanently comparable to the loose change found underneath the couch cushions. As a result, the art of engineering high-leverage programming tactics and marketing strategies designed to find & influence RPS "Yes" Ratings Prospects has never been more important.
NuVoodoo Media Services' most recent Ratings Prospects Study was conducted in July 2023 with a nationwide respondent panel of 2,504 Persons 14 to 54.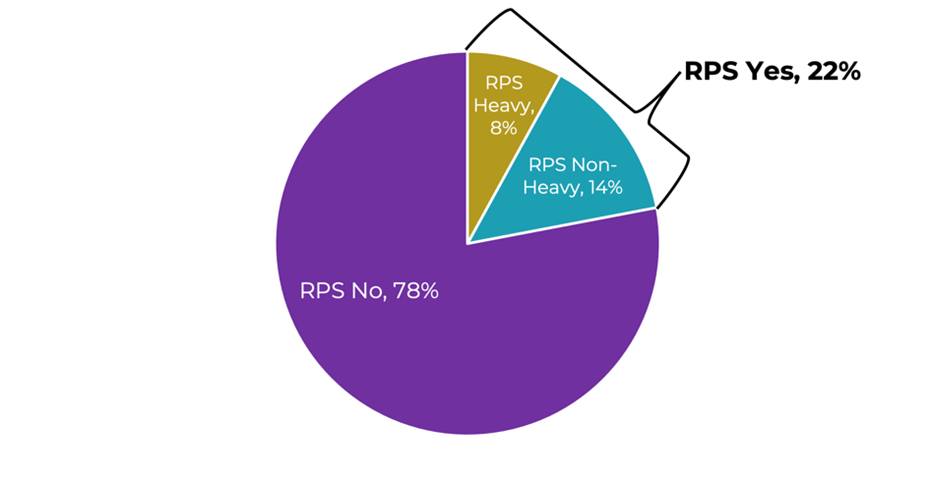 Here we rank the Top 19 catalysts by the total percentage of RPS "Yes" ratings-likely respondents who've indicated that they changed their listening behavior because of station cross-promotion or advertising. We tested several dozen tune-in incentives overall, but these are the ones above our cut-off level of 40% impact.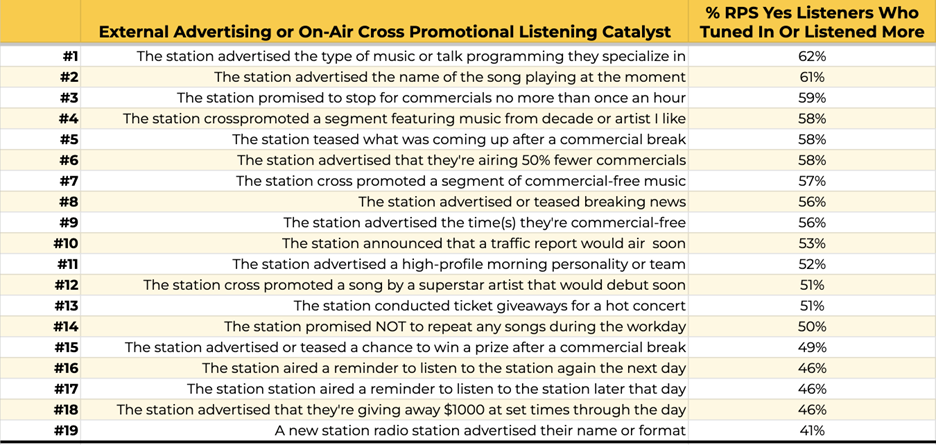 How to read: 62% of the small subset of listeners likely to carry a meter or fill out a diary have responded to the listening catalyst that reinforces the type of programming content the station specializes in. 
Of course, we all know results will depend on message specifics, such as which music or talk format is advertised, what song is advertised as playing now, or which concerts are being promoted, for example – our real-world client testing involves several dozen format descriptors, artists, recycling messages & teases, concerts, and contest catalysts. But what's important to remember is that much of what is on the list involves basic blocking tackling that incurs little to no incremental cost. How many stations have dropped pre-announcing a music or content highlight coming up after commercials, later in the day or the next day in the name of PPM-era brevity? Lots.
Marketing campaigns to boost ratings have often involved clogging the station airwaves with repetitive self-promotional announcements that ultimately defeat the purpose of tune-in or recycling catalysts in the first place. But since certain tactics carry far greater appeal among ratings-likelies when compared to the total audience five times the size, stations can rely on stealth or off-air marketing tactics to carry the responsibility for ratings impact. Since reach requirements are smaller in these circumstances, they carry less of a financial burden.
NuVoodoo's marketing team can reveal those differences, introduce you to micro-targeting tactics, and review lower-cost mass marketing strategies compared to what is commonly perceived (such as connected TV, surgical direct mail, or digital outdoor). Best of all, our needs-analysis consultations are free of charge and include valuable takeaways based on our ongoing market research. Contact us at tellmemore@nuvoodoo.com to learn how we can help you focus on little things that can make a big difference in your ratings.