The Battle of the Sexes for Radio's Exes

At last week's Worldwide Radio Summit in Hollywood, NuVoodoo showed a deeper dive into data from our most recent Ratings Prospects Study (with nearly 5,700 respondents, ages 14-54) alongside data from a landmark study we've conducted into podcast usage (with nearly 3,000 respondents, ages 14-54). We'll be sharing the podcast data deeply at Podcast Movement 2017 this August in Anaheim. Our Hollywood presentation showed the competition Broadcast Radio is facing from dedicated streaming music services (Pandora, Spotify, etc.) and podcasting. We called it "The Battle of the Sexes for Radio's Exes."
As it stands, our data shows strong headwinds from Pandora and Spotify among 14-34's and significant usage of podcasts among Men 25-34. Broadcasters are experiencing this streaming usage as diminished PUMM levels, particularly in middays, with younger adults.


Attitudes toward Broadcast Radio among 14-34's paint a concerning picture. Even if some of these attitudes soften slightly as these consumers get older, it's clear that radio isn't creating rabid fans at the levels it did among the parents and grandparents of these younger consumers.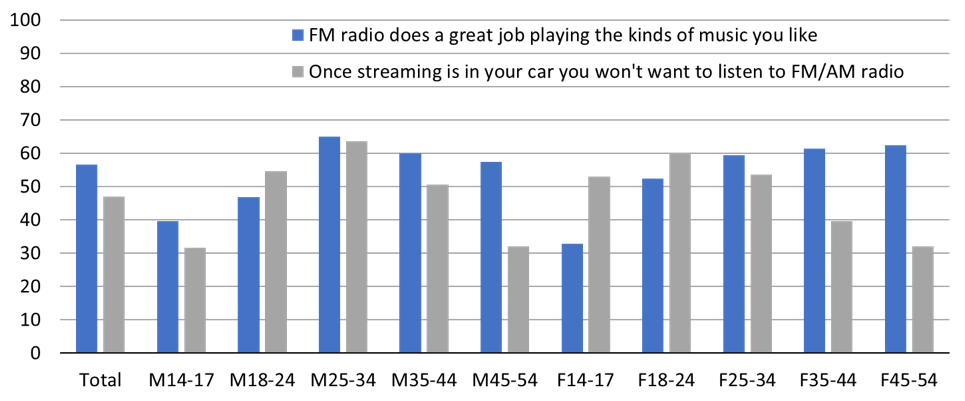 Podcasts, with highly-targeted content, intimate presentation and an always-from-the-very-beginning listening experience, are getting listening and attention from a new generation of could-be spoken-word radio listeners. And the medium most likely to lose TSL because of podcast listening is, of course, Broadcast Radio.

As listening options expand, Broadcast Radio must take this new competition seriously and continue to adapt – as it has since its birth. We asked some of radio's best and brightest for ideas they're pursuing in the face of radio's new competition. With names withheld to protect the innocent, here are some of our favorites:
Focus on talent. Talent drives connection with listeners on air and via every other channel. More new morning shows. Entertaining people who have a unique and memorable way of expressing themselves. People who will drive podcast and content creation for the rest of the day.
Rethink the DJ role for 2017. New or expanded roles: music curation expert, Social Media contact, Concierge for the local market. Again, "great pipes" is less important than having something to say and a unique way of saying it.
Greater focus on creating new listening and new occasions. Exploit listening on Amazon Echo and Google Home. Apps. Podcasts beyond a telescoped version of morning show; market-specific issues/interests; niche interests promoted across multiple markets.
More experimentation in pursuit of younger audiences. Youth-focused formats that are designed for and by young people. Nationwide podcasts or online entities that end up "taking over" some local FM's. Rethinking our business as entertainment & information, where Broadcast Radio is just one delivery system.
Better branding. Successful brands have purpose. They support things; are unique and can be idiosyncratic; have stories to communicate that inspire consumers. Big beer brands long ago stopped talking about barley, hops and water. They build brands instead of describing recipes.
Get out there. The focus group we conducted with younger Country Music fans at CRS in Nashville wanted more remote broadcasts. The twentysomethings on our panel talked about the fun and excitement of station remotes and were sad that stations don't do them as much (or at all). Well-executed remotes can be a great promotional tool and, done correctly, can be good programming as well.
Cooperation between stations to remind consumers that radio is great. It's easy for us to become consumed with the battle between WXXX and WZZZ. However, for many consumers, radio is a brand in and of itself, rather than group of competing station brands. Reminders of radio's free music service, connection in the local market, service during storms and emergencies, entertaining personalities – and beyond – can all help lift consumer perceptions of a business that has long struggled for the recognition it rightly deserves.
What do you think radio should be doing now to secure its future?