DJ's Shouldn't Pick the Music, Right?


In the on-going battle with new media entrants like Spotify and Pandora, broadcast radio can leave no stone unturned when looking for advantages and points of differentiation. Looking at the sample of 2,979 persons 14-54 across all PPM markets in the latest NuVoodoo Ratings Prospects Study, we noted that among the groups likely to play the Nielsen game, affinity for the idea of having DJ's select the music and talk about what's been played on the radio spiked – as well as among the group with the heaviest TSL.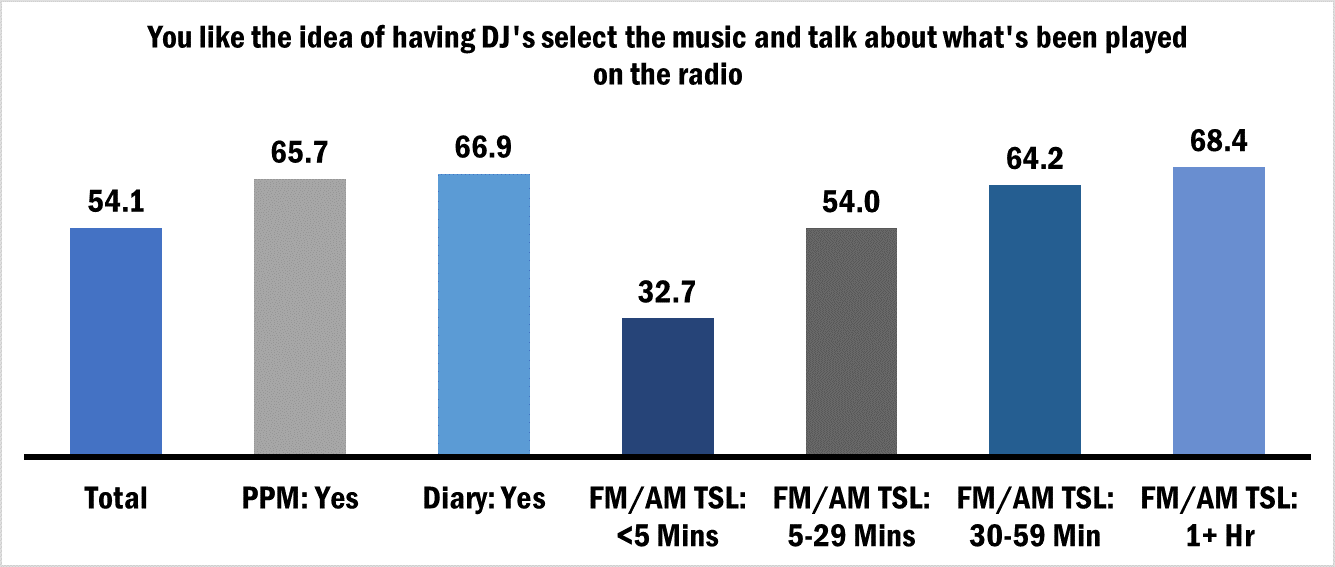 We're not seriously advocating a return to DJ's playing whatever they want (or even anything like it). Nevertheless, the idea of the DJ's being in charge of the music remains appealing to a strong majority of listeners. Even if on-air talent is, in fact, not responsible for selecting the music, they should be able to present the music so that it sounds like they are. It's not an easy task, but the on-air role at music stations is an acting job at least in part. We need to train and require on-air talent to be consistently enthused about the music they're playing.
Competitive stations test nearly all the music they play. What better teaching tool with on-air talent than sharing music research data? Discuss fatigue and explain the different perspectives of a listener who drops in for a few minutes at a time and on-air talent who may spend hours a day, five-plus days a week. Since music is often the primary reason listeners tune in, it's critical to present it well and to reflect the same passion for the music that the listeners have.
Once through the filter of likelihood to comply with either meter or diary methodology, majorities of P1's across all music formats resonated with this idea of on-air talent selecting and talking about music – especially in formats with high concentrations of younger women P1's. Even in the more male-driven realms of Rock and Alternative, majorities like that involvement.

Paired against the un-hosted, un-curated (or minimally-curated) streams available from Spotify or Pandora, the human connection on broadcast radio can achieve great things: preference and loyalty. These listeners tell us that the connections between the DJ's and music still matter. That's a strong point of differentiation in a complex and competitive media landscape.