Contesting, Prizing & Radiothons

The 2019 edition of the NuVoodoo Contesting Guide launches March 18 with three opportunities to participate in the webinar. It's mission-critical information if you're running a contest or promotion this spring. Register for any of the sessions at nuvoodoo.com/webinars.
In the 2019 edition of the NuVoodoo Contest Guide, we'll:
Review all that we've learned about likely meter wearers and diary keepers – and how to turn that to your advantage.
Look at whether calling, texting or online pre-registration is likely to attract more ratings respondents – and how it changes by demo and format preference.
Talk about the data collection landmines that could sabotage your contest entries and VIP club sign-ups.
Reveal new insights on prizing concepts – and review what we've learned in the past about prize packages and appointment times.
Share what we've learned about group contesting – and how to optimize your execution, whether you're running a local contest or participating in a group promotion.
See if we've improved our credibility among likely ratings participants – or if radio is still known for rigged contests.
Among the contest prize packages we look at for interest in this latest webinar is a pay-it-forward prize, where the listener gets $500 and the station donates an equal amount to a charity of the listener's choosing. We can't help but think it'd be a great contest prize for any station committed to continuing work with a charity, like Children's Miracle Network.

While we didn't look at the power of charitable radiothons as tune-in motivations in this latest study, we have in the past and always see lift for some listeners. We conducted a study for Children's Miracle Network late last year, looking at listeners of four stations who had participated in recent Children's Miracle Network radiothons. Across 678 respondents, ages 25-54, who had listened to one of the radiothons, positives attributed to the stations were strong – and negatives were minimal.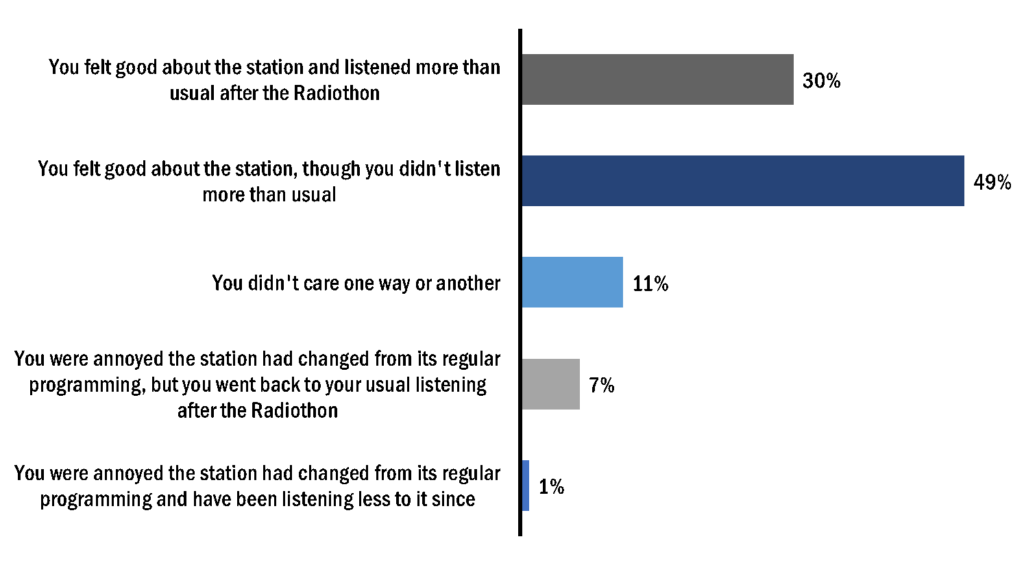 Only 1% say they've been listening less to the radiothon stations, while 30% say they "felt good about the station" and have listened more since the radiothon. And, of course, listeners not only feel good about the stations – they feel good about themselves.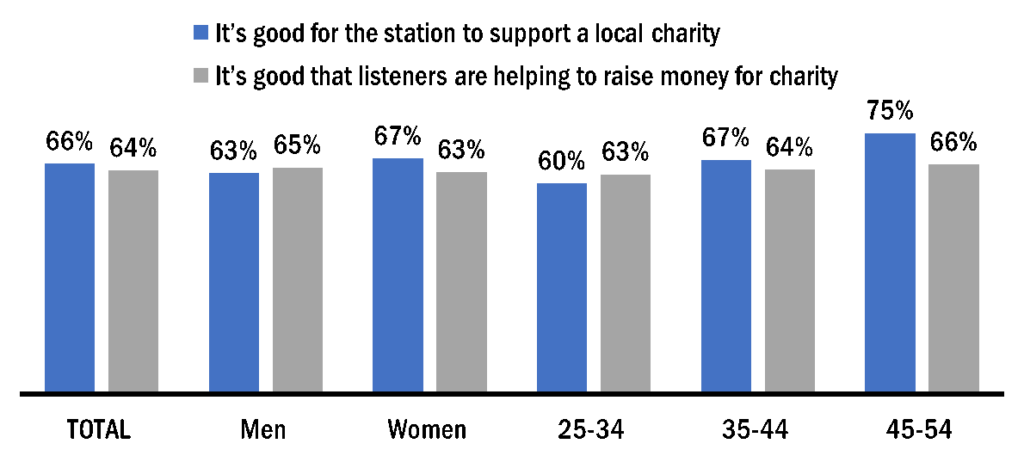 It's powerful juju for stations that want to enhance their community service image and the tactic spans a surprising number of formats. We tend to think of female-targeted stations as the ones best suited to radiothons to raise money for children, but it turns out that men are pretty soft-hearted about helping kids in need. In the search for ways to differentiate stations from Spotify and Pandora playlists, the local community service angle can be very potent.