And The Happiest Music Station P1's Are…

If you couldn't make it to Burbank for Worldwide Radio Summit this year, you can still have a chance to play the game we presented at this year's WWRS. You'll be able to test your knowledge of likely ratings participants AND have a chance to win cash. We'll be running the game again online in June. Details about that coming soon!
We're also preparing to put NuVoodoo Ratings Prospects Study 14 into the field next month. We're looking at items we'll be tracking from past studies, along with deeper dives in some places and new areas of inquiry.
We ask about satisfaction with the music on radio stations in our perceptual studies by giving respondents the exercise of imagining that they tune into a station and listen to the next ten songs; we ask them how many of those ten songs would be songs they really love. We call it Title Passion and we know what's typical for different demos and formats and use the results to judge station health.
In Ratings Prospects Study 13, we asked that music satisfaction question concerning the most-listened-to music station of our respondents. When we combine same-format stations, we end up with a profile of Title Passion for different formats across our sample of 14-54's from all PPM markets. In these most recent data, the formats with the strongest Title Passion are Hot AC, Country and Classic Rock.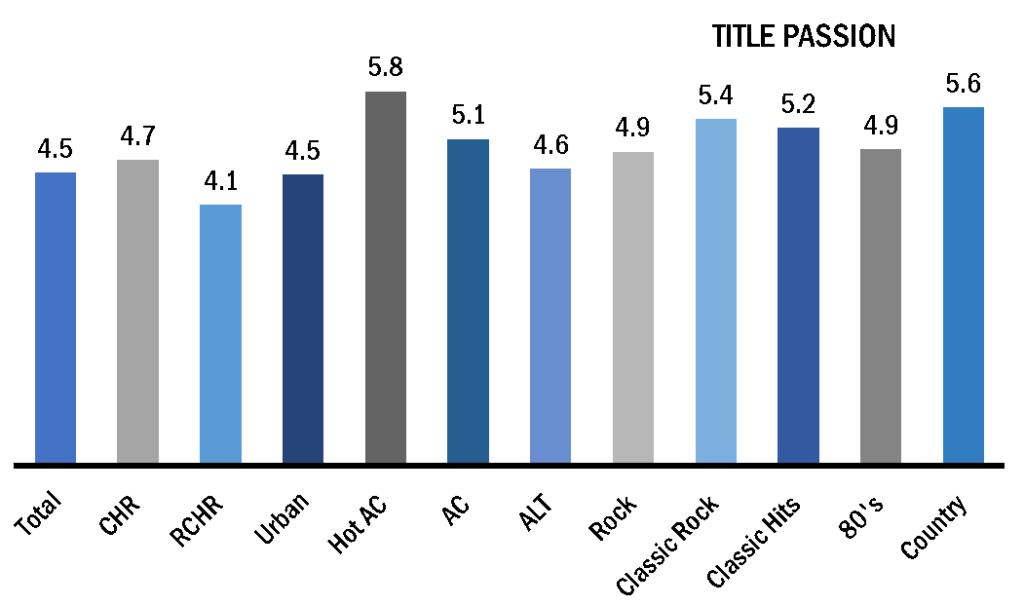 We're not surprised by the Country and Classic Rock numbers, but the Hot AC figures are unusual. Of course, these data were gathered back in January, right after the first of the year. We'll be eager to see if the strong result for Hot AC holds up when we go back to the field next month.
When we filter the results down to the roughly 1 in 7 among our sample who profile as likely to accept an offer to participate in metered methodology or diary methodology, the numbers get substantially stronger. Given that we've taken 6 in 7 respondents off the table, we've had to combine a few formats to have enough respondents for our analysis. Here we've added together AC and Hot AC P1's into one breakout. We've combined Rock and Alternative format P1's in another. And we're showing Classic Rock, Classic Hits and 80's format P1's in one breakout called "Library."

Among the meter-likely group, the formats with the strongest Title Passion are AC+Hot AC, Country and CHR. Among the diary-likely group, the formats with the strongest Title Passion are "Library" (Classic Rock, Classic Hits and 80's), Rock+Alternative and CHR.
The PPM Likely group and the Diary Likely group each account for about 1/7 of the sample, while the two groups overlap, they are not identical. Differences in their makeup account for some of the differences in Title Passion, despite the sample all coming from the same 48 markets – and presumably many of the same stations in format.
Most importantly, these ratings likelies are more attuned to radio and happier with the stations they listen to, compared to the overall sample. It's one more reason we love ratings participants.