Back On the Town Anytime Soon?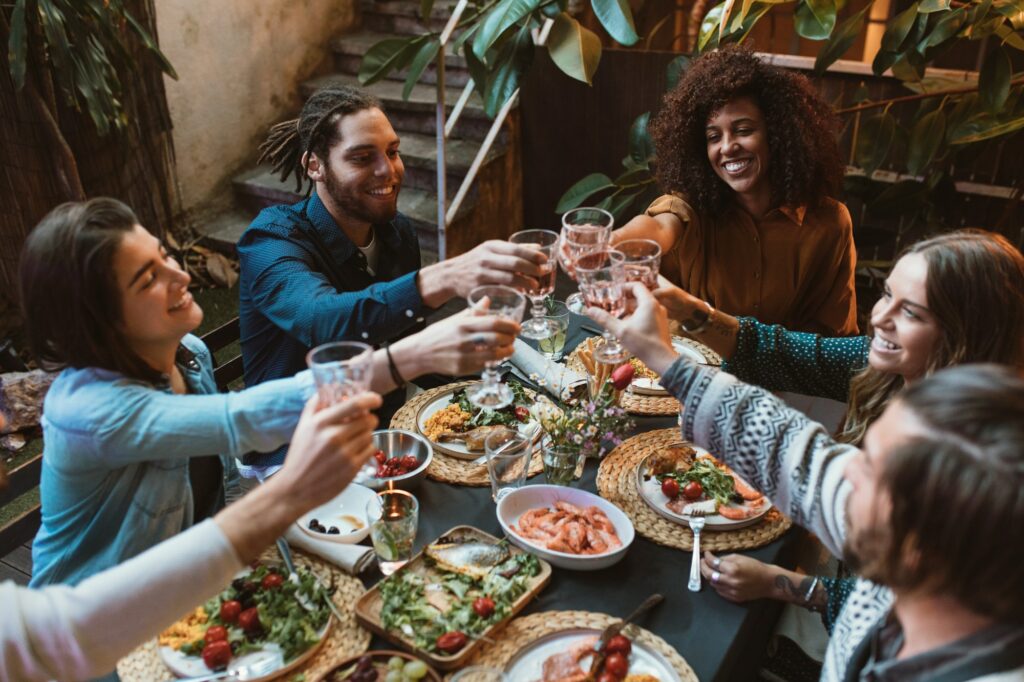 If you're like us, your entertainment and dining out budget has gone way down and stayed down throughout the pandemic. We miss grabbing a drink with friends, taking the kids out for a treat, or just letting someone ELSE cook dinner for a change. In some ways, people are ready to get back to normal; we're going back to school and work, in-person, in many parts of the country. But not all life and habits outside the home are created equal. We wanted to know about returning to restaurants/bars. What will it take to get us in the doors again? Our survey of nearly 1,000 Americans, aged 18 to 65, indicates that if you want to go out on the town, a COVID vaccination or mask may be the price of admission.
Dining at home went way up during the pandemic. Early on, with enforced lockdowns, it wasn't up to us. Some restaurants pivoted quickly to carry out, online ordering, delivery apps and more to stay alive. Others couldn't make the transition quickly enough. In 2020, 63% of full-service restaurants and 50% of limited-service restaurants became distressed businesses due to changes in consumer behavior brought on by the pandemic (AlixPartners, 2020). And in October 2020, 83% of fine dining restaurants expected lower sales in six months (Restaurant Dive, 2020). Likewise, as of January 2021, Statista reported a 65.9% year-on-year decline in consumers dining in restaurants in the U.S. due to the Covid-19 pandemic. Not surprisingly, restaurants captured less share of food spending from consumers compared to pre-pandemic levels, down 6 points to 45% (National Restaurant Association, 2021).
Unfortunately, yet another round of Covid outbreaks, staff shortages (we've all seen at least one 'sorry, we're short-staffed' sign in a restaurant window recently) and other tell-tale signs likely signify ongoing hardships for the restaurant industry. However, our research indicates many people want to dine out again – with 'dining in indoor restaurants' and 'shopping retail in person' rating highest among planned outings despite the delta variant. But unlike other activities, dining out and a shopping outing are plans more easily and unceremoniously canceled, at the last minute, if the need or worry arises. So, we can plan to eat out right up until we don't.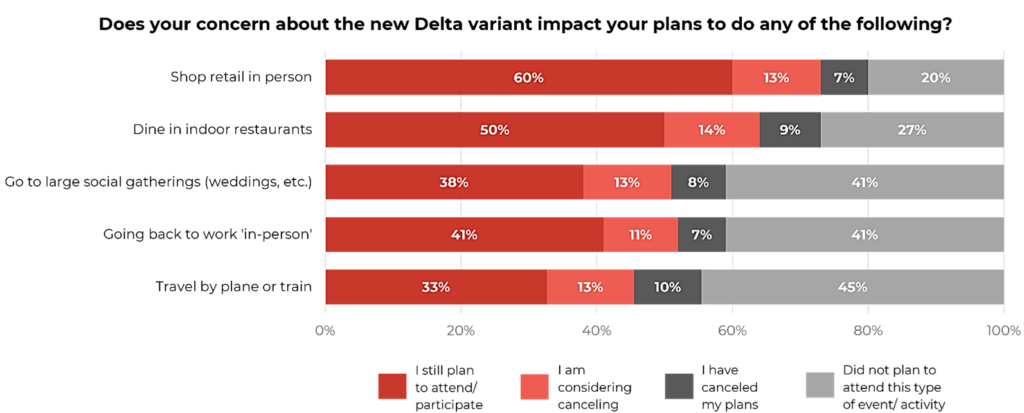 About ¼ have canceled dinner plans or are considering canceling. Another quarter of respondents did not plan to go out to eat in the first place. Whether they didn't go out to eat much before the pandemic, they enjoy their newfound cooking talents, they aren't ready to sit down and dine out, or something else, a large portion of us simply don't plan to dine out just yet. But what will it take to get patrons visiting restaurants again? What steps would make people feel comfortable to dine in?
Regardless of why many aren't dining out – it seems masking and vaccinations could get things rolling again. Nearly half of respondents lean towards agreement that 'proof of COVID vaccination should be required for participation in public OUTdoor activities' and over half (52%) at least slightly agree that 'proof of COVID vaccination should be required for participation in public INdoor activities.' Likewise, over half lean towards agreement that 'gyms, restaurants and other public places should require COVID vaccination of patrons.'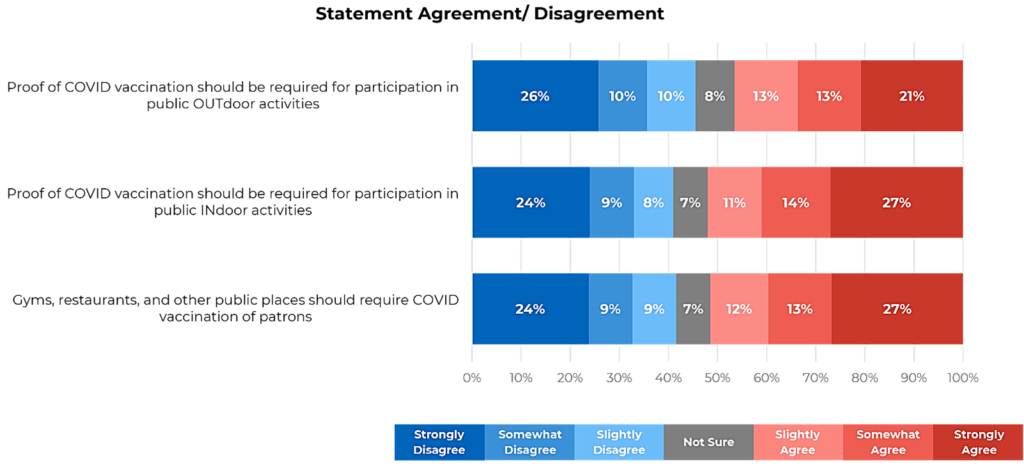 There's even more support of mask requirements for the unvaccinated. The majority (55%) at least slightly agree the unvaccinated should face mask requirements in public when OUTdoors. Not surprisingly, even more (62%) support mask requirements of the unvaccinated in public when INdoors.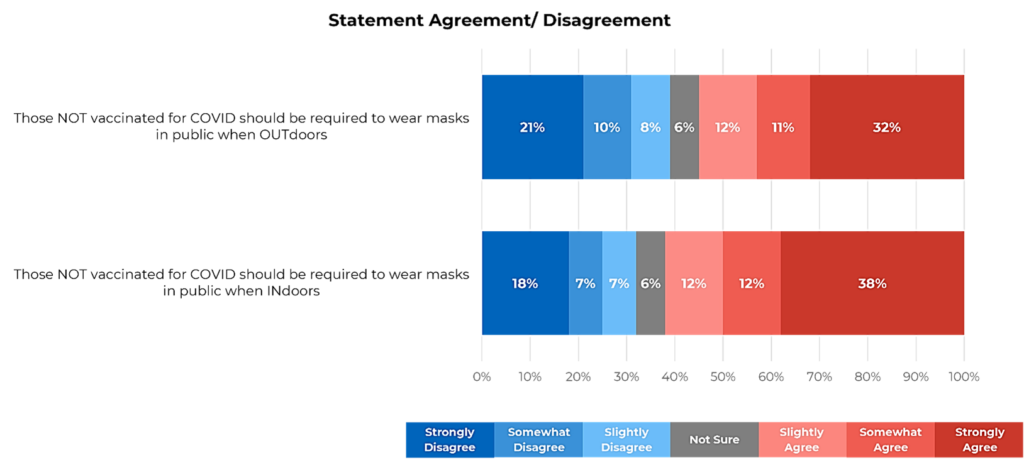 But let's be honest. Mandating (or NOT mandating) masks could ruin a restaurant's business, depending on patrons' opinions. And using the honor system for vaccination status or checking vaccination cards at the door is an even hairier prospect. Likewise, as we move into colder weather in most parts of the country, restaurants lucky enough to have the space for outdoor seating can't count on that to shore up dine-in numbers for the next several months. So what's a restaurant to do? As our regular course of action, we looked at data from all over and found some engaging idea starters.
One idea is to shore up your mobile order-ahead process and create/ re-invigorate loyalty rewards programs. According to a pymnts.com 2020 report, 92% of all top-performing restaurants offered mobile order-ahead and loyalty rewards programs. Consider easy-use loyalty programs via phone apps that keep up with a patron's order history and rewards all in one place, making it easy to push notifications or suggestions based on prior purchases, days of the week purchased and more. And if you're not utilizing the most popular food delivery apps, now's the time to join. According to a recent eMarketer study, the number of food delivery app users in the U.S. will continue to grow over the next couple of years, from 44.1 MM in 2021 to nearly 54 MM in 2023.
Secondly, take an honest look at your menu and carry-out options. Patrons look to restaurants to deliver something special. About 80% said restaurants give them access to their favorite flavors that they can't duplicate at home (National Restaurant Association, 2021). Even if your carry-out offer isn't your full menu, what is there needs to deliver the best options in your arsenal for sitting in a box awhile before eating. Another current challenge, 89% of full-service restaurant operators and 74% of limited-service restaurant operators say their current staffing levels are below normal (National Restaurant Association, 2021). Strategically simplifying your carry-out menu to what travels well can help with food costs and mitigate staff shortages by keeping a restaurant alive on less.
But what about dining in at restaurants? We want to do that again! We want to gather together again without a ton of work. No clean-up. No cooking. No worries. But what's that look like in a pandemic world where either requiring or not requiring vaccination card checks and masks could spell disaster for a restaurant? Here's a crazy idea. Remember smoking sections? Could restaurants appease both sides of the debate with masking sections or vaccinated sections separate from non-maskers and non-vaccinated? Who knows? It worked for years for smoking and non-smoking sections. It's just a thought.
One thing is certain. Restaurants face another year of unprecedented challenges. The folks that depend on the industry for their livelihood deserve a little patience and grace from us all. Now, order some food from your favorite restaurant, sit back and enjoy!
Our 'In the kNOW' series tackles the burning questions we all want to know about right NOW. If you have questions you think we should ask, topics we should explore, things you'd like to learn more about, shoot me a note at tellmemore@nuvoodoo.com.