A hesitant, but Happy Holidays 2021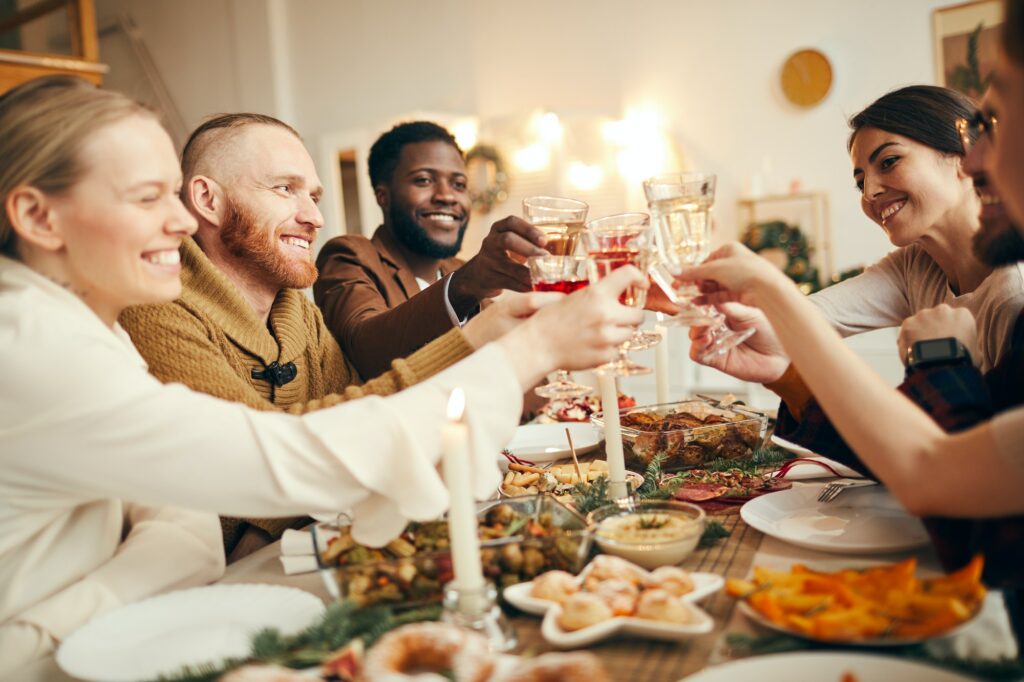 ---
It's that time of year again! It's the time of year for a little indulgence (aka late-night raids on the trick-or-treat bag, a second piece of pumpkin pie, hot chocolate all-around). But this holiday season won't be completely 'back to normal' for many. Last year many of us shopped and celebrated differently out of necessity. But what about now? What will shopping for the holidays and celebrating look like for Holiday Season 2021? We surveyed over 2,000 Americans aged 18 to 64 and found that most of us will settle for a Hesitant Happy Holidays for 2021.
Before the celebrations and gatherings- there's the shopping! According to a recent survey by Accenture (Oct. 12, 2021), 75% of respondents plan to buy gifts for close family and 41% plan to purchase gifts for neighbors, colleagues and friends. But with the Covid still infecting people daily, children under 12 not able to receive vaccinations, booster shots recommended and many other variables at play, how do we feel about Holiday Shopping 2021?
Our recent survey fielded at the end of October shows that online holiday shopping is highly popular among respondents. Over 56% at least slightly agree that they will/are shopping for Christmas/ Holiday gifts 'mostly online this year', with 57% citing because it's convenient. On the flip side, many also wish to shop this holiday season at their 'local/ regional retailers to support them and their employees (54% at least slightly agree). The same share of respondents, 54%, also claim they'll shop at 'local/ regional retailers earlier this year so they don't have to shop with holiday crowds.' It's evident that the pandemic and its consequences continue to vex many Americans as 57% reveal they'll shop this holiday season 'on a tighter budget than past years.'
But it's not all 'bah humbug' and worry. Over half of respondents at least slightly agree they will/are shopping for Christmas/ Holiday gifts 'with excitement this year because they can't wait to bring a bit of joy to their friends/family' and 'with more meaning than past years.'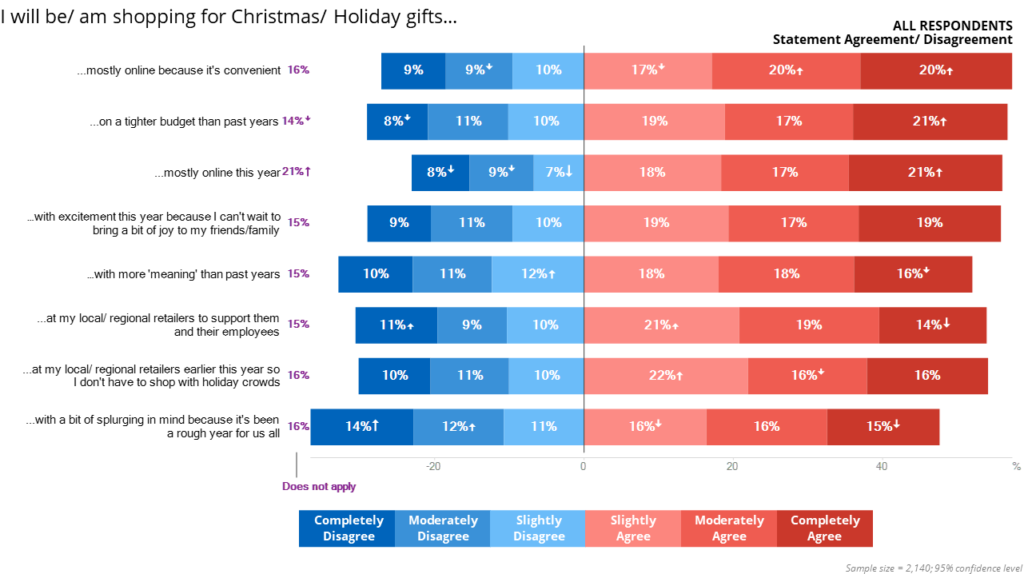 When the shopping list is complete, and the gifts wrapped, it's time to party! But this year's celebrations will still look a bit different for many. According to the Accenture survey, 76% of consumers are looking forward to spending time with loved ones this holiday season. But we wanted to dive a little deeper. Just because you look forward to spending the upcoming holiday season with loved ones and plan and hope for the best, it doesn't mean you're not worried. And you're not alone.
About ½ of all respondents are wary of both attending and hosting dinners/parties this holiday season because of Covid.  Just under half, 48%, of 'hosts' at least slightly agree that their 'guests will have to wear a mask if not vaccinated for Covid.' And the same share of respondents at least slightly agree that they'll 'get the Covid vaccination in order to attend a dinner/party' whether hosted by Family or a Friend, 44%.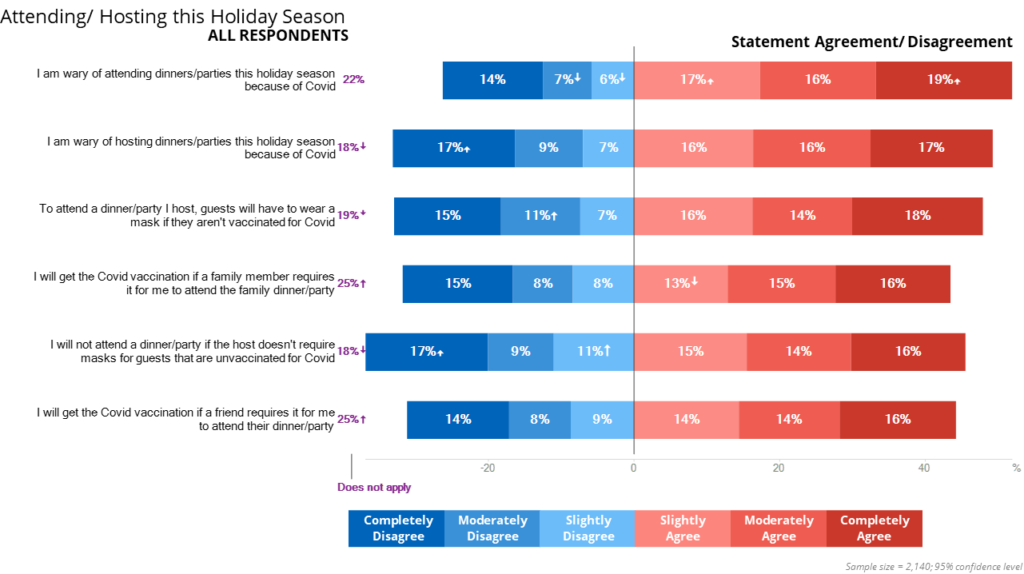 Overall, vaccinated respondents are warier to attend/ host holiday gatherings and agree with stricter mask requirements than their UNvaccinated counterparts. Over 50% of Vaccinated respondents at least slightly agree with all of the statements presented. (*66% of survey respondents considered vaccinated either fully, 1 dose-on track, and/or booster.)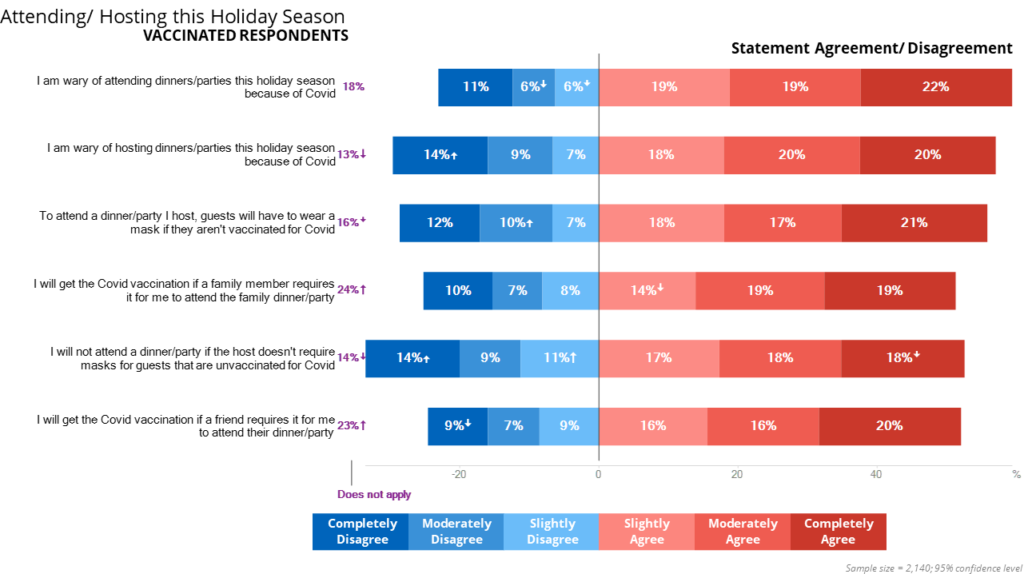 Among Unvaccinated respondents, disagreement with mask-wearing and agreeing to get vaccinated to attend are most unpopular. And it's noteworthy that approximately ¼ of unvaccinated respondents selected 'Does not apply' for attending/ hosting holiday dinners or parties. This incidence implies they either don't plan to attend, don't usually attend, or do not see Covid as a deterrent from gathering in the first place.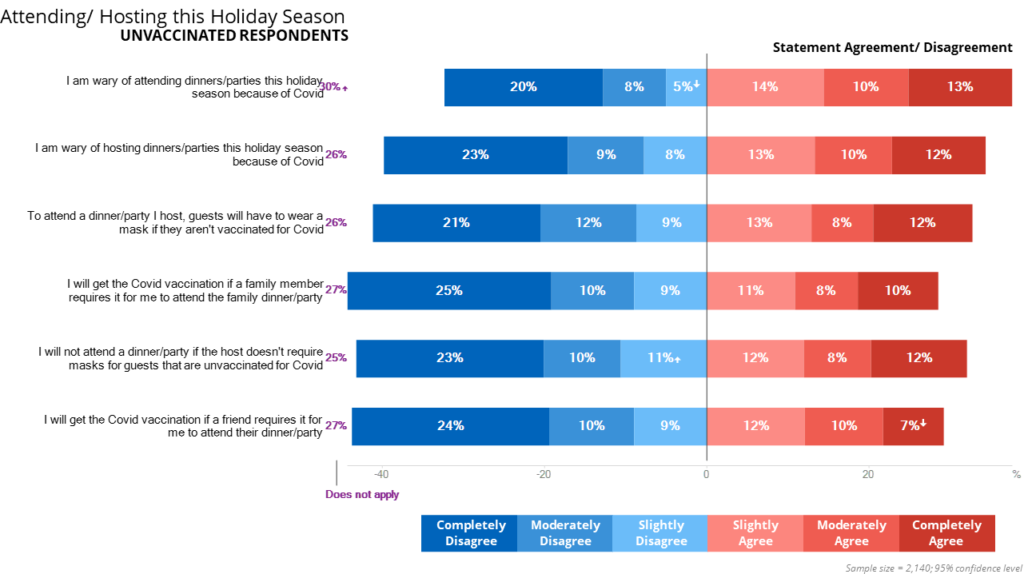 The difference of opinion between vaccinated and unvaccinated respondents and how that might impact holiday gatherings this year begged further investigation. Recent research conducted by OnePoll Research in September found that 1 in 7 had ended a friendship over COVID-19 vaccination status. And it seems we all have anecdotal evidence in our own lives that would support the idea that tensions may run higher than we'd like around the dinner table this holiday season.
No fewer than 41% of all respondents report they at least slightly agree they will NOT attend a usual holiday dinner/party this year. The reasons presented them range from mask requirements to uncomfortable social or political discussions, and whether the host is Family or Friends doesn't matter.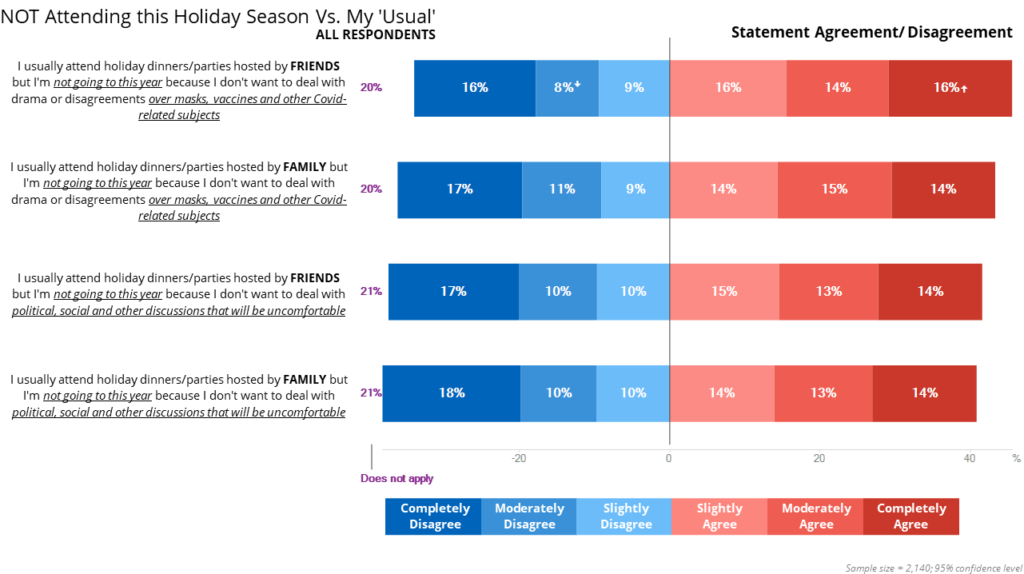 There's little difference between Total Respondents and Vaccinated-Only statement agreement.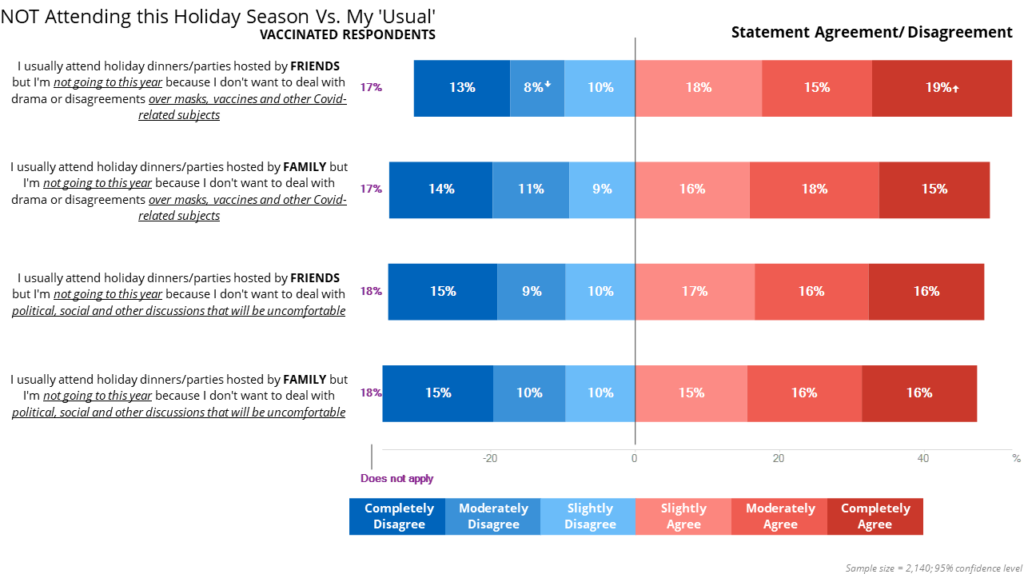 But, again, Unvaccinated respondents disagree at higher rates. Likewise, over one-quarter of unvaccinated respondents selected 'Does not apply,' likely signifying they plan to go to their usual dinners/parties no matter.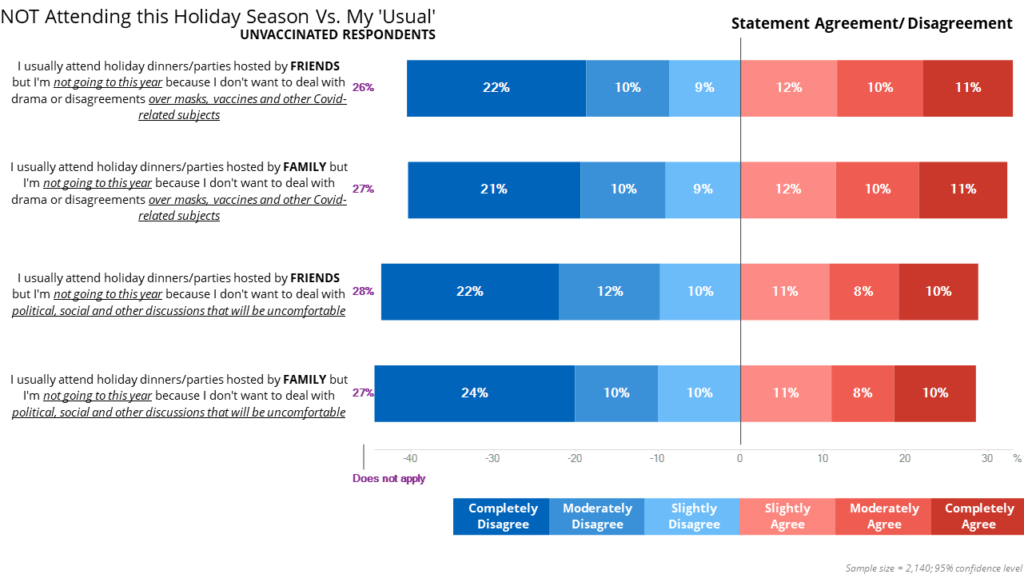 No matter where you stand personally on vaccination status, masks, politics and other hot-button topics, you'll likely run across at least one uncle or grandparent you don't see eye-to-eye with this holiday season. Whether hosting or attending, your best option to curtail disagreement might be to rely on guidance from a reputable outside source. The Centers for Disease Control and Prevention (CDC) offers several sources you might find helpful for holiday dinner/ party planning:
CDC regularly updates its guidance for holiday celebrations. (check out the link here: https://www.cdc.gov/coronavirus/2019-ncov/daily-life-coping/holidays/celebrations.html)
CDC's COVID tracker shows where the virus is spiking across the country. (check out that link here: https://covid.cdc.gov/covid-data-tracker/#county-view)
You might also try an outdoor gathering (if you're lucky enough to be where the weather is nice!) or a virtual meal. You can even create new traditions like everyone mentions something they like better now, post-pandemic, or try your hand at virtual gameplay for groups through sites like Jackbox games and others. No matter what you decide, try and relax and focus on your similarities instead of your differences, and enjoy this time – even if the only reason you can think of is that 2021 is coming to an end!
Our 'In the kNOW' series tackles the burning questions we all want to know about right NOW. If you have questions you think we should ask, topics we should explore, things you'd like to learn more about, shoot me a note at tellmemore@nuvoodoo.com.