In The kNOW: It's that time of year again…or is it?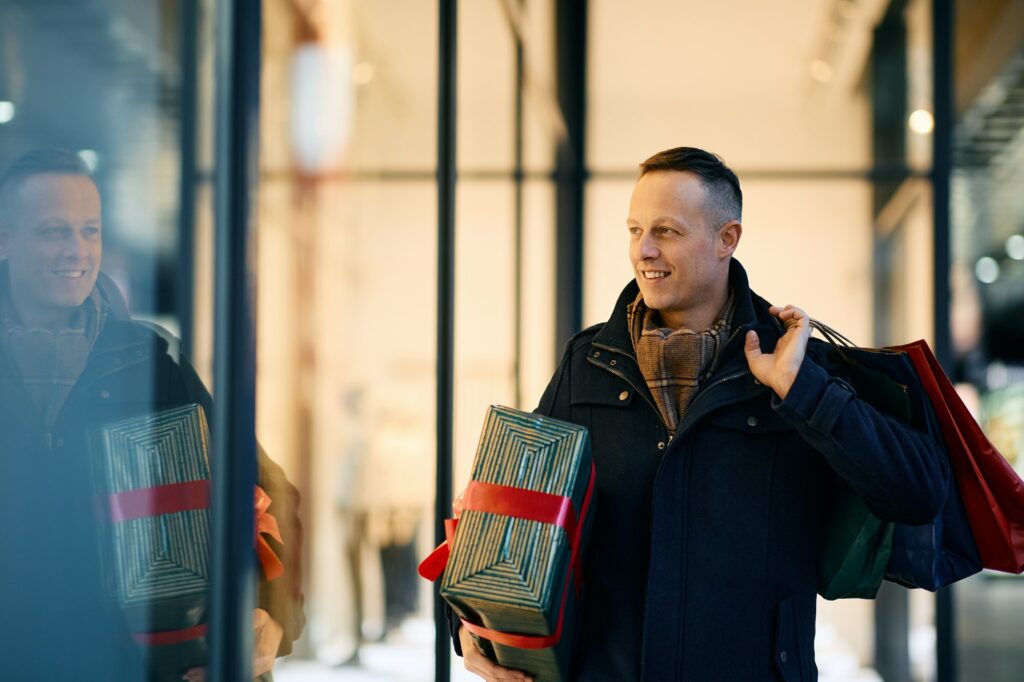 For this month's 'In the kNOW' we wanted to challenge ourselves. Just how fast could we understand consumer point of view (CPOV) on a trending topic? We used our own 'Quick Turn Qual' product to investigate consumer sentiment around shopping on Black Friday and Cyber Monday. We posed an open-ended question for about an hour to get 100 responses. We got some fantastic insights, straight from the source, on participating – and NOT participating – in the two biggest holiday shopping days of the year.
We've happily been adding qualitative work to a lot of our projects lately. Qualitative work is the best way to understand the 'why' behind the trends we see in our quantitative work. (See In the kNOW, February 2022, 'Are you playing with a full deck? for more information about how qualitative research can enrich your projects for the better.) But what if you need a quick read on consumer sentiment? What if you need a 'gut check' on what you think you already know? What if you need help prioritizing? Whether part of a bigger research study or as a stand-alone inspection, there are many reasons that getting a quick read from consumers is vital to decision-making.
For our Quick Turn Qual this month, we gave respondents the following prompt:We're into peak holiday shopping time for 2022. And two peak days for holiday shopping have traditionally been 'Black Friday' and 'Cyber Monday'.
We're curious, do these two special shopping days still have the appeal and draw they once did? Are the deals still good? Have these days lost their 'luster'?
Please describe HOW and WHY you shopped these days in the past VS. HOW and WHY you shop them now. If it's changed, why has it changed? If it hasn't changed, what do you still enjoy about shopping on 'Black Friday' and/or 'Cyber Monday'? (If you haven't shopped them in the past or now, please explain why.)
(And, after you answer the questions above, feel free to share a funny/wild Black Friday shopping story if you have one! No judgment here!)

What we learned from consumers about their intent, perceptions, and opinions about Black Friday and Cyber Monday shopping can assist retailers and brands in preparing, planning, and strategizing for the big days. First off, we looked at our average sentiment score. It came in as Neutral (+0.15130). So, by itself, this doesn't tell us much. Our next step was to read each of the comments and categorize them to begin to understand the full picture. But it doesn't stop there. Interpreting the comments to uncover perceptions, intentions, particular word choice/ use, drivers/motivators, barriers, and more makes all the difference in getting the most out of your qualitative research work.
About a fifth of consumers have never shopped in-store on Black Friday or shopped on Cyber Monday or said they shopped in-store once, but never again. They simply don't see the appeal, fighting crowds, the lines, and, for many, witnessing the worst behavior humankind can muster. Some mention -and we'll get into this further a bit later- they've never seen the value of the deals outweighing the hassle.
About a quarter of consumers feel like Black Friday and Cyber Monday still offer good deals. However, about a quarter also feel the deals just aren't as good as they once were. They mention the deals sell out almost immediately making the endeavor fruitless and/ or the products on sale just aren't as good or something they're interested in. Those that speak positively about the deals often 'hold out' on items from a list. Some mention buying for themselves on these days, but most use these days specifically for buying gifts for others. These shoppers feel these days allow them to stretch their budgets to afford items they couldn't, or wouldn't, buy otherwise.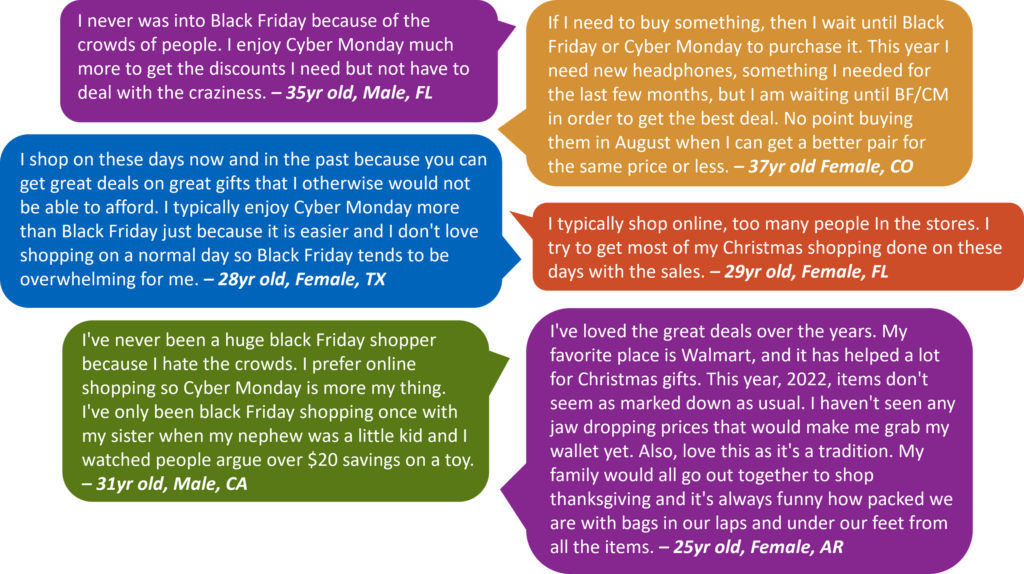 One of the biggest shifts is that about a third say they have moved their shopping these days online and out of the store. Some say it's because of the pandemic, others say it's just not as much fun as it once was, or they've decided it doesn't have the same appeal as it did in the past. A surprising number stated they don't feel safe shopping in person on Black Friday and don't like the chaos. Some even say Black Friday is dangerous. But most that have moved their shopping online, nearly a quarter, say they just don't like the crowds and lines. Understanding that people WILL shop on Black Friday, but they now intend to do it online can have big implications for retailers and brands in terms of resource allocation, staffing, marketing, and more.

One trend we found particularly intriguing in our quick study was a concept we'll call 'deal creep'. It seems to have started with Black Friday expanding to include Thanksgiving Day and the whole weekend after, running into Cyber Monday. Some retailers have gone even further, 'creeping' their deals into week- and even month-long 'deal days'. Their efforts to beat competitors with their deals may have had unintended consequences.
It seems that the perfect storm of the rise of Amazon and online retailer popularity, coupled with a pandemic changing shopping patterns overnight, plus the extension of traditional deal days and the invention of new ones (Prime Day anyone?) has led many consumers down a different holiday shopping journey. Over one-third of our respondents prefer to shop for deals online throughout the year or during extended or alternative shopping 'holidays'. Most of the time they choose this path for convenience and don't believe they're missing out on any deals. In truth, if you're a retailer or brand with a strong and user-friendly online shopping experience, consumers likely engage with you more than ever (find out more about how to make your website ready for these and other shopping holidays). Employing strong marketing and social campaigns can keep prospective customers coming back through your 'virtual' doors even if they're not walking through your physical ones.

Maybe the deals on Black Friday and Cyber Monday aren't as good as they once were – or maybe that's just the perception of some consumers. Either way, many consumers have decided to forgo those specific shopping days and shop elsewhere and at other times to find the best deals. And the shift to online shopping has made it easier to find those deals at any time, in your pajamas, laying on the couch, while watching TV. Who wouldn't rather do that than stand in a line or fight a stranger for the latest Elmo toy?
Please reach out if you'd like to know more about our Quick Turn Qual research product. We can get you CPOV in 24hrs, maybe less. And if you'd like to know more about employing successful marketing and social campaigns -we've got you covered there as well. As always, if you'd like to discuss a custom, holistic research, and marketing strategy for your business or brand, feel free to contact us.
Our 'In the kNOW' series tackles the burning questions we all want to know about right NOW. If you have questions you think we should ask, topics we should explore, or things you'd like to learn more about, shoot me a note at tellmemore@nuvoodoo.com.